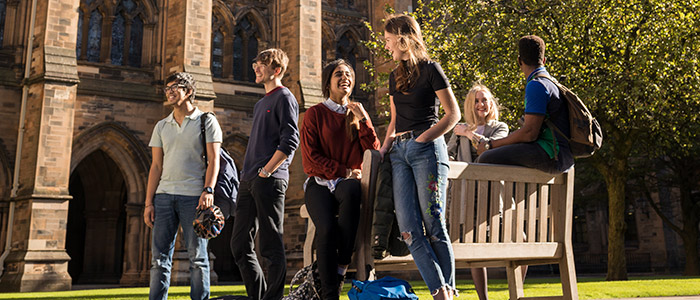 The study of history is the study of change and continuity in human society through time. Glasgow offers a wide-ranging programme from medieval to modern times.
Our teaching draws on world-leading research expertise in:
Scottish, British, European, U.S. and global history
Slavery studies
Gender history
War, intelligence and genocide studies
We offer a broad range of courses ranging from medieval to modern times and across the globe. We provide small group teaching, a variety of assessments (including real-world tasks like policy papers and blogs) and one-to-one feedback tutorials.
We host leading research centres in gender history, war studies, slavery studies, American studies and Scottish and Celtic studies.
September start
History MA (Hons): V100 4 year degree
Programme structure
Broad thematic courses in years 1 and 2 provide a framework for closer study of sources and topics in years 3 and 4.
Year 1
You will be introduced to the study of historical change across the medieval, early modern and modern eras through the lens of Scottish history, followed by a closer look at the dynamics of medieval Europe and its interactions with its neighbours. Forces driving continuity and change in politics, society, economy and culture are assessed over time. These courses combine lectures with small seminar groups.
Year 2
You will examine social and cultural change in the early modern and modern era in Europe, followed by a thematic exploration of global history, tracing people, ideas and empires across national boundaries. You will engage with historical skills and approaches, readying you for Honours study.
You will also study other subjects in years 1 and 2: see Flexible degrees.
Years 3 and 4
A Junior Honours core course will develop your understanding of traditional and new theories and methods in historical research. You will choose from a large variety of courses tackling topics in gender history, war and intelligence studies, medieval history, US history, Scottish and Highland history and global history.
Sample courses include
From the Space Race to Star Wars: US Conflict and Cooperation in Orbit, 1945-1999
Traders, settlers and Rebels: Africans in the Atlantic world, 1740–1938
France, 1789–1914: Nation, Revolution & Empire
The Life and Afterlife of Mary, Queen of Scots
Women and Gender Relations in Europe, 1789–1918
The Mongols and the West, c1200–c1500
Covert Action: The Secret Pursuit of Foreign Policy from the Second World War to Today.
In fourth year, you can take a year-long Special Subject working in a small seminar group to closely examine a topic through primary sources. Special subjects are taught by our academics from their own research. Examples include:
The French Revolution, 1786-95
The Transatlantic Slave Trade and the Development of Plantation Slavery
The Norman Conquest 1042-1087
Scottish Radicalism and Scottish Society, 1790-1945
Genocide in the Modern World
The United States in Depression and War, 1929-1945.
Programme alteration or discontinuation
The University of Glasgow endeavours to run all programmes as advertised. In exceptional circumstances, however, the University may withdraw or alter a programme. For more information, please see: Student contract.
Special Glasgow feature
Our History Special Subjects in year 4 allow you to study a topic in depth using original sources. You will also write a dissertation based on your own research on a topic of your choice developed with an academic supervisor.
Our international links
You will have the opportunity to study abroad at one of our partner universities as part of your degree. This won't add any extra time to your studies. See Study abroad.
Entry requirements
for entry in 2024
Applicants to subject-combinations with Psychology must meet the Psychology degree programme entry requirements.
Summary of entry requirements for History
SQA Higher Entry Requirements
BBBB at S5 will be considered. Typically S6 entrants will have AAAAA Higher or AAAA Higher+B Advanced Higher.
Additional requirements: Higher English and a Higher Humanities subject.
SQA Higher Adjusted Entry Requirements* (by end of S5 or S6)
MD20: BBBB (also other target groups*)
MD40: AABB* (minimum requirement of ABB in S5)
Additional requirements: Higher English and a Higher Humanities subject. Successful completion of Top-Up or one of our Summer Schools.
* See Access Glasgow for eligibility.
Widening Participation Articulation Programmes
The University has bespoke HNC Articulation Programmes running at various colleges, offering direct entry to Year 2 of this degree.
A-level Standard Entry Requirements
AAB – BBB
Additional requirements: one A-level Humanities subject.
IB Standard Entry Requirements
36 (6,6,5 HL) – 32 (6,5,5 HL)
Additional requirements: HL English and HL Humanities subject.
Advanced Entry
Applicants who achieve exceptional grades in their Advanced Highers, A-levels or International Baccalaureate may be considered for Advanced Entry, meaning that an Honours degree can be completed in three years instead of the normal four years, or four years for five-year integrated Masters programmes.
Indicative grades to be considered for Advanced Entry
SQA Higher Advanced Entry Requirements
Three Advanced Highers at Grades AAA attained in one exam year and at the first attempt. Subjects must be relevant to the courses to be taken at Level 2.
A-Level Advanced Entry Requirements
IB Advanced Entry Requirements
For applicants whose first language is not English, the University sets a minimum English Language proficiency level.
English language requirements
For applicants whose first language is not English, the University sets a minimum English Language proficiency level.
International English Language Testing System (IELTS) Academic module (not General Training)
6.5 with no sub-test under 6.0.
Tests must have been taken within 4 years 5 months of start date. Combined scores from two tests taken within 6 months of each other can be considered.
Common equivalent English language qualifications
All stated English tests are acceptable for admission to this programme:
TOEFL (ib, my best or athome)
90 with minimum R 20, L 19, S 19, W 23.
Tests must have been taken within 4 years 5 months of start date. Combined scores from two tests taken within 6 months of each other can be considered.
PTE (Academic)
60 with minimum 59 in all sub-tests.
Tests must have been taken within 4 years 5 months of start date. Combined scores from two tests taken within 6 months of each other can be considered.
Glasgow International College English Language (and other foundation providers)
65%.
Tests are accepted for academic year following sitting.
University of Glasgow Pre-sessional courses
Tests are accepted for academic year following sitting.
Cambridge English Qualifications
Cambridge Advanced English (CAE): 176 overall, no subtest less than 169
Cambridge Proficiency in English (CPE): 176 overall, no subtest less than 169
School Qualifications
iGCSE English or ESOL 0522/0500, grade C
International Baccalaureate English A SL5 or HL5
International Baccalaureate English B SL6 or HL5
SQA National 5 English or ESOL, grade B
SQA Higher English or ESOL, grade C
Hong Kong Diploma of Secondary Education, English Language grade 4
West African Examination Council, Senior Secondary School Certificate, English grade C6
Alternatives to English Language qualification
Undergraduate degree from English speaking country (including Canada if taught in English)
Undergraduate 2+2 degree from English speaking country
Undergraduate 2+2 TNE degree taught in English in non-English speaking country
Masters degree from English speaking country
Masters degree (equivalent on NARIC to UK masters degree) taught in English in non-English speaking country.
For international students, the Home Office has confirmed that the University can choose to use these tests to make its own assessment of English language ability for visa applications to degree level programmes. The University is also able to accept an IELTS test (Academic module) from any of the 1000 IELTS test centres from around the world and we do not require a specific UKVI IELTS test for degree level programmes. We therefore still accept any of the English tests listed for admission to this programme.
Pre-sessional courses
The University of Glasgow accepts evidence of the required language level from the English for Academic Study Unit Pre-sessional courses. We also consider other BALEAP accredited pre-sessional courses:
FAQs
What do I do if...
my language qualifications are below the requirements?
The University's School of Modern Languages and Cultures offers a range of Pre-sessional courses to bring you up to entry level. The course is accredited by BALEAP, the UK professional association for academic English teaching.
my language qualifications are not listed here?
Please contact External Relations
If you require a Tier 4 student visa, your qualification must be one of the secure English language tests accepted by UK Border Agency:
Visa requirements and proof of English language level
It is a visa requirement to provide information on your level of English based on an internationally recognised and secure English language test. All test reports must be no more than 2 years old. A list of these can be found on the UK Border Agency website. If you have never taken one of these tests before, you can get an initial idea of your level by using the Common European Framework self-assessment grid which gives you a level for each skill (e.g. listening B1/writing B2 etc.) However, please note that this is not a secure English language test and it is not sufficient evidence of your level of English for visa requirements.
Further information about English language: School of Modern Languages & Cultures: English for Academic Study
Career prospects
As a History graduate you will be able to enter many different careers, from the heritage sector and teaching to consultancy, management and financial services. Our recent History graduates have been employed by:
HarperCollins
Police Scotland
Oxfam
Glasgow Museums
Morgan Stanley.
Degrees and UCAS codes
When applying you will need to know the UCAS code for the subject or subject-combination that you wish to apply to:
MA (Hons)
MA(SocSci) (Hons)
History can also be taken in combination with Law programmes:
Fees and funding
Tuition fees
How and when you pay tuition fees depends on where you're from: see Tuition fees for details.
Scholarships
The University is committed to supporting students and rewarding academic excellence. That's why we've invested more than £1m in additional scholarship funding in recent years.
The scholarships above are specific to this programme. For more funding opportunities search the scholarships database
How to apply
Full-time students must apply through the Universities & Colleges Admissions Service (UCAS).
SQA applicants who are eligible for our Widening Participation programmes are encouraged to participate in one or more of these programmes, including Summer School, to support your application and the transition to higher education.
International students to Arts, Engineering, Law, Nursing, Science, and Social Sciences can also apply using The Common Application: however, if applying to more than one UK university, we recommend using UCAS. Applications to Dentistry, Education, Medicine, and Veterinary Medicine must be made through UCAS.
Application deadlines
15 October: if including Dentistry, Medicine, Veterinary Medicine or also applying to Oxford or Cambridge
31 January: all other UK applicants (unless otherwise stated on the UCAS website)
30 June: international students.
We do not usually accept any applications after these deadlines.
It's your responsibility to ensure the accuracy of your application before submission. Requests to correct application content, change degree programme or change college of entry, will not be accepted after these deadlines. This policy is in place to ensure fairness and consistency to all applicants, and no exceptions will be made.
Apply at www.ucas.com or through your school or college
Contact UCAS on 0871 468 0468
How to apply for Advanced Entry
Apply for year 2 (Y2) on your UCAS application. If the specific subject is unavailable for Advanced Entry or your application for year 2 entry is unsuccessful, you will be automatically considered for year 1 entry. You do not have to submit a separate UCAS application.
Meet our future world changer
Meet our future world changer
Meet our future world changer