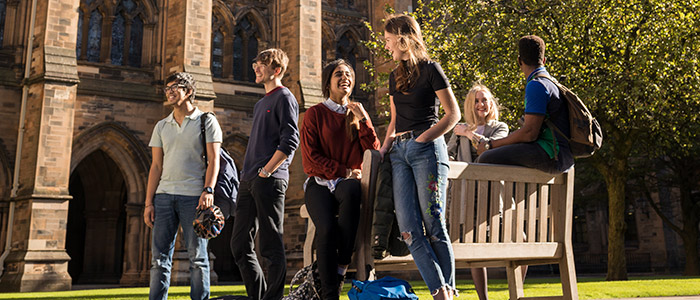 The study of history is the study of change and continuity in human society through time. In this wide-ranging programme you will learn different approaches to studying the past as a way of understanding the present in its political, economic, ideological, social and cultural sense.
History hosts the Centre for Gender History which works closely with external organisations in the field of women's and gender issues.
You'll be able to take courses offered by members of the Scottish Centre for War Studies which offers expertise in war and conflict from medieval times to the present day.
September start: session dates
History MA (Hons): V100 4 year degree
Programme structure
You will learn different approaches to studying the past as a way of understanding the present in its political, economic, ideological, social and cultural sense.
Year 1
You will take two core courses covering Scottish and Medieval history over a broad time span. Between them, these courses introduce you to the study of history first in a national Scottish and then a broader European context. Forces driving continuity and change in Scottish and European politics, society, economy and culture are assessed over time.
Year 2
You will study modern social and cultural history and global history. These courses introduce you to new historical skills and approaches and represent a progression from first year.
You will also study other subjects in years 1 and 2: see Flexible degrees.
Years 3 and 4
If you progress to Honours (years 3 and 4) you will choose from a large variety of more specialised courses which may include:
Barbarians in the Mediterranean
The Norman Conquest 1066–1100
Print, propaganda and subversion in Europe 1630–1800
Scottish popular culture
Intelligence, the state and international relations in the 20th century
American landscape history
Middle Eastern cities 1800–1960: imperialism, cosmopolitanism and nationalism.
Programme alteration or discontinuation
The University of Glasgow endeavours to run all programmes as advertised. In exceptional circumstances, however, the University may withdraw or alter a programme. For more information, please see: Student contract.
Special Glasgow feature
Our History special subjects in year 4 will allow you to study a topic in depth using original sources. You will also write a dissertation based on your own research.
Our international links
You will have the opportunity to apply to study abroad. There are currently two options available: the Erasmus+ Programme and the International Exchange Programme. See Study abroad.
Entry requirements
for entry in 2020
Applicants to subject-combinations with Psychology must meet the Psychology degree programme entry requirements.
MA
MA (SocSci)
For applicants whose first language is not English, the University sets a minimum English Language proficiency level.
Career prospects
As a History graduate you will be able to enter many different careers, from teaching to the financial services. Among many other organisations, our recent History graduates have been employed by:
HarperCollins
Police Scotland
Oxfam
Morgan Stanley
Glasgow Museums.
Degrees and UCAS codes
When applying you will need to know the UCAS code for the subject or subject-combination that you wish to apply to:
MA (Hons)
MA(SocSci) (Hons)
History can also be taken in combination with Law programmes:
Fees and funding
Tuition fees
How and when you pay tuition fees depends on where you're from: see Tuition fees for details.
Scholarships
The University is committed to supporting students and rewarding academic excellence. That's why we've invested more than £1m in additional scholarship funding in recent years.
The scholarships above are specific to this programme. For more funding opportunities search the scholarships database
How to apply
Full-time students must apply through the Universities & Colleges Admissions Service (UCAS).
International students can also apply using The Common Application: however, if applying to more than one UK university, we recommend using UCAS.
Application deadlines
15 October: if including Dentistry, Medicine, Veterinary Medicine or also applying to Oxford or Cambridge
15 January: all other UK/EU applicants (unless otherwise stated on the UCAS website)
30 June: international (non-EU) students
We do not usually accept any applications after these deadlines.
It's your responsibility to ensure the accuracy of your application before submission. Requests to correct application content, change degree programme or change college of entry, will not be accepted after these deadlines. This policy is in place to ensure fairness and consistency to all applicants, and no exceptions will be made.
Apply at www.ucas.com or through your school or college
Contact UCAS on 0871 468 0468
How to apply for Advanced Entry
Apply for year 2 (Y2) on your UCAS application. If the specific subject is unavailable for Advanced Entry or your application for year 2 entry is unsuccessful, you will be automatically considered for year 1 entry. You do not have to submit a separate UCAS application.
Students thought staff were good at explaining things
Discover Uni, January 2020