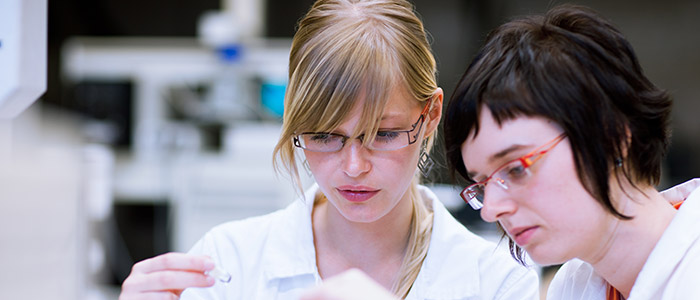 Anatomy is the scientific study of the human body in relation to its function. Advancing our knowledge and understanding of human anatomy enables scientists and healthcare professionals to hone surgical techniques and develop treatments that will benefit future generations
You will study in one of the busiest human anatomy laboratories in Europe.
You will gain hands-on laboratory experience of techniques used by modern anatomists, including human dissection, histology and microscopy and molecular techniques.
You'll be taught by world-class researchers, including those specialising in pedagogical techniques related to anatomy and anatomical education.
You will study in facilities which house our Clinical Anatomy Skills Centre (CASC)
You will have access to the Museum of Anatomy, home to the world-famous Hunter and Cleland collections of anatomical specimens.
September start: session dates
Anatomy BSc (Hons): B110 4 year degree
Anatomy MSci: 5 year degree
Applications to the MSci are not taken via UCAS: you may apply for transfer mid-BSc
Life Sciences at Glasgow
With hands-on experience and flexible degrees, studying at the School of Life Sciences challenges you to apply the theory of the classroom in practical situations, in the lab or the field. We offer an extremely wide range of courses in Human and Animal Biology, Biomolecular Sciences, Infection and Immunity.
Our aim is to offer internationally competitive degrees that meet the needs of today's science graduates. To achieve this aim, we utilise the research and teaching strengths of the College of Medical, Veterinary & Life Sciences to provide our graduates with the skills necessary for success in any chosen career.
We have a large and diverse student body, which includes Scottish, UK, EU and international students. We regularly welcome visiting and exchange students, and we believe in the many advantages our students gain from adding an international dimension to their studies.
Strengths of the School include:
Substantial flexibility within our range of degree programmes
An opportunity for students to gain experience working or studying abroad
Annual field courses to destinations around the globe
Access to the UofG's world-renowned museums of Anatomy and Zoology
Top-quality student experience.
What to Expect
A degree at the School of Life Sciences offers you the flexibility to study a range of subjects in your first two years, giving you a breadth of experience, before specialising for your Honours years.
Degrees in Life Sciences are all offered as single Honours, however, a joint degree in Psychology & Neuroscience is offered through the School of Psychology.
In first year, you'll normally select three Level-1 courses, according to your interests and long-term plans. These will include Biology and a Chemistry-based course.
Although your interests are likely to be science subjects, you may also be able to choose an Arts or Social Sciences subject as a third choice, subject to availability.
In second year, you may select all of your courses from Life Sciences or combine them with additional Level-1 or Level-2 courses.
At the end of second year, most of our students progress to a Bachelor of Science with Honours degree (four years). We also offer a Master in Science Advanced Honours degree (five years) and a Bachelor of Science designated degree (three years).
Programme structure
Year 1
You will be given a general introduction to all aspects of modern biology and encouraged to acquire general scientific skills.
Year 2
You will develop your knowledge of fundamental aspects of biology and be introduced to specialist subject areas according to your interests (e.g. animal biology; biomolecular sciences; human biology; infection biology).
You can also study other subjects in years 1 and 2: see Flexible degrees.
Years 3, 4 and 5
If you meet the requirements for progress on to Honours, you will take courses that will provide you with a more detailed understanding of the human anatomy, histology and embryology, covering many organ systems including the upper limb, central nervous system, and cardiovascular system.
You will also study the related physiology, pharmacology and pathology to set the anatomy in a wider context. You will be encouraged to develop transferable skills such as written and oral communication, data analysis and critical analysis of published research.
In year 4, a major component of your studies is to complete an independent research project. You will also study selected anatomical topics in more depth, considering the current research and clinical practice in areas such as clinical applied anatomy, problems in mammalian reproduction, and advances in lower limb anatomy.
Anatomy can be taken as an MSci, which includes an additional placement year between the third and final years of the degree, normally spent undertaking research in industry or research institute in the UK or overseas.
Programme alteration or discontinuation
The University of Glasgow endeavours to run all programmes as advertised. In exceptional circumstances, however, the University may withdraw or alter a programme. For more information, please see: Student contract.
Our international links
You will have the opportunity to apply to study abroad. There are currently two options available: the Erasmus+ Programme and the International Exchange Programme. See Study abroad.
Entry requirements
for entry in 2020
BSc
Glasgow International College
International students with academic qualifications below those required should contact our partner institution, Glasgow International College, who offer a range of foundation certificates.
For applicants whose first language is not English, the University sets a minimum English Language proficiency level.
Career prospects
Many of our graduates are employed in biomedical laboratories, in industry, hospitals and forensic science. Others have entered the paramedical services, publishing and teaching, or continued to postgraduate research, or as graduate entrants into Medicine or Dentistry.
Careers of some of our graduates include:
Forensic Scientist: Key Forensic Services
Scene of Crimes Officer: Strathclyde Police
Medical Writer: Complete Medical Group
Research Manager: NHS Scotland
Consultant Anaesthetist: NHS
Degrees and UCAS codes
When applying you will need to know the UCAS code for the subject or subject-combination that you wish to apply to:
BSc (Hons)
MSci
Applications to the MSci are not taken via UCAS: you may apply for transfer mid-BSc
Fees and funding
Tuition fees
How and when you pay tuition fees depends on where you're from: see Tuition fees for details.
Scholarships
The University is committed to supporting students and rewarding academic excellence. That's why we've invested more than £1m in additional scholarship funding in recent years.
The scholarships above are specific to this programme. For more funding opportunities search the scholarships database
How to apply
Full-time students must apply through the Universities & Colleges Admissions Service (UCAS).
International students can also apply using The Common Application: however, if applying to more than one UK university, we recommend using UCAS.
Application deadlines
15 October: if including Dentistry, Medicine, Veterinary Medicine or also applying to Oxford or Cambridge
15 January: all other UK/EU applicants (unless otherwise stated on the UCAS website)
30 June: international (non-EU) students
We do not usually accept any applications after these deadlines.
It's your responsibility to ensure the accuracy of your application before submission. Requests to correct application content, change degree programme or change college of entry, will not be accepted after these deadlines. This policy is in place to ensure fairness and consistency to all applicants, and no exceptions will be made.
Apply at www.ucas.com or through your school or college
Contact UCAS on 0871 468 0468
How to apply for Advanced Entry
Apply for year 2 (Y2) on your UCAS application. If the specific subject is unavailable for Advanced Entry or your application for year 2 entry is unsuccessful, you will be automatically considered for year 1 entry. You do not have to submit a separate UCAS application.
More information about this programme
Anatomy students satisfied
Discover Uni, January 2020

7th in UK: Times & Sunday Times Good University Guide [Anatomy & Physiology]