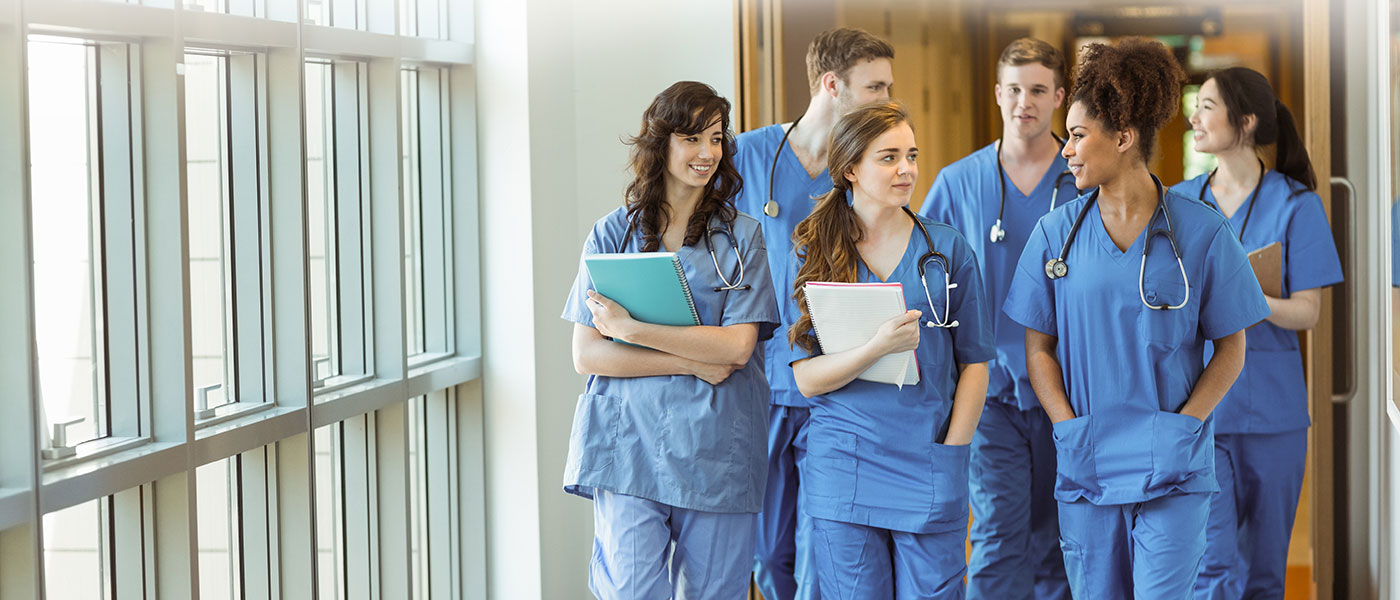 The Undergraduate Medical School generates and sustains excellence in education and research in a friendly, supportive and stimulating academic environment. Our medical graduates are highly regarded for the breadth of their undergraduate experience and ability.
You will gain experience in clinical environments throughout the West of Scotland, including the Queen Elizabeth University Hospital, which boasts a purpose-built learning and teaching facility, teaching laboratories and a state-of-the-art clinical skills suite. Medicine at Glasgow is ranked 2nd in the UK (The Times and Sunday Times University League Table 2019).
September start: session dates
Medicine MBChB: A100 5 year degree
MBChB at Glasgow Medical School
Medicine at Glasgow since 1751
The University of Glasgow Medical School is one of the largest in the UK and has a unique brand that reflects the exposure of medical undergraduates to leading researchers and teachers in clinical and basic science. Our students have the opportunity to experience a diverse mixture of clinical attachments and our medical graduates are highly regarded for the breadth of their undergraduate experience and ability. The City of Glasgow and surrounding West of Scotland provide an excellent educational environment, with diverse opportunities for medical training.
We have a long and proud history of outstanding achievements in medical science by world renowned physicians such as Joseph Lister (antisepsis), George Beatson (breast cancer), John MacIntyre (X-rays and radiology), William Hunter (anatomy and obstetrics) and Ian Donald (ultrasound).
International links
We have a global outlook, with links to Medical Schools abroad. Our students benefit from opportunities to experience medicine in other cultures, and from undergraduate life in a University which promotes internationalisation. Closer to home, we have strong links with West of Scotland Postgraduate Deanery, ensuring
a smooth transition from study to postgraduate training.
Student societies
Glasgow's medical student societies organise conferences and guest speaker events, social activities and revision groups. Our societies include Glasgow University Medico-Chirurgical Society (since 1802); Glasgow University Emergency Society; Glasgow University Surgical Society; Glasgow Evidence-based Medicine Society, the Glasgow University Medical Journal Surgo, founded 1935 and the REACH Society (WP).
Our facilities
Wolfson Medical School Building, Main Campus
The Medical School is at the heart of the University's Gilmorehill campus, with library, teaching rooms, clinical skills area and café.
Teaching & Learning Centre, Queen Elizabeth University Hospital
One of Europe's largest acute hospitals offering a state-of-the-art clinical teaching environment, linked to the main hospital which opened in 2015.
New Lister Building, Glasgow Royal Infirmary
The University's newly refurbished medical teaching centre at the Royal Infirmary.
Hospitals & GP Practices across the West of Scotland
Clinical placements in 25 hospitals and 150 GP practices throughout Glasgow and the West of Scotland.
Programme structure
Our innovative and forward-thinking curriculum is delivered through a range of teaching styles which include small-group teaching, problem-based learning, lectures, Vocational and Clinical Studies, labs and e-learning. You will gain experience of a clinical environment from year 1. The MBChB follows a "spiral curriculum" where subject material is revisited at different stages of the curriculum with increasing depth and clinical focus.
You will undertake two periods of elective study, and can select from over 20 intercalated degree options, allowing flexibility to study areas of personal interest in more depth. Our award-winning Wolfson Medical School Building offers you 24-hour access to library facilities, and a first-class clinical skills suite.
We have strong links with the Postgraduate Deanery, ensuring a smooth transition from undergraduate study to postgraduate training, and produce highly trained, competent graduates who are equipped for the Foundation Training programme, for higher training, and the challenges of medicine in the 21st century.
Phase 1
Phase 1 occupies the first half of year 1. It is an overview of basic biomedical sciences, providing you with the knowledge required to engage in the rest of the undergraduate programme. You will undertake sessions in Vocational and Professional Studies, have your first Clinical Skills sessions and undertake a clinical visit to an A&E ward or General Practice.
Phase 2
Phase 2 occupies the second part of year 1 and the whole of year 2. It is a system-by-system programme that covers the anatomy, physiology, pharmacology, biochemistry (and related biomedical sciences) of the major clinical systems. It also includes sessions of Vocational and Professional Studies, Communication Skills and Clinical Skills.
Phase 3
Phase 3 occupies the first half of year 3 and is a system-by-system cycle through clinical systems with the focus on pathophysiology, building on knowledge acquired in Phases 1 & 2. There are major contributions from pathology, microbiology, haematology, clinical biochemistry and clinical pharmacology, and the small-group teaching is focused on clinical cases, using case-based learning (CBL), with a clinical tutor. You also have one day per week in hospital or general practice. You will also receive clinical procedural skills teaching.
Phase 4
Phase 4 occupies the second half of year 3, all of year 4 and the first half of year 5. It is based in hospitals and in general practice, with dedicated academic days. Teaching is structured around 5-10 week clinical attachments, and you will rotate through general medicine and surgery, obstetrics and gynaecology, child health, general practice, psychiatry, and a variety of hospital sub-specialties.
Preparation for Practice
Preparation for Practice follows the final examinations and involves shadowing foundation-year doctors in hospital, usually attached to the hospital units in which you will work. A lecture programme is also included in this attachment. Successful completion of Preparation for Practice is a prerequisite to graduate.
Vocational & Professional Studies
You will have early contact with patients through hospital visits, clinical training and Communication Skills, starting in year 1.
Clinical Skills
The MBChB at Glasgow begins Clinical Skills training in year 1. The early years focus on clinical assessment, including normal clinical history and examination and clinical procedural skills; with the focus in the later years being on pathological findings and diagnosis.
Student-selected components
You will be able to choose a variety of student-selected components (SSCs) that allow you to personalise your learning experience. SSCs are five week-long blocks selected from a range of available options and are undertaken in years 2, 3 and 4 of the curriculum. Projects cover topics from the core curriculum as well as topics outside medicine including humanities and languages. Self-proposed SSCs can be carried out in hospitals or research laboratories in the UK or overseas.
Electives
The MBChB at Glasgow is unusual in having two electives, each for four weeks, during the vacations at the end of years 3 and 4. Electives are experiential in nature, obtaining personal, professional and clinical experiences in any recognised clinical specialty, including general practice and public health. Well-planned research electives are also possible. Over 50% of electives are taken in the UK, especially at the end of year 3, but many are also taken overseas.
Intercalated degrees
The School of Medicine offers a one-year intercalated BSc degree, with over 20 options, and also a two-year BSc (Hons). These are taken between years 3 and 4 of the MBChB and involve an intensive period of study and training in a scientific discipline.
Programme alteration or discontinuation
The University of Glasgow endeavours to run all programmes as advertised. In exceptional circumstances, however, the University may withdraw or alter a programme. For more information, please see: Student contract.
Entry requirements
for entry in 2020
MBChB
For applicants whose first language is not English, the University sets a minimum English Language proficiency level.
Career prospects
Medical career options range from hospital-based specialties such as surgery, to community-based specialties such as general practice. Medicine opens the doors to many career opportunities, including clinical research. Following your final examinations, there is a nine-week period of study in preparation for work experience in which you will shadow a Foundation Year 1 doctor. Almost all of our graduates start their careers as doctors with the NHS in hospitals around Scotland, although some travel further afield to various parts of England and Northern Ireland.
Accreditation
At the end of the undergraduate programme you will receive your MBChB degree, which is a primary medical qualification (PMQ). Holding a PMQ entitles you to provisional registration with the General Medical Council, subject only to its acceptance that there are no Fitness to Practise concerns that need consideration. Provisionally registered doctors can only practise in approved Foundation Year 1 posts: the law does not allow provisionally registered doctors to undertake any other type of work. See glasgow.ac.uk/ug/medicine for more information.
Degrees and UCAS codes
When applying you will need to know the UCAS code for the subject or subject-combination that you wish to apply to:
MBChB
Fees and funding
Tuition fees
How and when you pay tuition fees depends on where you're from: see Tuition fees for details.
Scholarships
The University is committed to supporting students and rewarding academic excellence. That's why we've invested more than £1m in additional scholarship funding in recent years.
The scholarships above are specific to this programme. For more funding opportunities search the scholarships database
How to apply
Full-time students must apply through the Universities & Colleges Admissions Service (UCAS).
International students can also apply using The Common Application: however, if applying to more than one UK university, we recommend using UCAS.
Application deadlines
15 October: if including Dentistry, Medicine, Veterinary Medicine or also applying to Oxford or Cambridge
30 June: international (non-EU) students
We do not usually accept any applications after these deadlines.
It's your responsibility to ensure the accuracy of your application before submission. Requests to correct application content, change degree programme or change college of entry, will not be accepted after these deadlines. This policy is in place to ensure fairness and consistency to all applicants, and no exceptions will be made.
Apply at www.ucas.com or through your school or college
Contact UCAS on 0871 468 0468.
All applications must be received by UCAS by 15 October. Late applications are not normally considered. If applying for Medicine (A100) you must limit your choice to four medical schools only. If you apply to more than four medical schools, your application will not be forwarded to institutions by UCAS. You are encouraged to read the MBChB admissions guide.
of Medicine (non specific) students in work were in professional / managerial jobs
Discover Uni, January 2020
PROFESSIONALLY ACCREDITED

World top 100: Times Higher Education World University Rankings [Medicine and Dentistry]

2nd in UK: Times & Sunday Times Good University Guide [Medicine]
Infection, Immunity & Inflammation