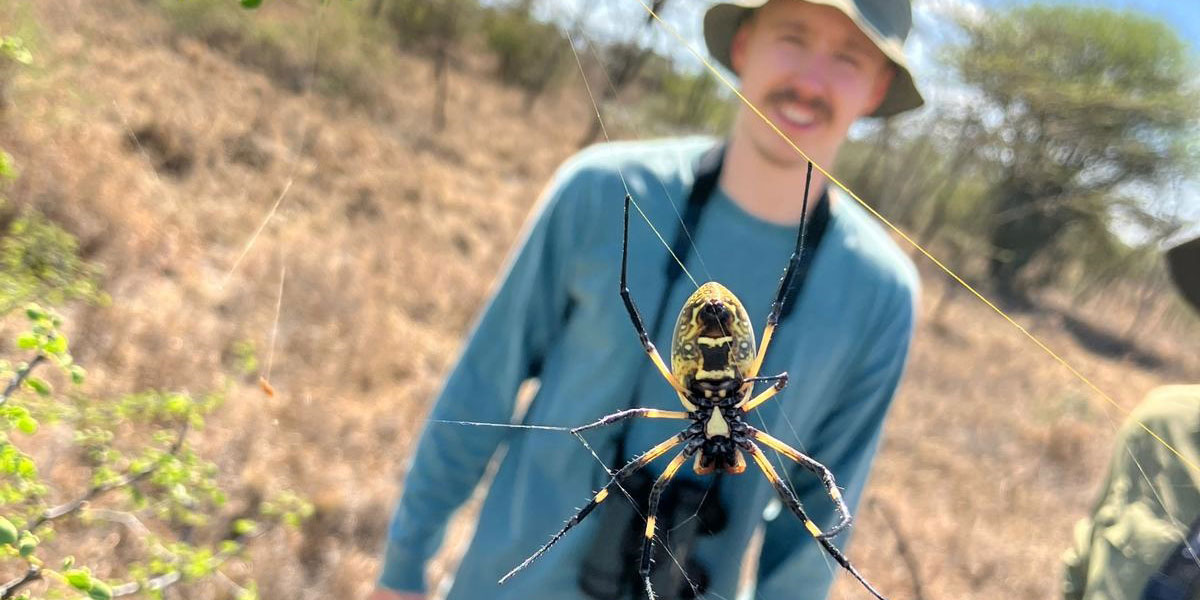 Zoology is the scientific study of all aspects of animals: their structure, function, behaviour, physiology, ecology and evolution. It covers a huge range of biodiversity from microscopic organisms to the colossal blue whale, across all habitats on Earth. As we continue to have a greater impact on our environment it is increasingly important for us to understand the animal life that depends on it.
Our teaching is informed by cutting-edge research and close links with the Institute of Biodiversity, Animal Health and Comparative Medicine.
You will gain a range of practical skills and experience across multiple field courses, including exotic locations and our own field station at Loch Lomond, the Scottish Centre for Ecology and the Natural Environment.
Expeditions are carried out by the Glasgow University Exploration Society to a range of locations each year. Previous expeditions have included Sri Lanka, Egypt, Trinidad, Iceland, Tobago, Guyana, and remote parts of Scotland. They are independent of any course and are open to all students.
Our student Zoological Society meets regularly for talks and activities.
September start: session dates
Zoology BSc (Hons): C300 4 year degree
Zoology MSci: 5 year degree
Applications to the MSci are not taken via UCAS: you may apply for transfer mid-BSc
Life Sciences at Glasgow
With hands-on experience and flexible degrees, studying at the School of Life Sciences challenges you to apply the theory of the classroom in practical situations, in the lab or the field. We offer an extremely wide range of courses in Human and Animal Biology, Biomolecular Sciences, Infection and Immunity.
Our aim is to offer internationally competitive degrees that meet the needs of today's science graduates. To achieve this aim, we utilise the research and teaching strengths of the College of Medical, Veterinary & Life Sciences to provide our graduates with the skills necessary for success in any chosen career.
We have a large and diverse student body, which includes Scottish, UK, EU and international students. We regularly welcome visiting and exchange students, and we believe in the many advantages our students gain from adding an international dimension to their studies.
Strengths of the School include:
Substantial flexibility within our range of degree programmes
An opportunity for students to gain experience working or studying abroad
Annual field courses to destinations around the globe
Access to the UofG's world-renowned museums of Anatomy and Zoology
Top-quality student experience.
What to Expect
A degree at the School of Life Sciences offers you the flexibility to study a range of subjects in your first two years, giving you a breadth of experience, before specialising for your Honours years.
Degrees in Life Sciences are all offered as single Honours, however, a joint degree in Psychology & Neuroscience is offered through the School of Psychology.
In first year, you'll normally select three Level-1 courses, according to your interests and long-term plans. These will include Biology and a Chemistry-based course.
Although your interests are likely to be science subjects, you may also be able to choose an Arts or Social Sciences subject as a third choice, subject to availability.
In second year, you may select all of your courses from Life Sciences or combine them with additional Level-1 or Level-2 courses.
At the end of second year, most of our students progress to a Bachelor of Science with Honours degree (four years). We also offer a Master in Science Advanced Honours degree (five years) and a Bachelor of Science designated degree (three years).
Programme structure
Year 1
You will be given a general introduction to all aspects of modern biology and encouraged to acquire general scientific skills.
Year 2
You will develop your knowledge of fundamental aspects of biology and be introduced to specialist subject areas according to your interests.
You will also study other subjects in years 1 and 2: see Flexible degrees.
Years 3, 4 and 5
If you progress to Honours, fieldwork becomes an important component of your study mix. Specific topics you may study include invertebrate and vertebrate biology; ecology; molecular ecology; animal physiology; parasite biology; and marine biology. There are also courses on experimental design, data collection and analysis.
A major component of your final year is an independent research project. This project will give you the chance to research something new, and the results sometimes contribute to scientific publications.
Zoology can be taken as an MSci, which includes an additional placement year between the third and final years of the degree, normally spent undertaking research in industry in the UK or overseas.
Programme alteration or discontinuation
The University of Glasgow endeavours to run all programmes as advertised. In exceptional circumstances, however, the University may withdraw or alter a programme. For more information, please see: Student contract.
Our international links
Research projects may be undertaken on a wide range of topics in a variety of international locations: recent examples include marine turtle breeding in Cyprus and tree frog behaviour in Trinidad. You may also have the opportunity to take an optional overseas field course.
Entry requirements
for entry in 2020
BSc
Glasgow International College
International students with academic qualifications below those required should contact our partner institution, Glasgow International College, who offer a range of foundation certificates.
For applicants whose first language is not English, the University sets a minimum English Language proficiency level.
Career prospects
Graduates are well placed for a variety of employment opportunities. These include undertaking postgraduate studies in zoology, pursuing research, management, conservation, consultancy and animal care.
Careers of some of our graduates include:
Policy Officer: RSPB
Environmental Protection Officer: SEPA
Environmental Consultant: Eden Nuclear & Environment
Research Scientist: St Andrew's University
Editor: Oxford University Press
Degrees and UCAS codes
When applying you will need to know the UCAS code for the subject or subject-combination that you wish to apply to:
BSc (Hons)
MSci
Applications to the MSci are not taken via UCAS: you may apply for transfer mid-BSc
Fees and funding
Tuition fees
How and when you pay tuition fees depends on where you're from: see Tuition fees for details.
Scholarships
The University is committed to supporting students and rewarding academic excellence. That's why we've invested more than £1m in additional scholarship funding in recent years.
The scholarships above are specific to this programme. For more funding opportunities search the scholarships database
How to apply
Full-time students must apply through the Universities & Colleges Admissions Service (UCAS).
International students can also apply using The Common Application: however, if applying to more than one UK university, we recommend using UCAS.
Application deadlines
15 October: if including Dentistry, Medicine, Veterinary Medicine or also applying to Oxford or Cambridge
15 January: all other UK/EU applicants (unless otherwise stated on the UCAS website)
30 June: international (non-EU) students
We do not usually accept any applications after these deadlines.
It's your responsibility to ensure the accuracy of your application before submission. Requests to correct application content, change degree programme or change college of entry, will not be accepted after these deadlines. This policy is in place to ensure fairness and consistency to all applicants, and no exceptions will be made.
Apply at www.ucas.com or through your school or college
Contact UCAS on 0871 468 0468
How to apply for Advanced Entry
Apply for year 2 (Y2) on your UCAS application. If the specific subject is unavailable for Advanced Entry or your application for year 2 entry is unsuccessful, you will be automatically considered for year 1 entry. You do not have to submit a separate UCAS application.
More information about this programme
BSc Zoology students were satisfied overall
Data published by Unistats, March 2019

1st in UK: Times & Sunday Times Good University Guide [Animal Science]