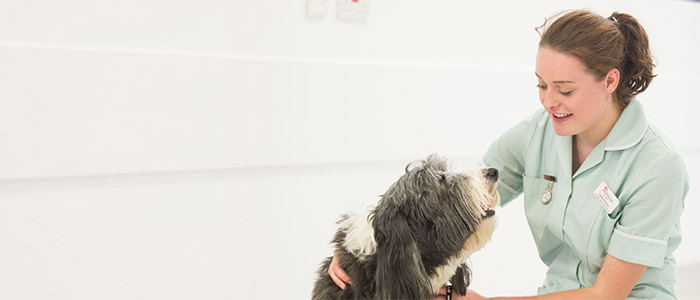 As a vet you will be responsible for the prevention of disease and for the medical and surgical treatment of animals, including household pets, zoo animals, farm animals and horses.
The University is one of six Vet Schools in Europe to have achieved accredited status for its undergraduate programmes from the American Veterinary Medical Association.
Veterinary Medicine at Glasgow is ranked 1st in the UK (Complete University Guide 2020) and 2nd in the UK (The Times & Sunday Times Good University Guide 2020).
September start
Veterinary Medicine BVMS: D100 5 year degree
About the School of Veterinary Medicine
Across 80 hectares at the north-west boundary of the city lies our beautiful Garscube estate, just four miles from the University's Gilmorehill campus.
Home to the School of Veterinary Medicine, the Institute of Cancer Sciences and the MRC Centre for Virus Research, the campus also has a range of indoor and outdoor sports facilities, onsite parking and excellent public transport links. The sports complex is popular with the University's outdoor sports teams, with six grass pitches, two all-weather synthetic pitches, gym, tennis courts, cricket oval, exercise studio and 5km of walking and jogging routes around the grounds.
School of Veterinary Medicine
With over 150 years of veterinary excellence, the School of Veterinary Medicine is pre-eminent in teaching, research and clinical provision, and attracts students, researchers and clinicians from around the world.
Our research places us among the world leaders in global animal health
Accredited status from the American Veterinary Medical Association
Top among UK veterinary schools for research quality (REF 2014)
Some of the facilities within our internationally accredited school include:
the award-winning Small Animal Hospital: Scotland's only animal hospital with magnetic resonance imaging, alongside computed tomography and radiotherapy
all under one roof
the Weipers Centre for Equine Welfare, which offers services for anaesthesia, diagnostic imaging, lameness therapy, equine surgery and physiotherapy
the Scottish Centre for Production, Animal Health and Food Safety, which offers diagnostic imaging, fertility assessments and surgical procedures
For more information visit the School of Veterinary Medicine.
Institute of Cancer Sciences
The Institute of Cancer Sciences is part of a national centre of excellence in the fight against cancer. The institute carries out a programme of world-class science directed at understanding the molecular changes that cause cancer. It boasts one of the largest centres for cancer trials in the UK and is working to translate scientific discoveries into new drugs or diagnostic and prognostic tools that benefit cancer patients, taking new therapies through pre-clinical and clinical trials. The Institute of Cancer Sciences is a major component of the Cancer Research UK West of Scotland Cancer Centre and is a partner with the Beatson Institute for Cancer Research (BICR), which together form the core of cancer research in Glasgow.
For more information visit the Institute of Cancer Sciences.
MRC-University of Glasgow Centre for Virus Research
The MRC-University of Glasgow Centre for Virus Research (CVR) was established in 2010 and represents the UK's largest grouping of human and veterinary virologists. The centre carries out multidisciplinary research on viruses and viral diseases of humans and animals, translating the knowledge gained for the improvement of health. Research covers emerging viruses including arboviruses, innate and intrinsic immunity to virus infection, hepatitis C virus, viruses and cancer, structural virology, viral genomics and bioinformatics.
For more information visit the MRC-University of Glasgow Centre for Virus Research.
Programme structure
Purpose and goals
The BVMS programme is based on integration of clinical and science subject areas and is delivered using a range of teaching methods including centred active learning approaches. The spiral course structure means that you will revisit topics as you progress through the programme, each time with increasing clinical focus. In conjunction, there is a vertical theme of professional and clinical skills development to help you acquire the personal qualities and skills you will need in professional environments. Through individual, team-working and student-centred active learning approaches, you will develop the skills required for lifelong independent learning.
Foundation phase (years 1 and 2)
In the first two years of the programme you will acquire fundamental knowledge and develop the skills and attitudes on which the following years of your training are based. During this initial phase, you will relate the anatomy and physiology of the body systems to health and disease in domestic animals, as well as looking at the underlying cellular process involved. You will gain an insight into common husbandry practice and animal breeding and how these impact on the animals we care for. Your professional training starts at the beginning of year 1 as you begin classes in fundamental animal- handling techniques, learn skills such as suturing,
and develop your communication skills, building a solid foundation in the art of history taking, clinical examination and clinical reasoning.
At the end of the foundation phase you will have a sound working knowledge of healthy domestic animals, with an introduction to the mechanisms of disease. You will be developing independent learning strategies and you will have developed the fundamental personal skills you will require as you move towards learning based more in professional environments.
Clinical phase (years 3 and 4)
The aim of the clinical phase is to build on the foundation phase to provide a broad training in key areas of veterinary professional practice, with a focus on common and important problems and presentations encountered in veterinary work. Realistic scenarios and cases form the basis for integrating clinical aspects of veterinary practice with disease investigation and control measures. The approach emphasises the role of clinical reasoning and planning and you will continue to develop the practical skills and attitudes required to work in the clinical environment and take a greater responsibility for your learning.
At the end of the clinical phase, you will have developed independent learning strategies and the necessary skills to become an active participant of the professional phase clinical team.
Professional phase (year 5)
In your final year there are no lectures and the primary emphasis is on small-group involvement in clinical activity, covering the common species of domestic animals. During this time you will be involved in all aspects of work in our busy hospitals and you will also gain first-hand experience in practices linked to the veterinary school. Though this year of the programme is structured so that you will receive clinical experience in core clinical areas, there is also the opportunity to focus on personal interests or explore the breadth of opportunities in the veterinary profession by choosing a "selective" experience. Selectives may be used to gain experience in niche veterinary activities (such as wildlife, zoo and exotics) or to gain in-depth clinical experience related to core subjects.
Special features
In common with all veterinary students in the UK, you will be required to undertake extra-mural studies (EMS) during your vacation time (total duration determined by the RCVS). This encompasses time wherein you gain experience of the management and handling of domestic animals. Upon completion of this preclinical EMS you have to undertake clinical EMS, during which you gain experience working in veterinary professional environments. Satisfactory completion of the EMS requirements set by the RCVS is a requirement for graduation.
The intercalated degree programme represents an opportunity for BVMS students following their second or third year to take either one or two years out of the BVMS programme and study for an additional degree programme (both at Bachelors: BSc, BSc Vet Sci (Hons); and Masters levels: MSc, MRes or MVPH); after which you then re-enter the BVMS programme.
Programme alteration or discontinuation
The University of Glasgow endeavours to run all programmes as advertised. In exceptional circumstances, however, the University may withdraw or alter a programme. For more information, please see: Student contract.
Our international links
Study abroad opportunities are available in all years through participation in compulsory extra-mural studies (see special features). There are also opportunities to study abroad as an integral part of the BVMS programme in year 5.
We have approved status from the American Veterinary Medical Association (AVMA), which enables you to have the option of practising in the USA or Canada following graduation, without the need for sitting lengthy and costly clinical proficiency examinations.
Support for NAVLE
The National Board of Veterinary Medical Examiners has established a single common examination for veterinary medical licensure in the United States known as the North American Veterinary Medical Licensing Examination (NAVLE).
The NAVLE is offered twice a year: in November/ December and in April. All final year students are given support with preparing for the NAVLE examination.
Entry requirements
for entry in 2021
Summary of entry requirements for Veterinary Medicine & Surgery
SQA Higher Entry Requirements (by end of S6)
AAAAB Higher at end of S5 + BB Advanced Higher
Additional requirements: Highers Chemistry, Biology and Physics or Mathematics. Advanced Higher Chemistry and Biology. Practical experience. Interview.
SQA Higher Adjusted Entry Requirements* (by end of S6)
AAABB Higher at end of S5 + BB AdvancedHigher
Additional requirements: Highers Chemistry, Biology and Physics or Mathematics. Advanced Higher Chemistry and Biology. Practical experience. Interview. Successful completion of Reach.
* See Access Glasgow for eligibility.
A-level Standard Entry Requirements
AAA
Additional requirements: A-Levels Chemistry and Biology (third Science A-level recommended). GCSE English at Grade B or 5. Practical experience. Interview.
IB Standard Entry Requirements
38 (6,6,6 HL)
Additional requirements: HL subjects Chemistry and Biology. SL English and Physics or Mathematics at 6. Practical experience. Interview.
Interviews
Candidates seriously considered for admission to the BVMS programme will normally be interviewed between December and February before a final decision is reached.
Practical experience requirements
In addition to the academic standard detailed, evidence of motivation is required. We encourage applicants to have at least a few days experience with a veterinary surgeon and have had hands on experience with farm animals.
If this is not possible, we can accept completion of a Virtual Work Experience MOOC in place of some or all in-person work experience.
Glasgow International College
International students with academic qualifications below those required should contact our partner institution, Glasgow International College, who offer a range of foundation certificates.
For applicants whose first language is not English, the University sets a minimum English Language proficiency level.
English language requirements
Important information for entry in Autumn 2020 and January 2021
International English Language Testing System (IELTS) Academic module (not General Training):
overall score 6.5
no sub-test less than 6.0
or equivalent scores in another recognised qualification (see below)
Common equivalent English language qualifications:
ibTOEFL*: 90; no sub-test less than: Reading: 20; Listening: 19; Speaking: 19; Writing: 23

CAE (Cambridge Certificate of Advanced English): 176 overall: no sub-test less than 169
CPE (Cambridge Certificate of Proficiency in English): 176 overall: no sub-test less than 169
PTE Academic (Pearson Test of English, Academic test): 60; no sub-test less than 59
IGCSE: English as a First Language (0500/0522): C in Reading and Writing, plus 1 in Listening, 2 in Speaking, where applicable. All four components (listening, writing, speaking, reading) must be examined and detailed on results slip
IGCSE: English as a Second Language (0510/0511): A in Reading and Writing, plus A in Listening, 2/B in Speaking, where applicable. All four components (listening, writing, speaking, reading) must be examined and detailed on results slip
Trinity College London Integrated Skills in English: ISEII at Distinction with Distinction in all sub-tests
* Please note that TOEFL is still acceptable for admission to this programme for both home/EU and international students.
For international students, the Home Office has confirmed that the University can choose to use TOEFL to make its own assessment of English language ability for visa applications to degree level courses. We therefore still accept TOEFL tests taken in the last two years for admission to this programme.
Pre-sessional courses
The University of Glasgow accepts evidence of the required language level from the English for Academic Study Unit Pre-sessional courses. We also consider other BALEAP accredited pre-sessional courses:
FAQs
What do I do if...
my language qualifications are below the requirements?
The University's School of Modern Languages and Cultures offers a range of Pre-Sessional Courses to bring you up to entry level. The course is accredited by BALEAP, the UK professional association for academic English teaching; see Links.
my language qualifications are not listed here?
Please contact External Relations
If you require a Tier 4 student visa, your qualification must be one of the secure English language tests accepted by UK Border Agency:
Visa requirements and proof of English language level
It is a visa requirement to provide information on your level of English based on an internationally recognised and secure English language test. All test reports must be no more than 2 years old. A list of these can be found on the UK Border Agency website. If you have never taken one of these tests before, you can get an initial idea of your level by using the Common European Framework self-assessment grid which gives you a level for each skill (e.g. listening B1/writing B2 etc.) However, please note that this is not a secure English language test and it is not sufficient evidence of your level of English for visa requirements.
For further information about English language, please see School of Modern Languages and Cultures: English for Academic Study.
Career prospects
As a graduate of Veterinary Medicine at Glasgow, you can register as a member of the Royal College of Veterinary Surgeons (MRCVS). Along with the University's accreditation by the AVMA, this means that our graduates can choose to work anywhere in the world, and the global opportunities are endless. The majority of registered veterinary surgeons in the United Kingdom are in general practice, which may be small animal, farm animal, equine or mixed. Our graduates are also employed in government service, dealing with investigation, control and eradication of important diseases. Others are actively engaged in food hygiene or in university teaching and research.
Accreditation
We are accredited by the Royal College of Veterinary Surgeons, the European Association of Establishments for Veterinary Education, the Australian Veterinary Boards Council and the American Veterinary Medical Association.
Degrees and UCAS codes
When applying you will need to know the UCAS code for the subject or subject-combination that you wish to apply to:
BVMS
Veterinary Medicine: D100 (5 years)
Fees and funding
Tuition fees
How and when you pay tuition fees depends on where you're from: see Tuition fees for details.
Financial Aid and Loans
for more information on Financial Aid and US Loans see: Student finance.
Scholarships
The University is committed to supporting students and rewarding academic excellence. That's why we've invested more than £1m in additional scholarship funding in recent years.
RUK Access Bursary 2020 Entry
The bursary supports talented students who might not be able to take a place at University for reasons of financial hardship. It is available to new entrant full-time, undergraduate students of the University of Glasgow who are fully registered for Session 2020/21, as being domiciled in England, Wales and Northern Ireland and paying annual tuition fees of £9,250 per annum.
The Martin Niemöller Scholarship (College of Medical, Veterinary and Life Sciences)
The German Speaking Congregation in Glasgow are pleased to offer one scholarship award of £500 for students originating from German speaking countries. The scholarship will support those students in need of financial support at any stage of their degree programme.
All students awarded a Martin Niemöller Scholarship will be asked to submit a short letter of thanks to the Development and Alumni Office for onward transmissions to the donors of the award.
The scholarships above are specific to this programme. For more funding opportunities search the scholarships database
How to apply
Full-time students must apply through the Universities & Colleges Admissions Service (UCAS).
International students can also apply using The Common Application: however, if applying to more than one UK university, we recommend using UCAS.
Application deadlines
We do not usually accept any applications after these deadlines.
It's your responsibility to ensure the accuracy of your application before submission. Requests to correct application content, change degree programme or change college of entry, will not be accepted after these deadlines. This policy is in place to ensure fairness and consistency to all applicants, and no exceptions will be made.
All applications must be received by UCAS by 15 October. If applying to the BVMS programme you must limit your choice to four veterinary schools only.
If you apply to more than four veterinary schools, your application will not be forwarded to institutions by UCAS. The University is unable to offer applicants deferred entry.
Work Experience Form
Please ensure you complete a work experience form once you have made a UCAS application to Veterinary Medicine.
The form should be completed and uploaded on your Applicant Self Service portal by 22 October and we ask that you only upload one sheet and do not duplicate or resubmit this.
Full details regarding your Applicant Self Service portal will be emailed to you upon receipt of your UCAS application. Additional details are available at:
of students in work were in professional/managerial jobs
Discover Uni, January 2020
PROFESSIONALLY ACCREDITED
Infection, Immunity & Inflammation