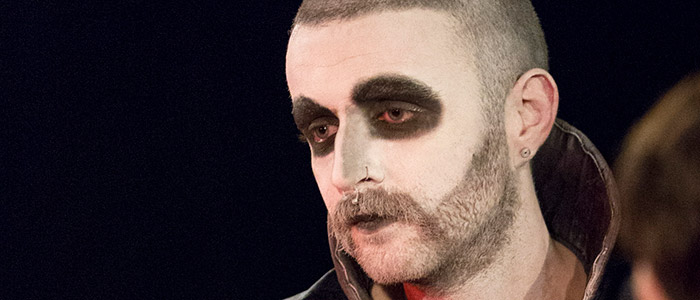 This degree programme examines the nature and function of the theatrical event and theatre culture from critical, historical and practical perspectives.
Glasgow has a vibrant and diverse theatre and performance scene. We have very strong links with the theatre and arts sector, giving you opportunities to be taught by and work with practitioners of national and international standing, alongside staff with reputations as world-leading researchers (REF2014 definition of 4* research0.
September start: session dates
Theatre Studies MA (Hons): W440 4 year degree
What our students say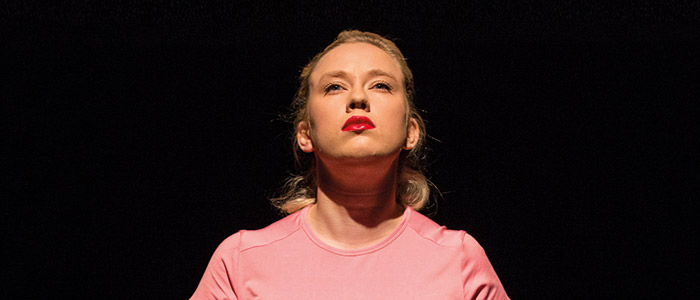 Nina
"I was understandably anxious about university, having moved half way across the world from South Africa and not having any experience of university life. From the staff, to the subject matter we cover in the course, I absolutely fell in love with Theatre Studies. I am now two years into my course and looking forward to taking it into honours. I would highly recommend the course to anyone who has a love for theatre (there's something for everyone). I have learned so much in the last two years as a Theatre joint honours student and have met such wonderful like-minded people on my course. I tend to find university academic life quite isolating but the Theatre Studies staff make the Theatre Studies building feel like home. You get the genuine feeling that the staff are rooting for you. I have no regrets and look forward to next year and graduating with my degree."
Petros
"Studying Theatre at the University of Glasgow means studying in an environment where I can be both creative and critical. I can express my concerns and be myself in an environment that is overtly academic and yet feels like home. With the staff always ready to guide you and the curriculum powerful enough to intrigue you and challenge you, it is definitely the best choice I made."
Claire
"If I was asked by any student considering whether or not to study Theatre at the University of Glasgow, without a doubt I would tell them to do it. The past four years have been priceless to me. I have benefitted immensely from a wide variety of classes, some theory-based and others practice-based. The teaching staff care greatly about the well-being and development of the students, going above and beyond to make sure that resources are available to us and that we get all of the support we require. The department ensures that there are plenty of opportunities to meet and be taught by artists currently working in the industry which I have found to be immeasurably valuable. I will always be thankful that I chose Glasgow."
Programme structure
Year 1
You will focus on two subject areas:
Reading the stage: will introduce you to different ways of engaging with and interpreting theatre and performance through a range of critical and practical approaches.
Theatre and society: will explore the historical and contemporary role of theatre in society, giving you an understanding of some social, political and economic issues affecting theatre practice in a range of historical and geographical contexts.
Year 2
You will focus on two subject areas:
Classical to modern: a historical and critical survey of the dominant forms of theatre practice in Europe before 1900.
Modernism to postdramatic: an introduction, through lectures and practical experimentation, to European and American practitioners whose radical approaches to acting, directing, scenography and dramaturgy have reoriented performance and redefined our understanding of the theatrical event.
You will also study other subjects in years 1 and 2 : see Flexible degrees.
Years 3 and 4
If you progress to Honours (years 3 and 4) you will take a course in performance theory and analysis, alongside optional courses. Options include courses in directing; writing for performance; applied theatre; space, place and performance; documentary theatre; performance and autobiography; Renaissance theatre; performing memory; Victorian and Edwardian theatre, Samuel Beckett, queer performance; activist theatre; arts criticism and German theatre, among others. In year 4 you will also have the option to apply for a work placement.
Programme alteration or discontinuation
The University of Glasgow endeavours to run all programmes as advertised. In exceptional circumstances, however, the University may withdraw or alter a programme. For more information, please see: Student contract.
Special Glasgow feature
Your studies will be based in a refurbished building that includes a flexible-stage theatre, performance studios, editing suites and a cinema. Over 50% of Theatre Studies staff have been nominated for or won student teaching awards in the past four years.
Our international links
A number of opportunities exist for you to spend one of your undergraduate years, or part of a year, studying abroad. Our students have chosen to study at a range of universities in North America, Australia and Europe. We have particularly close connections with the University of New South Wales in Sydney; Queen's University, Kingston, Ontario, Canada; the University of California; and Berlin's Free University. See Study abroad.
Entry requirements
for entry in 2020
Applicants to subject-combinations with Psychology must meet the Psychology degree programme entry requirements.
MA
For applicants whose first language is not English, the University sets a minimum English Language proficiency level.
Career prospects
Our graduates have gone on to a wide range of careers, many of which are closely connected to professional theatre-making, arts production and management, while others take very different career paths. Recent Glasgow Theatre Studies graduates have, for instance, become successful theatre directors, casting agents, arts managers and administrators, stand-up comedians and playwrights. Others have followed careers as teachers and community arts workers.
Degrees and UCAS codes
When applying you will need to know the UCAS code for the subject or subject-combination that you wish to apply to:
MA (Hons)
Theatre Studies: W440
Theatre Studies/Archaeology: VW44
Theatre Studies/Classics: WQ48
Theatre Studies/Comparative Literature: QWF4
Theatre Studies/Computing Science: GW44
Theatre Studies/Digital Media & Information Studies: GW5K
Theatre Studies/Economics: LW14
Theatre Studies/English Language & Linguistics: WQ4J
Theatre Studies/English Literature: WQ4H
Theatre Studies/Film & Television Studies: WW46
Theatre Studies/French: RW14
Theatre Studies/Geography: LW74
Theatre Studies/German: R2W4
Theatre Studies/Greek: Q7W4
Theatre Studies/History: VW14
Theatre Studies/History of Art: VWH4
Theatre Studies/Italian: R3W4
Theatre Studies/Mathematics: GW14
Theatre Studies/Music: WW34
Theatre Studies/Philosophy: VW54
Theatre Studies/Politics: LW24
Theatre Studies/Portuguese: R647
Theatre Studies/Psychology: CW84
Applicants must meet the Psychology requirements
Theatre Studies/Scottish History: VWF4
Theatre Studies/Scottish Literature: QW24
Theatre Studies/Social & Public Policy: LW44
Theatre Studies/Sociology: LW34
Theatre Studies/Spanish: RW4K
Theatre Studies/Theology & Religious Studies: VW64
Fees and funding
Tuition fees
How and when you pay tuition fees depends on where you're from: see Tuition fees for details.
Scholarships
The University is committed to supporting students and rewarding academic excellence. That's why we've invested more than £1m in additional scholarship funding in recent years.
The scholarships above are specific to this programme. For more funding opportunities search the scholarships database
How to apply
If you're seeking full-time study you must apply through the Universities & Colleges Admissions Service (UCAS). International students may also apply via The Common Application – however, if applying to more than one UK university, we recommend using UCAS.
Application deadlines
The deadlines for applications to Medicine, Vet Medicine and Dentistry is 15 October each year. The deadline for applications to all other degree programmes is 15 January each year (UCAS only). Students residing in the UK/EU should apply by the 15 January and International students should apply by the 30 June on the year of entry.
The University of Glasgow does not usually accept any applications after these deadlines. It is the applicants' responsibility to ensure the accuracy of their application prior to submission, and requests from applicants to correct erroneous application content, change degree programme or change college of entry, will not be accepted after these deadlines. This policy is in place to ensure fairness and consistency to all applicants, and no exceptions will be made.
15 October: if including Dentistry, Medicine, Veterinary Medicine or applying to Oxford or Cambridge
15 January: all other UK/EU applicants (unless otherwise stated on the UCAS website)
30 June: international (non-EU) students.
Apply at www.ucas.com or through your school or college.
Contact UCAS on 0871 468 0468.

Apply on commonapp.org (international students only)
Tuition Fee Status
Tuition fee status is determined by nationality and country of ordinary residence.
If you are a UK/EU citizen living outside the EU for over three years, it is likely that you will have to pay the international fee.
If you are unsure of your fee status, it is strongly advised that you apply by the 15 January deadline and submit a Fee Status Enquiry form as soon as possible.
UCAS tariff points
The University does not frame its offers in terms of UCAS tariff points.
How soon will I receive a decision?
We will usually respond before the end of March.

If your qualifications meet our requirements and we believe you could benefit from study at Glasgow, you will receive an unconditional offer.
If you haven't yet gained the necessary passes for entry to your chosen subject(s), we may look at the qualifications you are taking when you apply and make you a conditional offer.
Will I be interviewed?
An interview will be part of the selection process for: Community Development, Dentistry, History of Art & Art-world Practice, Medicine, Music, Nursing, Teaching, and Veterinary Medicine & Surgery. You may also be interviewed if you're applying for entry into Year 2 in any subject.
Is deferred entry available?
For Dentistry, Nursing and Veterinary Medicine programmes we are unable to consider applications for deferred entry. In other cases deferring may be possible but it's not granted automatically.
University Transfers
Transfers from another University to the University of Glasgow will only be considered under the following circumstances:
The applicant has a genuine personal circumstance (illness, bereavement or other family situation) which requires the student to move back to their home town to be closer to family; AND
The applicant would have met the University of Glasgow entrance requirements at the time he/she went to the other institution. In exceptional circumstances, a student may be admitted if he/she was marginally below the University of Glasgow entrance requirements, and they have performed above average at the other institution.
Widening participation
We want to help talented applicants from all backgrounds to study at Glasgow. See our range of widening access pre-entry programmes at Widening Participation.
Apply at www.ucas.com or through your school or college.
Contact UCAS on 0871 468 0468.

Apply on commonapp.org (international students only)
Theatre Studies students were satisfied overall
Data published by Unistats, March 2018