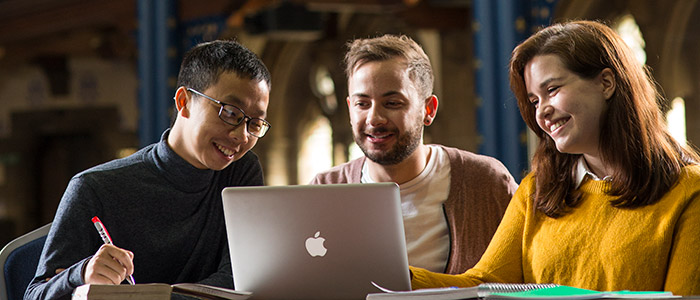 Philosophy is the systematic attempt to arrive at clear answers to profound questions about issues such as knowledge, life, morality, science and human nature using reason and argument
We host reading parties for students in the Highlands, and have a flourishing undergraduate Philosophy Society. We are home to the Centre for the Study of Perceptual Experience, and the Cogito research group in Epistemology.
September start: session dates
Philosophy MA (Hons): V502 4 year degree
Programme structure
Year 1
You will study two courses, which will introduce you to a range of philosophical tools and ideas by thinking through a series of tough philosophical questions. 'How should I think?' will help you think critically about what to believe and how to behave in everyday life, start you thinking about the relationship between your mind and the world, and give you the tools to reason formally. 'How should I live?' goes on to think about what makes actions good or bad, and uses this to explore practical questions about how to behave, as well as some deeper questions about the meaning of life and death.
Year 2
You will study two more courses, continuing to build your knowledge of the basic philosophical toolkit by exploring tough questions. 'What am I?' looks at our minds, our free will, and our identities as individuals and members of societies. 'What is there?' addresses foundational questions about logic, metaphysics, science and religion, to help clarify our place in the universe.
By the end of your second year you will have experience of most core areas of philosophy, as well as having practical know-how about how to draw on those areas to develop your own answers to the questions we explore in Years 1 & 2.
You will also study other subjects in years 1 and 2: see Flexible degrees.
Years 3 and 4
If you progress to Honours (years 3 and 4) you will choose courses giving you an in-depth knowledge of core areas like epistemology, metaphysics, formal logic, moral philosophy, philosophy of mind and political philosophy. You will also take high-level specialist courses linked to the active research of lecturers and researchers in the subject.
In year 4 you will have the opportunity to write a dissertation, working one-to-one with a member of staff on a topic of your choice.
Programme alteration or discontinuation
The University of Glasgow endeavours to run all programmes as advertised. In exceptional circumstances, however, the University may withdraw or alter a programme. For more information, please see: Student contract.
Our international links
We encourage our students to study abroad (usually during year 3). We have an Erasmus exchange scheme with the University of Barcelona and our Philosophy students have also studied in the United States, Canada, Australia, New Zealand, Hong Kong, Denmark and Finland. See Study abroad.
Entry requirements
for entry in 2020
Applicants to subject-combinations with Psychology must meet the Psychology degree programme entry requirements.
MA
BSc
MA (SocSci)
For applicants whose first language is not English, the University sets a minimum English Language proficiency level.
Career prospects
You will develop many transferable skills and attributes which will be valuable in your future career. These include the ability to evaluate arguments and interpret texts, the facility to be analytical, the skill to think and write clearly and precisely, and the capacity to question assumptions. Some of our graduates go on to study for postgraduate degrees in Philosophy and some of these progress to teach in universities. Others go on to a wide range of careers. Examples of recent destinations for Philosophy graduates include:
Hydrogen Group, recruitment consultant
Beijing School, English teacher
Hopscotch Films, TV researcher
Guardian online, audience editor
Civil Service fast track (treasury and MoD)
Solicitor
Water Industry Commission, regulation analyst
International Organisation for Migration Iraq, project support officer.
Degrees and UCAS codes
When applying you will need to know the UCAS code for the subject or subject-combination that you wish to apply to:
MA (Hons)
Philosophy: V502
Philosophy/Ancient History: VV15
Philosophy/Business & Management: NVF5
Philosophy/Celtic Civilisation: QV55
Philosophy/Celtic Studies: QVM5
Philosophy/Central & East European Studies: VR85
Philosophy/Classics: QV85
Philosophy/Comparative Literature: QVF5
Philosophy/Digital Media & Information Studies: GV55
Philosophy/Economic & Social History: VVJ5
Philosophy/Economics: LVD5
Philosophy/English Language & Linguistics: QV3N
Philosophy/English Literature: QV3M
Philosophy/Film & Television Studies: VW56
Philosophy/Gaelic: Q5V5
Philosophy/Geography: LV75
Philosophy/German: RV25
Philosophy/History: VVC5
Philosophy/History of Art: VVH5
Philosophy/Italian: RV35
Philosophy/Mathematics: GV15
Philosophy/Music: VW53
Philosophy/Politics: LVF5
Philosophy/Portuguese: 7A3W
Philosophy/Psychology: CVV5
Applicants must meet the Psychology requirements
Philosophy/Russian: RV75
Philosophy/Scottish History: VVD5
Philosophy/Sociology: LV65
Philosophy/Spanish: V5R4
Philosophy/Theatre Studies: VW54
Philosophy/Theology & Religious Studies: VV56
BSc (Hons)
Philosophy/Mathematics: GVD5
MA(SocSci) (Hons)
Philosophy/Business & Management: NV25
Philosophy/Business Economics: LV15
Philosophy/Central & East European Studies: RVT5
Philosophy/Economic & Social History: VV35
Philosophy/Economics: LVC5
Philosophy/Politics: LV25
Philosophy/Sociology: LVH5
Philosophy can also be taken in combination with Law programmes:
Fees and funding
Tuition fees
How and when you pay tuition fees depends on where you're from: see Tuition fees for details.
Scholarships
The University is committed to supporting students and rewarding academic excellence. That's why we've invested more than £1m in additional scholarship funding in recent years.
The scholarships above are specific to this programme. For more funding opportunities search the scholarships database
How to apply
If you're seeking full-time study you must apply through the Universities & Colleges Admissions Service (UCAS). International students may also apply via The Common Application – however, if applying to more than one UK university, we recommend using UCAS.
Application deadlines
The deadlines for applications to Medicine, Vet Medicine and Dentistry is 15 October each year. The deadline for applications to all other degree programmes is 15 January each year (UCAS only). Students residing in the UK/EU should apply by the 15 January and International students should apply by the 30 June on the year of entry.
The University of Glasgow does not usually accept any applications after these deadlines. It is the applicants' responsibility to ensure the accuracy of their application prior to submission, and requests from applicants to correct erroneous application content, change degree programme or change college of entry, will not be accepted after these deadlines. This policy is in place to ensure fairness and consistency to all applicants, and no exceptions will be made.
15 October: if including Dentistry, Medicine, Veterinary Medicine or applying to Oxford or Cambridge
15 January: all other UK/EU applicants (unless otherwise stated on the UCAS website)
30 June: international (non-EU) students.
Apply at www.ucas.com or through your school or college.
Contact UCAS on 0871 468 0468.

Apply on commonapp.org (international students only)
Tuition Fee Status
Tuition fee status is determined by nationality and country of ordinary residence.
If you are a UK/EU citizen living outside the EU for over three years, it is likely that you will have to pay the international fee.
If you are unsure of your fee status, it is strongly advised that you apply by the 15 January deadline and submit a Fee Status Enquiry form as soon as possible.
UCAS tariff points
The University does not frame its offers in terms of UCAS tariff points.
How soon will I receive a decision?
We will usually respond before the end of March.

If your qualifications meet our requirements and we believe you could benefit from study at Glasgow, you will receive an unconditional offer.
If you haven't yet gained the necessary passes for entry to your chosen subject(s), we may look at the qualifications you are taking when you apply and make you a conditional offer.
Will I be interviewed?
An interview will be part of the selection process for: Community Development, Dentistry, History of Art & Art-world Practice, Medicine, Music, Nursing, Teaching, and Veterinary Medicine & Surgery. You may also be interviewed if you're applying for entry into Year 2 in any subject.
Is deferred entry available?
For Dentistry, Nursing and Veterinary Medicine programmes we are unable to consider applications for deferred entry. In other cases deferring may be possible but it's not granted automatically.
University Transfers
Transfers from another University to the University of Glasgow will only be considered under the following circumstances:
The applicant has a genuine personal circumstance (illness, bereavement or other family situation) which requires the student to move back to their home town to be closer to family; AND
The applicant would have met the University of Glasgow entrance requirements at the time he/she went to the other institution. In exceptional circumstances, a student may be admitted if he/she was marginally below the University of Glasgow entrance requirements, and they have performed above average at the other institution.
Widening participation
We want to help talented applicants from all backgrounds to study at Glasgow. See our range of widening access pre-entry programmes at Widening Participation.
Apply at www.ucas.com or through your school or college.
Contact UCAS on 0871 468 0468.

Apply on commonapp.org (international students only)
More information about this programme
Philosophy students thought staff were good at explaining things.
Data published by Unistats, February 2019.