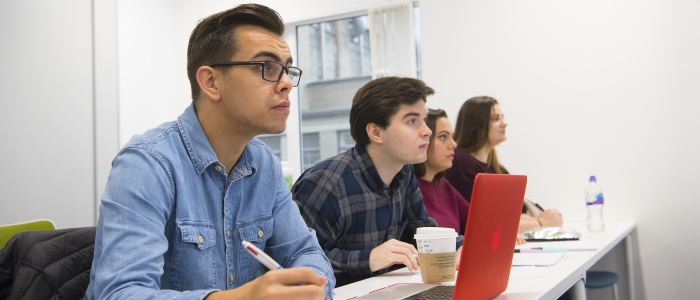 Mathematics is a vast and ever-growing subject which incorporates successful explorations of numerical, geometrical and logical relationships.
It uses reasoned argument from basic postulates and principles to explain the pattern and structure of the world we observe, to suggest pattern and structure as yet unobserved, and in general, provide tools that can be used to understand and manage the universe in which we live. In Pure Mathematics these postulates often take the form of concepts from geometry or properties of numbers, whereas in Applied Mathematics the postulates typically take the form of laws that can be tested rigorously by experiment.
Mathematics provides practitioners with a sophisticated toolbox for use in the manipulation of information, and the means to impose pattern and structure on that information.
September start: session dates
Mathematics BSc (Hons): G100 4 year degree
Mathematics MA (Hons): G102 4 year degree
Mathematics MSci: G101 5 year degree
Why study Mathematics?
Mathematics at the University of Glasgow is ranked 17th in the UK (Complete University Guide 2020)
Our ambassador scheme gives students the chance to spend time in schools, experiencing teaching at first hand and developing vital workplace skills
The MacLaurin Society (or MacSoc), is the university's Mathematics and Statistics Society. Named after the Scottish mathematician Colin MacLaurin, it has been running since the 1950's and provides a supportive and friendly atmosphere for students in the School
Programme structure
+++
Year 1
Core courses:
You will study Mathematics 1 which is designed to introduce advanced mathematical thinking skills through topics including calculus, geometry, number systems, cryptography, symmetries, differential equations. You will develop mathematical communication skills through regular small group problem solving activities.
---
+++
Year 2
Core courses:
You will study core courses in multivariable calculus, linear algebra, topics in applied mathematics, topics in linear algebra and calculus, introduction to real analysis, foundations of pure mathematics. You can also choose to take optional mathematics courses on graphs and networks, and number theory.
You will also study other subjects in years 1 and 2: see Flexible degrees.
---
+++
Year 3
Core courses:
---
+++
Year 4
In fourth year you will have the opportunity to specialise in your area of choice and undertake a project carried out under one-to-one supervision. There is also an opportunity to take an MSci degree over five years, which explores mathematics topics in greater depth and includes an individually supervised research project.
The Applied Mathematics courses allow students who prefer the practical and applicable aspects of the subject to concentrate on these elements. The Pure Mathematics courses are ideal for students who prefer the abstract and logical aspects of the subject.
---
Programme alteration or discontinuation
The University of Glasgow endeavours to run all programmes as advertised. In exceptional circumstances, however, the University may withdraw or alter a programme. For more information, please see: Student contract.
Our international links
There are currently two options available for study abroad: the Erasmus+ Programme (where you will study at a major European university for 3 to 12 months) and the International Exchange Programme, which allows you to spend time in one of our partner institutions in Australia, Argentina, Canada, Chile, China, Hong Kong, Japan, Korea, Mexico, New Zealand, Singapore or the USA. See Study abroad.
Entry requirements
for entry in 2020
Applicants to subject-combinations with Psychology must meet the Psychology degree programme entry requirements.
BSc/MSci
MA (SocSci)
MA
Glasgow International College
International students with academic qualifications below those required should contact our partner institution, Glasgow International College, who offer a range of foundation certificates.
For applicants whose first language is not English, the University sets a minimum English Language proficiency level.
Career prospects
Many of our graduates go on to careers in the financial services sector or computing, or undertake postgraduate study. Others are employed in industry, using the modelling and problem-solving skills gained on the programme. Our recent graduates have been employed by:
PricewaterhouseCoopers
Grant Thornton
Alexander Sloan
Cigna
Deloitte
Royal Bank of Scotland
Credit Suisse.
Degrees and UCAS codes
When applying you will need to know the UCAS code for the subject or subject-combination that you wish to apply to:
BSc (Hons)
MA (Hons)
MSci
MA(SocSci) (Hons)
Fees and funding
Tuition fees
How and when you pay tuition fees depends on where you're from: see Tuition fees for details.
Scholarships
The University is committed to supporting students and rewarding academic excellence. That's why we've invested more than £1m in additional scholarship funding in recent years.
The scholarships above are specific to this programme. For more funding opportunities search the scholarships database
How to apply
Full-time students must apply through the Universities & Colleges Admissions Service (UCAS).
International students can also apply using The Common Application: however, if applying to more than one UK university, we recommend using UCAS.
Application deadlines
15 October: if including Dentistry, Medicine, Veterinary Medicine or also applying to Oxford or Cambridge
15 January: all other UK/EU applicants (unless otherwise stated on the UCAS website)
30 June: international (non-EU) students
We do not usually accept any applications after these deadlines.
It's your responsibility to ensure the accuracy of your application before submission. Requests to correct application content, change degree programme or change college of entry, will not be accepted after these deadlines. This policy is in place to ensure fairness and consistency to all applicants, and no exceptions will be made.
Apply at www.ucas.com or through your school or college
Contact UCAS on 0871 468 0468
ATAS: Academic Technology Approval Scheme
Please note that this programmes in this subject at Masters level require ATAS. If you require a visa to study in the UK then you will need to apply for an ATAS certificate before applying for your visa or extension of stay, allowing at least four weeks (20 working days) in order to obtain it.
The Academic Technology Approval Scheme (ATAS) was introduced on 1 November 2007. It is used to help stop the spread of knowledge and skills that could be used in the proliferation of weapons of mass destruction (WMD) and their means of delivery. This is in common with other governments around the world.
The ATAS is designed to ensure that people who are applying to study certain sensitive subjects in the UK do not have links to WMD programmes.
How to apply for Advanced Entry
Apply for year 2 (Y2) on your UCAS application. If the specific subject is unavailable for Advanced Entry or your application for year 2 entry is unsuccessful, you will be automatically considered for year 1 entry. You do not have to submit a separate UCAS application.
BSc students in work / study
Discover Uni, January 2020

UK top 20: Times & Sunday Times Good University Guide [Mathematics]