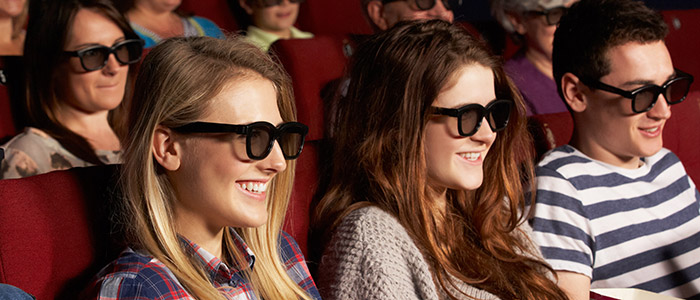 This degree programme studies cinema and television as major forces of enjoyment and knowledge within modern culture.
The city of Glasgow is a major centre for film and television production, and practitioners and
policymakers from the creative industries visit the University regularly.
September start
Film & Television Studies MA (Hons): P390 4 year degree
Programme structure
Years 1 and 2 provide a theoretical, critical and historical grounding. At Honours you will have the opportunity to combine core and optional courses involving more specialist study via these approaches, and to explore the role of practical work in enhancing understanding of both media.
Year 1
You will take two courses, Screen analysis and Screen histories, which introduce techniques of film and television analysis and offer perspectives on film and television history.
Screen analysis
Screen histories
Year 2
You will extend this study with two courses, Screen industries and Screen experiences, which offer more detailed consideration of the experiences of viewers and audiences and the changing structures of cinema and television as industries and workplaces:
Screen industries
Screen experiences
You will also study other subjects in years 1 and 2: see Flexible degrees.
Years 3 and 4
If you progress to Honours (years 3 and 4) your studies will consist of a combination of compulsory core courses (Film analysis, Television analysis, Media and cultural policy) and specialist options.
These will typically include courses on particular periods and places (eg postwar Japanese cinema,
Scottish film and television); genres (eg animation, film noir and melodrama); theory and practice of film and television (eg audio-visual criticism, screenwriting); and specific themes (eg screen performance, children's television).
Course details
Courses you will take as part of a Film & Television Studies programme may include:
Year 1
Year 2
Years 3 and 4 (Honours)
(Not all courses listed will be available in each session)
Core courses
Optional courses
Programme alteration or discontinuation
The University of Glasgow endeavours to run all programmes as advertised. In exceptional circumstances, however, the University may withdraw or alter a programme. For more information, please see: Student contract.
Our international links
International exchanges are a distinctive feature of our work. In your third year you have the opportunity to study abroad for a semester or longer. We have particularly successful links with Queen's University (Canada), the University of New South Wales (Australia) and the University of Hong Kong. See Study abroad.
Entry requirements
for entry in 2024
You should refer to the entry requirements for both subjects and the degree award when applying for a joint honours degree programme. The higher entry requirement (where applicable) and additional requirements must be met for both subjects.
Summary of entry requirements for Film & Television Studies
SQA Higher entry requirements
BBBB is the minimum requirement from S5 to be reviewed for an S6 offer
Offers are not guaranteed to applicants who meet the minimum from S5
Typically offers will be made at AAAAA by end of S6. B at Advanced Higher is equivalent to A at Higher
Additional requirements: Higher English and a Higher Humanities subject at AA. (AB or BA may be considered).
SQA Higher adjusted entry requirements* (by end of S5 or S6)
MD20: BBBB (also other target groups*)
MD40: AABB*
Additional requirements: Higher English and a Higher Humanities subject. Successful completion of Top-Up or one of our Summer Schools.
* See Access Glasgow for eligibility.
A-level standard entry requirements
AAB – BBB
Additional requirements: one A-level Humanities subject.
IB standard entry requirements
34 (6,5,5)
Additional requirements: HL English and HL Humanities subject.
Advanced entry
Applicants who achieve exceptional grades in their Advanced Highers, A-levels or International Baccalaureate may be considered for advanced entry, meaning that an Honours degree can be completed in three years instead of the normal four years, or four years for five-year integrated Masters programmes.
Indicative grades to be considered for Advanced Entry
SQA Higher advanced entry requirements
Three Advanced Highers at Grades AAA attained in one exam year and at the first attempt. Subjects must be relevant to the courses to be taken at Level 2.
A-Level advanced entry requirements
IB advanced entry requirements
Admissions guidance
English language
For applicants whose first language is not English, the University sets a minimum English Language proficiency level.
English language requirements
International English Language Testing System (IELTS) Academic module (not General Training)
6.5 with no sub-test under 6.0.
Tests must have been taken within 2 years 5 months of start date. Applicants must meet the overall and subtest requirements using a single test.
Common equivalent English language qualifications
All stated English tests are acceptable for admission to this programme:
TOEFL (ib, my best or athome)
90 with minimum R 20, L 19, S 19, W 23.
Tests must have been taken within 2 years 5 months of start date. Combined scores from two tests taken within 6 months of each other can be considered.
PTE (Academic)
60 with minimum 59 in all sub-tests.
Tests must have been taken within 2 years 5 months of start date. Combined scores from two tests taken within 6 months of each other can be considered.
Glasgow International College English Language (and other foundation providers)
65%.
Tests are accepted for academic year following sitting.
University of Glasgow Pre-sessional courses
Tests are accepted for academic year following sitting.
Cambridge English Qualifications
Cambridge Advanced English (CAE): 176 overall, no subtest less than 169
Cambridge Proficiency in English (CPE): 176 overall, no subtest less than 169
School Qualifications
iGCSE English or ESOL 0522/0500, grade C
International Baccalaureate English A SL5 or HL5
International Baccalaureate English B SL6 or HL5
SQA National 5 English or ESOL, grade B
SQA Higher English or ESOL, grade C
Hong Kong Diploma of Secondary Education, English Language grade 4
West African Examination Council, Senior Secondary School Certificate, English grade C6
Alternatives to English Language qualification
Undergraduate degree from English speaking country (including Canada if taught in English)
Undergraduate 2+2 degree from English speaking country
Undergraduate 2+2 TNE degree taught in English in non-English speaking country
Masters degree from English speaking country
Masters degree (equivalent on NARIC to UK masters degree) taught in English in non-English speaking country.
For international students, the Home Office has confirmed that the University can choose to use these tests to make its own assessment of English language ability for visa applications to degree level programmes. The University is also able to accept an IELTS test (Academic module) from any of the 1000 IELTS test centres from around the world and we do not require a specific UKVI IELTS test for degree level programmes. We therefore still accept any of the English tests listed for admission to this programme.
Pre-sessional courses
The University of Glasgow accepts evidence of the required language level from the English for Academic Study Unit Pre-sessional courses. We also consider other BALEAP accredited pre-sessional courses:
FAQs
What do I do if...
my language qualifications are below the requirements?
The University's School of Modern Languages and Cultures offers a range of Pre-sessional courses to bring you up to entry level. The course is accredited by BALEAP, the UK professional association for academic English teaching.
my language qualifications are not listed here?
Please contact External Relations
If you require a Tier 4 student visa, your qualification must be one of the secure English language tests accepted by UK Border Agency:
Visa requirements and proof of English language level
It is a visa requirement to provide information on your level of English based on an internationally recognised and secure English language test. All test reports must be no more than 2 years old. A list of these can be found on the UK Border Agency website. If you have never taken one of these tests before, you can get an initial idea of your level by using the Common European Framework self-assessment grid which gives you a level for each skill (e.g. listening B1/writing B2 etc.) However, please note that this is not a secure English language test and it is not sufficient evidence of your level of English for visa requirements.
Further information about English language: School of Modern Languages & Cultures: English for Academic Study
Career prospects
This programme is a valuable preparation for careers in various aspects of the media, arts and cultural industries. The immediate job destinations of some of our recent graduates have included location assistant for feature film productions in Scotland, researcher at British Film Institute, and an internship at film distribution company, Park Circus.
Older graduates are now firmly established in their chosen creative fields, working for leading media
companies such as the BBC and STV or as arts administrators, journalists and media academics.
Degrees and UCAS codes
Due to high demand, if you wish to be considered for Honours Film & Television Studies you must apply using a UCAS code for Film & Television Studies, either as a single subject or as a Joint Honours combination.
When applying you will need to know the UCAS code for the subject or subject-combination that you wish to apply to:
MA (Hons)
Fees and funding
Tuition fees
How and when you pay tuition fees depends on where you're from: see Tuition fees for details.
Scholarships
The University is committed to supporting students and rewarding academic excellence. That's why we've invested more than £1m in additional scholarship funding in recent years.
The scholarships above are specific to this programme. For more funding opportunities search the scholarships database
How to apply
Due to high demand, if you wish to be considered for Honours Film & Television Studies you must apply using a UCAS code for Film & Television Studies, either as a single subject or as a Joint Honours combination.
Full-time students must apply through the Universities & Colleges Admissions Service (UCAS).
SQA applicants who are eligible for our Widening Participation programmes are encouraged to participate in one or more of these programmes, including Summer School, to support your application and the transition to higher education.
International students to Arts, Engineering, Law, Nursing, Science, and Social Sciences can also apply using The Common Application: however, if applying to more than one UK university, we recommend using UCAS. Applications to Dentistry, Education, Medicine, and Veterinary Medicine must be made through UCAS.
Application deadlines
16 October: if including Dentistry, Medicine, Veterinary Medicine or also applying to Oxford or Cambridge
31 January: all other UK applicants (unless otherwise stated on the UCAS website)
30 June: international students.
We do not usually accept any applications after these deadlines.
It's your responsibility to ensure the accuracy of your application before submission. Requests to correct application content, change degree programme or change college of entry, will not be accepted after these deadlines. This policy is in place to ensure fairness and consistency to all applicants, and no exceptions will be made.
Apply at www.ucas.com or through your school or college
Contact UCAS on 0871 468 0468
How to apply for Advanced Entry
Apply for year 2 (Y2) on your UCAS application. If the specific subject is unavailable for Advanced Entry or your application for year 2 entry is unsuccessful, you will be automatically considered for year 1 entry. You do not have to submit a separate UCAS application.
2nd in UK
Times & Sunday Times Good University Guide [Drama, Dance & Cinematics]


2nd in UK
Times & Sunday Times Good University Guide [Drama, Dance & Cinematics]