Accredited by the Institution of Environmental Sciences and based at our Dumfries Campus, Environmental Science & Sustainability utilises fieldwork, organisations and lab practicals to demonstrate environmental work in practice.
Fieldwork and practical experience are at the core of this programme, providing you with valuable skills for a career in the environmental sector. Our Dumfries campus is located close to a range of natural resources, unique fieldwork environments and placement providers: a diverse outdoor laboratory only minutes from the classroom.
September start
Environmental Science & Sustainability BSc (Hons): D447 4 year degree
Professionally accredited
Study abroad available
Dumfries campus
Our School of Interdisciplinary Studies is based in Dumfries, where you can join a friendly student community in the beautiful south-west of Scotland. Undergraduate subjects you can study on this campus are:
Environmental Science & Sustainability
Health & Social Leadership
Primary Education with Teaching Qualification
We also have a range of Postgraduate courses covering tourism, environment and education.
Excellent facilities
Your classes will be taught in the traditional red sandstone buildings of the Crichton Estate, set in stunning parkland. We place great importance on practical study.
Our facilities include an outdoor teaching garden, PGT Hub, computer labs, environment lab and a gym. You'll have access to both the Crichton Library and our extensive library in Glasgow, including a wealth of online resources and dedicated subject librarians.
We have three self-catering halls of residence in Dumfries and the cost of living is very reasonable. Students can also access the on-site restaurant, bar, swimming pool and spa, Neuros, at a great student membership rate.
Practical, hands-on learning
All students in Dumfries have the opportunity to undertake work experience placements. Many courses include extensive fieldwork and site visits, making the most of the abundant resources on our doorstep and our excellent network of partner organisations. We have extensive study abroad links and you could also pursue international work experience.
Innovative teaching
In Dumfries we specialise in interdisciplinary learning. Because we are a relatively small campus you'll get to know your lecturers personally and be able to get your ideas across, build your confidence and advance your critical thinking. We teach you how your subjects relate to each other and to the wider world. All students can use our virtual learning environment, sharing course content and collaborating with staff and classmates online.
About the town
Located approximately 90 minutes south of Glasgow and less than an hour from Carlisle, Dumfries is set in magnificent countryside with all the charm and vibrancy of a small university town. It's a friendly place where you'll settle in quickly, becoming part of the University and the local community. There is an active Students' Association and popular activities include rowing, mountain biking, football and running. Alternatively, if you're looking for culture, you'll find an impressive arts and live music scene. The region is steeped in literary history and hosts an impressive range of festivals and sporting events.
Programme structure
Year 1
Your core courses will cover environmental science, Earth system science and global environmental issues.
Level 1 (SCQF Level 7)
Year 2
You will take the core courses:
Research methods for environmental scientists
Human impacts on the environment
Biodiversity, Ecology and Ecosystems
Energy: options for sustainability
At each level you can also choose from a range of elective courses across other disciplines.

Level 2 (SCQF Level 8)
Year 3
You will study:
Applied ecology and conservation
Aquatic environment: processes, monitoring and management
Rural tourism and stewardship
You will also undertake either a dissertation or placement where you will gain experience in the environmental sector.
Level 3 (SCQF Level 9)
Year 4
The Honours year consists of an environmental stewardship project on a research interest of your choice, and courses on environmental policy and management, perspectives on the environment, and the environmental field course.
Level 4 (SCQF Level 10)
Programme alteration or discontinuation
The University of Glasgow endeavours to run all programmes as advertised. In exceptional circumstances, however, the University may withdraw or alter a programme. For more information, please see: Student contract.
Special Glasgow feature
This programme offers you an exceptional placement opportunity as part of your degree. Recent placement providers include the Australian Koala Foundation, Edinburgh and Jersey Zoos, the RSPB, Archipelagos Institute of Marine Conservation, the World Glacier Monitoring Service, an environmental consultancy in Finland and many more.
Our international links
You will have the opportunity to apply to study abroad. There are currently two options available: the Erasmus+ Programme and the International Exchange Programme. See Study abroad.
Entry requirements
for entry in 2021
Summary of entry requirements for Environmental Science & Sustainability
SQA Higher Entry Requirements (by end of S6)
BBBB

Additional requirements: Higher Science subject (two Higher Sciences are recommended).
SQA Higher Adjusted Entry Requirements
No Adjusted Higher Requirements
A-level Standard Entry Requirements
BBB – CCC
Additional requirements: A-level Science subject.
IB Standard Entry Requirements
30 (6,5,5 HL) – 28 (5,5,5 HL)
Additional requirements: HL Science subject.
2021 Admissions Policy and further information about entry requirements
Glasgow International College
International students with academic qualifications below those required should contact our partner institution, Glasgow International College, who offer a range of foundation certificates.
For applicants whose first language is not English, the University sets a minimum English Language proficiency level.
English language requirements
Important information for entry in Autumn 2020 and January 2021
For applicants whose first language is not English, the University sets a minimum English Language proficiency level.
International English Language Testing System (IELTS) Academic module (not General Training)
6.5 with no sub-test under 6.0.
Tests must have been taken within 4 years 5 months of start date. Combined scores from two tests taken within 6 months of each other can be considered.
Common equivalent English language qualifications
All stated English tests are acceptable for admission to this programme:
TOEFL (ib, my best or athome)
90 with minimum R 20, L 19, S 19, W 23.
Tests must have been taken within 4 years 5 months of start date. Combined scores from two tests taken within 6 months of each other can be considered.
PTE (Academic)
60 with minimum 59 in all sub-tests.
Tests must have been taken within 4 years 5 months of start date. Combined scores from two tests taken within 6 months of each other can be considered.
Duolingo
120 with 120 in two or more sub-scores including literacy and no sub-score below 110 for direct entry, in-sessional support requirement available for those with 120, 100 for 5 week PSE, 100 for 10 week PSE.
Tests must have been taken within 1 year of start date.
Glasgow International College English Language (and other foundation providers)
65%.
Tests are accepted for academic year following sitting.
University of Glasgow Pre-sessional courses
Tests are accepted for academic year following sitting.
Alternatives to English Language qualification
Undergraduate degree from English speaking country (including Canada if taught in English)
Undergraduate 2+2 degree from English speaking country
Undergraduate 2+2 TNE degree taught in English in non-English speaking country
Masters degree from English speaking country
Masters degree (equivalent on NARIC to UK masters degree) taught in English in non-English speaking country.
For international students, the Home Office has confirmed that the University can choose to use these tests to make its own assessment of English language ability for visa applications to degree level programmes. The University is also able to accept an IELTS test (Academic module) from any of the 1000 IELTS test centres from around the world and we do not require a specific UKVI IELTS test for degree level programmes. We therefore still accept any of the English tests listed for admission to this programme.
Pre-sessional courses
The University of Glasgow accepts evidence of the required language level from the English for Academic Study Unit Pre-sessional courses. We also consider other BALEAP accredited pre-sessional courses:
FAQs
What do I do if...
my language qualifications are below the requirements?
The University's School of Modern Languages and Cultures offers a range of Pre-Sessional Courses to bring you up to entry level. The course is accredited by BALEAP, the UK professional association for academic English teaching; see Links.
my language qualifications are not listed here?
Please contact External Relations
If you require a Tier 4 student visa, your qualification must be one of the secure English language tests accepted by UK Border Agency:
Visa requirements and proof of English language level
It is a visa requirement to provide information on your level of English based on an internationally recognised and secure English language test. All test reports must be no more than 2 years old. A list of these can be found on the UK Border Agency website. If you have never taken one of these tests before, you can get an initial idea of your level by using the Common European Framework self-assessment grid which gives you a level for each skill (e.g. listening B1/writing B2 etc.) However, please note that this is not a secure English language test and it is not sufficient evidence of your level of English for visa requirements.
For further information about English language, please see School of Modern Languages and Cultures: English for Academic Study.
Career prospects
You will develop a range of skills in environmental management techniques, preparing you to enter the graduate job market in a wide variety of roles concerned with implementing sustainability objectives. The combination of a broad-based education with specialist input, supplemented with real work experience, will equip you with essential skills.
Accreditation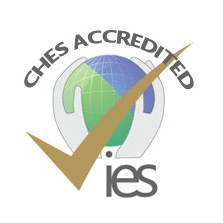 The BSc Environmental Science and Sustainability is accredited by the Committee of Heads of Environmental Sciences (CHES), the education committee of the Institution of Environmental Sciences (IES). CHES is the collective voice of the environmental sciences academic community and serves to enhance the quality of environmental education worldwide. A programme accredited by CHES is assured to meet high standards, contain a strong component of practical, field and theoretical activities, and has excellent opportunities for training, work experience and links to the professional environmental sector. Students enrolled on CHES accredited programmes can apply for free Student Membership of the IES and for a fast-track route to membership once they graduate, starting you on a route towards becoming a Chartered Environmentalist or Chartered Scientist.
Degrees and UCAS codes
When applying you will need to know the UCAS code for the subject or subject-combination that you wish to apply to:
BSc (Hons)
Environmental Science & Sustainability: D447 (4 years)
Fees and funding
Tuition fees
How and when you pay tuition fees depends on where you're from: see Tuition fees for details.
Scholarships
The University is committed to supporting students and rewarding academic excellence. That's why we've invested more than £1m in additional scholarship funding in recent years.
The scholarships above are specific to this programme. For more funding opportunities search the scholarships database
How to apply
Full-time students must apply through the Universities & Colleges Admissions Service (UCAS). The University will accept Centre or Teacher Assessed Grades in lieu of exam results.
SQA applicants who are eligible for our Widening Participation programmes are encouraged to participate in one or more of these programmes, including Summer School, to support your application and the transition to higher education.
International students to Arts, Engineering, Law, Nursing, Science, and Social Sciences can also apply using The Common Application: however, if applying to more than one UK university, we recommend using UCAS. Applications to Dentistry, Education, Medicine, and Veterinary Medicine must be made through UCAS.
Application deadlines
15 October: if including Dentistry, Medicine, Veterinary Medicine or also applying to Oxford or Cambridge
29 January: all other UK/EU applicants (unless otherwise stated on the UCAS website): this has been extended from 15 January 2021 due to covid restrictions.
30 June: international (non-EU) students
We do not usually accept any applications after these deadlines.
It's your responsibility to ensure the accuracy of your application before submission. Requests to correct application content, change degree programme or change college of entry, will not be accepted after these deadlines. This policy is in place to ensure fairness and consistency to all applicants, and no exceptions will be made.
Apply at www.ucas.com or through your school or college
Contact UCAS on 0871 468 0468
More information about this programme

UK top 10
Times & Sunday Times Good University Guide [Geography & Environmental Science]
Sustainability & Environment