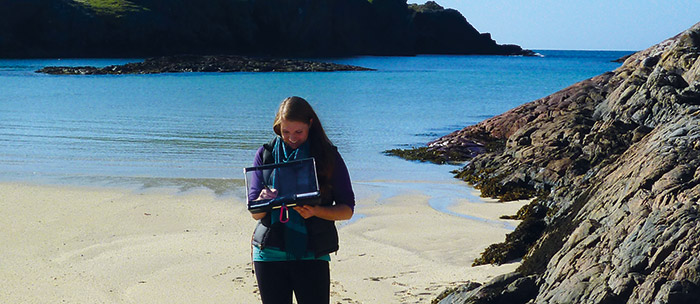 Geography is the study of the surface of the Earth as the site of human living and working. It considers the variability in physical and human landscapes, along with the interrelationships binding them together. Geography is a dynamic, relevant and ever-changing subject, at the heart of many local and global current issues.
Graduates from this programme have subsequently been employed by companies and organisations including BAE Systems, Transport Scotland, the Scottish Government and the Foreign Office.
September start: session dates
Geography BSc (Hons): F800 4 year degree
Geography MA (Hons): L702 4 year degree
Geography MA(SocSci) (Hons): L700 4 year degree
Why study Geography?
Geography at the University of Glasgow is ranked 4th in the UK and 1st in Scotland (Complete University Guide 2019)
This degree programme is accredited by the Institute of Environmental Sciences and the Royal Geographical Society
Our location - a culturally and historically significant city, close to some of the most the spectacular landscapes in the world - gives us an unparalleled advantage in the study of both human and physical geography
Fieldwork is a fundamental part of studying Geography at the University of Glasgow, and all students undertake residential field classes in south Wales and Mallorca, giving you a comprehensive learning experience
Find out more about what it's like to study in the School of Geographical & Earth Sciences: meet our students
Programme structure
Geography can be studied as one of three different degrees in Arts, Science or Social Sciences. The Geography component of each degree is identical; the difference is additional subjects that can be taken in years 1 and 2.
Arts students taking Geography in their first year should choose their additional courses from other Arts degree programmes.
Year 1
Core courses:
You will explore an equal balance of physical and human geography themes including a world of resources, an underdeveloped world, a world of changing environments, a shrinking world, and a changing biosphere in a changing environment.
Year 2
Core courses:
You will explore human and physical processes, examining environmental problems and their possible resolutions, and you will be trained in statistical methods, geographical information systems (GIS) and laboratory analysis using a mixture of fieldwork and our own IT and physical geography laboratories.
You will also study other subjects in years 1 and 2: see Flexible degrees.
Year 3 and 4
Core courses:
If you progress to Honours (years 3 and 4) you will study both core and optional courses. Core courses are related to advanced training methods such as computerised data analysis, modelling, geographical information systems, interviewing and interpretative methods, dissertation training and development of key graduate attributes. A wide range of optional courses complement the core courses and allow you to build a programme around your particular interests. Some Earth Science optional courses may also be available to Geography students.
Programme alteration or discontinuation
The University of Glasgow endeavours to run all programmes as advertised. In exceptional circumstances, however, the University may withdraw or alter a programme. For more information, please see: Student contract.
Special Glasgow feature
If you intend to continue to Honours, you will attend a week-long residential field course in year 2 to extend the field, laboratory and statistical skills introduced earlier by focusing on group projects, data collection, problem solving, and presentations. This training is developed in year 3 in a week-long overseas field class focusing on dissertation-related project work.
Our international links
You will have the opportunity to apply to study abroad. There are currently two options available: the Erasmus+ Programme and the International Exchange Programme. See Study abroad.
Entry requirements
for entry in 2020
BSc
MA
MA (SocSci)
Glasgow International College
International students with academic qualifications below those required should contact our partner institution, Glasgow International College, who offer a range of foundation certificates.
For applicants whose first language is not English, the University sets a minimum English Language proficiency level.
Career prospects
Graduates of this programme have gone on to work for companies and organisations such as BAE Systems, the Scottish Government, Transport Scotland, and Caledonian MacBrayne. Positions include Coastal and Rivers Engineer, Environmental Social Researcher, Hydrographic Surveyor and Statistician.
Degrees and UCAS codes
When applying you will need to know the UCAS code for the subject or subject-combination that you wish to apply to:
BSc (Hons)
MA (Hons)
MA(SocSci) (Hons)
Fees and funding
Tuition fees
How and when you pay tuition fees depends on where you're from: see Tuition fees for details.
Scholarships
The University is committed to supporting students and rewarding academic excellence. That's why we've invested more than £1m in additional scholarship funding in recent years.
The scholarships above are specific to this programme. For more funding opportunities search the scholarships database
How to apply
Full-time students must apply through the Universities & Colleges Admissions Service (UCAS).
International students can also apply using The Common Application: however, if applying to more than one UK university, we recommend using UCAS.
Application deadlines
15 October: if including Dentistry, Medicine, Veterinary Medicine or also applying to Oxford or Cambridge
15 January: all other UK/EU applicants (unless otherwise stated on the UCAS website)
30 June: international (non-EU) students
We do not usually accept any applications after these deadlines.
It's your responsibility to ensure the accuracy of your application before submission. Requests to correct application content, change degree programme or change college of entry, will not be accepted after these deadlines. This policy is in place to ensure fairness and consistency to all applicants, and no exceptions will be made.
Apply at www.ucas.com or through your school or college
Contact UCAS on 0871 468 0468
How to apply for Advanced Entry
Apply for year 2 (Y2) on your UCAS application. If the specific subject is unavailable for Advanced Entry or your application for year 2 entry is unsuccessful, you will be automatically considered for year 1 entry. You do not have to submit a separate UCAS application.
MA (SocSci) students satisfied
Discover Uni, January 2020

7th in UK: Times & Sunday Times Good University Guide [Geography & Environmental Science]