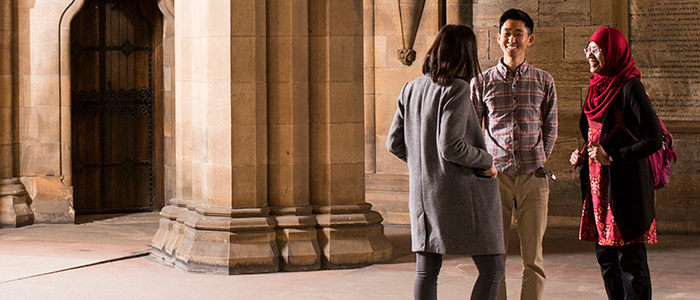 Theology & Religious Studies encompasses the study of religion, religions, the Bible and theology: not as worlds apart, but as they relate to politics, history, literature, philosophy, art and culture as well as to personal belief and practice. It is open to students of all faiths and none.
Our staff have a wide range of specialties which will help you to understand world religions: including Judaism, Christianity, Islam, Buddhism and Hinduism; in their cultural, political and intellectual context. In addition, we have a team of knowledgeable and friendly staff who help make TRS at Glasgow a great place to study.
You can study new languages from scratch: Greek and Hebrew are available from beginners' level upward, so that you can learn to read the ancient texts of the Hebrew Bible and the New Testament in their original languages.
September start: session dates
Theology & Religious Studies BD (Hons): V600 4 year degree
Theology & Religious Studies BD(Min) (Hons): V650 4 year degree
Theology & Religious Studies MA (Hons): V621 4 year degree
Programme structure
You can take Theology & Religious Studies as an MA degree, or if you are training for the ministry or specialising in Christianity for other reasons, we also offer the specialist/professional BD and BD (Min) degrees. The structure of the programmes differs in the first two years of study.
MA
Theology and religious studies is concerned with the critical study of religion. This programme is designed to cater for the interests of students of all faiths and none, allowing you to study a variety of religions or to focus upon the Christian tradition. It will develop your awareness of the rich scriptural, cultural, artistic and philosophical heritage of humankind.
As part of this programme you will be able to study a wide variety of subjects across the sub-disciplines of theology and religious studies and you may customise your degree by choosing to specialise in particular areas. You are also able to study other subjects offered by the University and shape your own degree programme.
Year 1
In first year you might choose to focus upon the Bible and Christianity or gain a greater understanding of a wide range of religious traditions. At the same time you will be introduced to some key concerns shared by those who work in theology and religious studies:
How do we read sacred texts?
How do we think and speak about God?
What defines religion and culture?
What impact does religion make upon our social and political life?
Year 2
In second year you will develop your understanding further by progressing in your studies of the Christian tradition or other world faiths. More advanced courses will enable you to explore what religious believers consider to be the most significant aspects of their faith and how these impact upon their daily lives.
You will also study other subjects in years 1 and 2: see Flexible degrees.
BD and BD (Min)
The BD and BD (Min) have been developed in conversation with partners from a number of churches and voluntary bodies. These specialist degrees are primarily designed for those who intend to focus on theological concerns in their later professional life through working in pastoral ministry, the caring professions or voluntary organisations. They combine rigorous academic study with placement work and small group reflection and offer the opportunity to reflect in depth upon experience in a supportive and challenging environment.
The BD (Min) programme is primarily aimed at recognised candidates for ordained ministry. The BD is open to all and covers a very similar syllabus. We have an open and ecumenical spirit and you will be enriched by relationships with staff and students from a wide variety of denominations and traditions. Church of Scotland students who are candidates for ordination become members of Trinity College, a foundation of the Church of Scotland, and all other students are also welcome to join its weekly worship and lunch.
Year 1
You will take introductory courses on the Bible, theology and religious studies. These will introduce you to some of the basic concerns of those studying religion today and give you tools for analysis and critical thinking. You will also take courses exploring theological reflection and worship which will help you to understand how theology is "put to work" in the daily lives of Christians and the practice of the Church. You will undertake a placement, which is
an integral part of the degree programme.
Year 2
In your second year you will continue to take courses in the Bible and theology. You will also study ethics and pastoral practice. You will explore some of the issues that confront believers today as they seek to reconcile their faith with the many challenges presented by contemporary technological, social and environmental change. You will continue to reflect upon your experience through structured group work.
MA and BD/BD (Min)
Years 3 and 4
If you successfully complete the courses in first and second year, you may progress to Honours (years 3 and 4). Your Honours courses are chosen from
a wide range of options including:
Bible, literature and culture
Buddhism
Catholicism
Church and society in Scotland: current issues
Christianity and bioethics
Classical Hebrew
Doctrine of God
Genesis
Holocaust and the ethics of representation
Introduction to Christian ethics
Jesus Christ since 1900
Media Bible
Modern Judaism
Muhammad
New Testament Greek
New Testament texts
New Testament themes and topics
New Testament theology
Old Testament/Tanakh texts
Pastoral theology
Political theology
Reading Islam
Religion in modern Iran
Roots of sectarianism
Science and religion
Scottish church history since 1500
Studies in early church history and theology
Studies in the history and theology of the Reformation
Sufism
Theology through creative writing
The historical Jesus
Wisdom literature
Worship, liturgy and preaching.
Our Honours courses are generally offered on a two-year rotation. In your final year, you will complete a 12,000-word dissertation on an approved topic of your own choice.
Programme alteration or discontinuation
The University of Glasgow endeavours to run all programmes as advertised. In exceptional circumstances, however, the University may withdraw or alter a programme. For more information, please see: Student contract.
Our international links
You may study for one semester or one year (usually your third year) of your degree at an overseas university as part of a student exchange programme. In recent years our students have studied in countries including Argentina, Austria, Canada, Chile, the Czech Republic, Germany, Sweden and the United States, returning with a fantastic experience of different cultures and traditions.
Entry requirements
for entry in 2020
Applicants to subject-combinations with Psychology must meet the Psychology degree programme entry requirements.
MA and BD/BD(Min)
For applicants whose first language is not English, the University sets a minimum English Language proficiency level.
Career prospects
Career openings include all jobs where employers are looking for graduate skills. Former students have gone into business or journalism, and have worked in the charity and voluntary sectors, as well as becoming teachers, civil servants, industrial managers, university lecturers, social workers and Christian ministers (of various denominations).
Our recent graduates have been employed by:
UK and international universities
Church of Scotland, minister
NHS, chaplain
Edinburgh City Council, principal teacher.
Degrees and UCAS codes
When applying you will need to know the UCAS code for the subject or subject-combination that you wish to apply to:
BD (Hons)
BD(Min) (Hons)
MA (Hons)
Fees and funding
Tuition fees
How and when you pay tuition fees depends on where you're from: see Tuition fees for details.
Scholarships
The University is committed to supporting students and rewarding academic excellence. That's why we've invested more than £1m in additional scholarship funding in recent years.
The scholarships above are specific to this programme. For more funding opportunities search the scholarships database
How to apply
Full-time students must apply through the Universities & Colleges Admissions Service (UCAS).
International students can also apply using The Common Application: however, if applying to more than one UK university, we recommend using UCAS.
Application deadlines
We do not usually accept any applications after these deadlines.
It's your responsibility to ensure the accuracy of your application before submission. Requests to correct application content, change degree programme or change college of entry, will not be accepted after these deadlines. This policy is in place to ensure fairness and consistency to all applicants, and no exceptions will be made.
How to apply for Advanced Entry
Apply for year 2 (Y2) on your UCAS application. If the specific subject is unavailable for Advanced Entry or your application for year 2 entry is unsuccessful, you will be automatically considered for year 1 entry. You do not have to submit a separate UCAS application.
More information about this programme
Discover Uni, January 2020