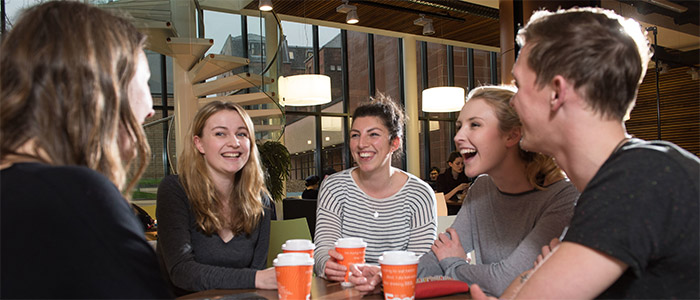 Explore Scottish Gaelic language and culture through the centuries to the present-day, and develop your Gaelic language skills for the contemporary job market.
Explore Scottish Gaelic language and culture through the centuries to the present day, and develop your Gaelic language skills for the contemporary job market.
Ionnsaich mu chultar na Gàidhlig tro na linntean, agus leasaich do sgilean cànain airson chothroman cosnaidh nas fheàrr.
September start
Gaelic MA (Hons): Q530 4 year degree
Programme structure
Year 1
There are three courses: Advanced 1 for students with a good pass in Higher Gàidhlig; Intermediate 1 for those with a good pass in Higher Gaelic; and Beginners 1 for absolute/near beginners.
Each course develops appropriate language skills, and offers differentiated study of modern literary texts as well as an overview of Gaelic society and culture in Scotland from earliest times to the present.
Year 2
You will continue to develop your language skills and knowledge of Gaelic culture, including aspects of contemporary sociolinguistics, through either of two courses:
Advanced 2 (taught in Gaelic): if you progress from Advanced 1 or Intermediate 1, you will study modern prose writing and post-1600 song and poetry on a variety of themes, as well as aspects of linguistics including the use of Gaelic in contemporary Scotland.
Intermediate 2 (taught in English and Gaelic): if you progress from Beginners 1, you will continue to practise and develop your language skills and you will study a range of modern Gaelic fiction, poetry and song.
You will also study other subjects in years 1 and 2: see Flexible degrees.
Years 3 and 4
If you progress to Honours (years 3 and 4), you will concentrate on modern Scottish Gaelic language and literature, as well as studying Irish and the development and varieties of the Gaelic languages. Most of your courses will be taught through the medium of Gaelic.=
You will also write a dissertation in Gaelic, researching a relevant topic of your own choosing.
For a broader Celtic curriculum incorporating Gaelic language skills, please see Celtic Studies.
Gaelic immersion year
If your Level 1 Gaelic course was Beginners or Intermediate, you will have the option of completing a Gaelic immersion year in Glasgow and South Uist after year 2, to develop advanced language skills and experience Gaelic community environments before entering Junior Honours. This is a skills development opportunity, not an Honours requirement.
Programme alteration or discontinuation
The University of Glasgow endeavours to run all programmes as advertised. In exceptional circumstances, however, the University may withdraw or alter a programme. For more information, please see: Student contract.
Special Glasgow feature
Taigh na Gàidhlig
A bheil Gàidhlig agad? An còrdadh e riut fuireach còmhla ri daoine eile aig a bheil Gàidhlig? Tha sinn a' toirt cothrom do dh'oileanaich aig a bheil Gàidhlig, fuireach ann am flat ri chèile airson na bliadhna acadaimigich. 'S e cothrom air leth a tha seo do luchd-labhairt na Gàidhlig a bhith stèidhichte ann an àrainneachd Ghàidhlig fad bliadhna air àrainn an Oilthighe.
Airson barrachd fios air Taigh na Gàidhlig, sgrìobh gu Fiona Dunn, manaidsear leasachaidh na Gàidhlig: fiona.dunn@glasgow.ac.uk.
Gaelic Language Residency Scheme
Do you speak Gaelic? Would you like to live on-campus with other Gaelic speakers? Taigh na Gàidhlig is a unique residency scheme offering Gaelic speaking students the opportunity to live together on-campus in a Gaelic environment for the academic year.
To find out more contact Fiona Dunn, fiona.dunn@glasgow.ac.uk.
Our international links
In your Honours years you will have the opportunity to spend one semester or two studying Irish at the National University of Ireland, Galway, or at various universities in North America and Australia.
Entry requirements
for entry in 2021
Applicants to subject-combinations with Psychology must meet the Psychology degree programme entry requirements.
Summary of entry requirements for Gaelic
SQA Higher Entry Requirements (by end of S6)
AAAAA Higher or AAAA Higher+B Advanced Higher (BBBB S5 minimum for consideration)
Additional requirements: Higher English and a Higher Humanities subject.
SQA Higher Adjusted Entry Requirements* (by end of S6)
AABB – BBBB
Additional requirements: Higher English and a Higher Humanities subject. Successful completion of Top-Up or one of our Summer Schools.
* See Access Glasgow for eligibility.
A-level Standard Entry Requirements
AAB – BBB
Additional requirements: one A-level Humanities subject.
IB Standard Entry Requirements
36 (6,6,5 HL) – 32 (6,5,5 HL)
Additional requirements: HL English and HL Humanities subject.
2021 Admissions Policy and further information about entry requirements
For applicants whose first language is not English, the University sets a minimum English Language proficiency level.
English language requirements
Important information for entry in Autumn 2020 and January 2021
International English Language Testing System (IELTS) Academic module (not General Training):
overall score 6.5
no sub-test less than 6.0
or equivalent scores in another recognised qualification (see below)
Common equivalent English language qualifications:
ibTOEFL*: 90; no sub-test less than: Reading: 20; Listening: 19; Speaking: 19; Writing: 23

CAE (Cambridge Certificate of Advanced English): 176 overall: no sub-test less than 169
CPE (Cambridge Certificate of Proficiency in English): 176 overall: no sub-test less than 169
PTE Academic (Pearson Test of English, Academic test): 60; no sub-test less than 59
IGCSE: English as a First Language (0500/0522): C in Reading and Writing, plus 1 in Listening, 2 in Speaking, where applicable. All four components (listening, writing, speaking, reading) must be examined and detailed on results slip
IGCSE: English as a Second Language (0510/0511): A in Reading and Writing, plus A in Listening, 2/B in Speaking, where applicable. All four components (listening, writing, speaking, reading) must be examined and detailed on results slip
Trinity College London Integrated Skills in English: ISEII at Distinction with Distinction in all sub-tests
* Please note that TOEFL is still acceptable for admission to this programme for both home/EU and international students.
For international students, the Home Office has confirmed that the University can choose to use TOEFL to make its own assessment of English language ability for visa applications to degree level courses. We therefore still accept TOEFL tests taken in the last two years for admission to this programme.
Pre-sessional courses
The University of Glasgow accepts evidence of the required language level from the English for Academic Study Unit Pre-sessional courses. We also consider other BALEAP accredited pre-sessional courses:
FAQs
What do I do if...
my language qualifications are below the requirements?
The University's School of Modern Languages and Cultures offers a range of Pre-Sessional Courses to bring you up to entry level. The course is accredited by BALEAP, the UK professional association for academic English teaching; see Links.
my language qualifications are not listed here?
Please contact External Relations
If you require a Tier 4 student visa, your qualification must be one of the secure English language tests accepted by UK Border Agency:
Visa requirements and proof of English language level
It is a visa requirement to provide information on your level of English based on an internationally recognised and secure English language test. All test reports must be no more than 2 years old. A list of these can be found on the UK Border Agency website. If you have never taken one of these tests before, you can get an initial idea of your level by using the Common European Framework self-assessment grid which gives you a level for each skill (e.g. listening B1/writing B2 etc.) However, please note that this is not a secure English language test and it is not sufficient evidence of your level of English for visa requirements.
For further information about English language, please see School of Modern Languages and Cultures: English for Academic Study.
Career prospects
Recent developments in support of Gaelic mean that Gaelic is a language with expanding career opportunities. Our graduates have gone on to a wide range of careers in the media, publishing, the arts, teaching, academia, librarianship and law. Others find careers in the Civil Service, language planning/development with local authorities and Bòrd na Gàidhlig.
Degrees and UCAS codes
When applying you will need to know the UCAS code for the subject or subject-combination that you wish to apply to:
MA (Hons)
Gaelic can also be taken in combination with Law programmes:
Fees and funding
Tuition fees
How and when you pay tuition fees depends on where you're from: see Tuition fees for details.
Scholarships
The University is committed to supporting students and rewarding academic excellence. That's why we've invested more than £1m in additional scholarship funding in recent years.
The scholarships above are specific to this programme. For more funding opportunities search the scholarships database
How to apply
Full-time students must apply through the Universities & Colleges Admissions Service (UCAS).
International students to Arts, Engineering, Law, Nursing, Science, and Social Sciences can also apply using The Common Application: however, if applying to more than one UK university, we recommend using UCAS. Applications to Dentistry, Education, Medicine, and Veterinary Medicine must be made through UCAS.
Application deadlines
15 October: if including Dentistry, Medicine, Veterinary Medicine or also applying to Oxford or Cambridge
15 January: all other UK/EU applicants (unless otherwise stated on the UCAS website)
30 June: international (non-EU) students
We do not usually accept any applications after these deadlines.
It's your responsibility to ensure the accuracy of your application before submission. Requests to correct application content, change degree programme or change college of entry, will not be accepted after these deadlines. This policy is in place to ensure fairness and consistency to all applicants, and no exceptions will be made.
Apply at www.ucas.com or through your school or college
Contact UCAS on 0871 468 0468
How to apply for Advanced Entry
Apply for year 2 (Y2) on your UCAS application. If the specific subject is unavailable for Advanced Entry or your application for year 2 entry is unsuccessful, you will be automatically considered for year 1 entry. You do not have to submit a separate UCAS application.
Celtic Studies students satisfied
Discover Uni, January 2020