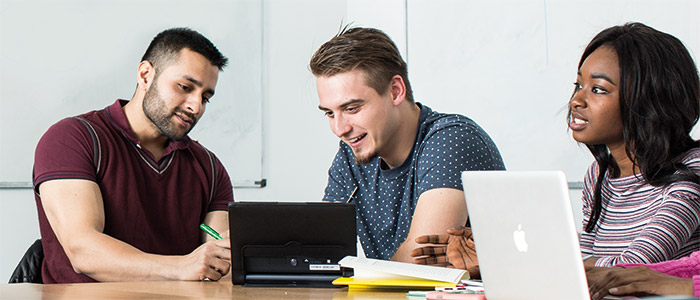 English language and linguistics combines the study of the history, structure and meaning of the English language, to discover what all this tells us about our culture, our society and ourselves.
Over 50 years, we created the world-leading 'Historical Thesaurus of English'. You will also have access to dedicated laboratories for written language.
You will have access to two dedicated laboratories for learning about and analysing spoken and written language.
September start: session dates
English Language & Linguistics MA (Hons): Q300 4 year degree
What our students say
"I had not originally planned to take English Language & Linguistics but the course content and incredible enthusiasm of the lecturers converted me very quickly to take it to Honours. The course is so broad and with fascinating content that there is something for everybody to get excited about."
"Being in the English Language & Linguistics department at Glasgow is massively exciting. The opportunity to discover and pursue your interests, taught by such an enthusiastic and inspiring group of academics, is beyond compare."
Programme structure
You will learn about the structure, meaning and history of the English language: how our language both now and in the past
influences our interactions with each other and with the world.
Year 1
Your first year gives you a taster of the variety of questions that we ask about our language in English Language & Linguistics.

In the first semester, you will learn about how we build meaning out of words and phrases, and then relate that meaning to the world. You will learn how advertisers, politicians, and storytellers can take advantage of the complexity of language to sway listeners to their side. And you will trace the history of English from its earliest roots, as it developed towards its modern form. In the second semester you will learn how pronunciation can be analysed systematically and scientifically, and how our identity shapes what we say and how we are perceived. We will also do a deep dive into the history and current stage of Scots—a particular speciality at Glasgow. Finally, you will trace the second half of our language's history, from the middle English of Chaucer, through Shakespeare, and into its modern form.
Year 2
Your second year delves more deeply into the study of English Language & Linguistics, focusing especially on our areas of research expertise.

In the first semester you will learn how speakers employ melody and rhythm to give colour to their speech; convey unspoken meaning in conversational interactions; where we get words from and how they are used; and how study of artefacts, texts, and the histories of words themselves can shed light on the earliest stages of the language. In your second semester, you'll learn what it is that people do in their minds when they are transforming thought into words, and back again; you'll discover how proper names can reveal the historical influences of society, culture, and religion on the labels we assign to the world; and you'll see how these patterns in usage and naming affected the shape of English and contributed to the production of its earliest literary forms.
You will also study literary uses of language in your choice of either level 1 Scottish Literature or level 1 English literature, as well as other subjects in years 1 and 2. See Flexible degrees.
Years 3 and 4
If you progress to Honours (years 3 and 4) you can choose from a large variety of advanced courses, including: discourse and conversation, digital humanities, the history of English, narrative and the mind, manuscript studies and book history, medieval literature and drama, name studies, phonetics, meaning, Old Icelandic, psycholinguistics, sociolinguistics, the language of laws, and the Scots language.
Programme alteration or discontinuation
The University of Glasgow endeavours to run all programmes as advertised. In exceptional circumstances, however, the University may withdraw or alter a programme. For more information, please see: Student contract.
Our international links
We have a well-established exchange programme with opportunities to study for a year at universities including Alcalá, Groningen and Helsinki. Some of our students spend their third year in North America or Australasia, though special arrangements apply in these cases. Recent placements have been in Toronto, Auckland and Montreal.
Entry requirements
for entry in 2020
Applicants to subject-combinations with Psychology must meet the Psychology degree programme entry requirements.
MA
For applicants whose first language is not English, the University sets a minimum English Language proficiency level.
Career prospects
As a graduate in English Language & Linguistics you will be an expert in language, communication and the rigorous analysis of texts and events in the real world. You will have a broad range of career opportunities; some of our graduates pursue journalism and media studies, marketing, speech therapy and lexicography (dictionary making), and many of our students teach English as a foreign language, often in Europe, Asia or South America.
Degrees and UCAS codes
When applying you will need to know the UCAS code for the subject or subject-combination that you wish to apply to:
MA (Hons)
Fees and funding
Tuition fees
How and when you pay tuition fees depends on where you're from: see Tuition fees for details.
Scholarships
The University is committed to supporting students and rewarding academic excellence. That's why we've invested more than £1m in additional scholarship funding in recent years.
The scholarships above are specific to this programme. For more funding opportunities search the scholarships database
How to apply
Full-time students must apply through the Universities & Colleges Admissions Service (UCAS).
International students can also apply using The Common Application: however, if applying to more than one UK university, we recommend using UCAS.
Application deadlines
We do not usually accept any applications after these deadlines.
It's your responsibility to ensure the accuracy of your application before submission. Requests to correct application content, change degree programme or change college of entry, will not be accepted after these deadlines. This policy is in place to ensure fairness and consistency to all applicants, and no exceptions will be made.
How to apply for Advanced Entry
Apply for year 2 (Y2) on your UCAS application. If the specific subject is unavailable for Advanced Entry or your application for year 2 entry is unsuccessful, you will be automatically considered for year 1 entry. You do not have to submit a separate UCAS application.
More information about this programme
English Language students satisfied
Discover Uni, January 2020

UK top 15: Times & Sunday Times Good University Guide [English]