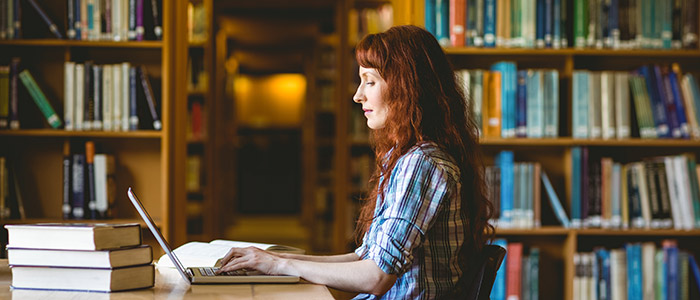 Comparative literature is the study of literature across cultural and national frontiers, time periods, languages and genres, even across the boundaries between literature and the other arts.
You can study Comparative Literature alongside a whole range of other subjects and you may want to consider studying it with a foreign language to further expand your horizons.
September start
This programme can only be taken as joint honours
Programme structure
Defined most broadly, comparative literature is the study of 'literature without walls'. The comparative or cross-cultural study of literatures is, in some ways, an idealistic academic discipline: it assumes that people from different cultures, times, places and languages can communicate with each other, understand (if not fully share) each other's traditions, and benefit from such contacts.
The comparatist needs to have intellectual curiosity, an open mind and the courage to confront unknown cultures and unfamiliar writers and texts. A degree in Comparative Literature at Glasgow also gives you the opportunity to include the study of a foreign language (even as a beginner) as part of your curriculum. Comparative Literature is available as a joint degree, meaning you will study another subject alongside it.
Year 1
The courses on our year 1 programme have heroism as the overarching theme. The courses interrogate the notion of heroism, its absence in our lives and our longing for it as this finds expression in various historical contexts and cultures.
Some of the texts currently studied across the three courses include: Aleksandr Pushkin, The Queen of Spades; The Tain (Táin Bó Cúailnge – The Cattle Raid of Cooley); Nathaniel Hawthorne, The Scarlet Letter; Heinrich Böll, The Lost Honour of Katharina Blum and Jean Racine, Phaedra.
Year 2
Courses in year 2 focus on the idea of crossing frontiers in geographical, scientific, political, psychological, social, cultural and gender-orientated terms. They examine the human motivations behind and the consequences of various "crossings", as well as the exploration of identity, otherness, secrets, mysteries and taboos.
Some of the texts currently studied include: Edwidge Danticat, Breath, Eyes, Memory; Nikolai Gogol, "The Nose"; Franz Kafka, The Metamorphosis; Mohsin Hamid, Exit West; Gianfranco Rosi, Fire at Sea (film); Gracialiano Ramos, Barren Lives, and José Eduardo Agualusa, Creole.
A range of subjects can be taken as your third option in years 1 and 2. You can learn another language (Chinese, Czech, French, German, Italian, Polish, Portuguese, Russian and Spanish are all available at beginners level) or you can also take another course in Comparative Literature. Alternatively, you might choose to take another complementary course from the College of Arts in a subject like English or Scottish Literature: see Flexible degrees.
Years 3 and 4
If you progress to Honours (years 3 and 4) Comparative Literature may only be taken as a Joint Honours degree, meaning that you will also study another subject.
At Honours level you choose your own optional courses, which reflect the research specialisms of our staff. You will take core courses on literary and cultural theories, and you will read texts from an intercultural perspective. You will also gain an awareness of issues of language and translation as they relate to the reading of texts from different cultures.
+++
Degree structure
Year 1
Students typically take two of:

1A Heroic Men
1B Heroic Women
1C Heroism across Times and Cultures.

Joint Honours subject at Level 1
Third Level 1 subject.
Year 2
Students typically take two of:

2A Crossing Borders
2B Exploring Identity
2C Displacement and Migration on Screen.

Joint Honours subject at Level 2
A new Level 1 subject may be taken.
Year 3
Comparative Literature Junior Honours
[Year 3 could be studied abroad via exchange agreements]
Joint Honours subject at Junior Honours.
Year 4
Comparative Literature Senior Honours
Joint Honours subject at Senior Honours.
---
Programme alteration or discontinuation
The University of Glasgow endeavours to run all programmes as advertised. In exceptional circumstances, however, the University may withdraw or alter a programme. For more information, please see: Student contract.
Our international links
Some students take Comparative Literature as a joint degree programme with a modern language. In this case, the programme lasts five years, with a year abroad after year 2, in the country of the language you are studying.
If you study Comparative Literature as Joint honours with a non-language subject (for example English Literature), you may apply to spend your Junior Honours year (year 3 of study) abroad in any of the countries with which the University of Glasgow has an exchange agreement.
This includes, for example, the Czech Republic, Canada and the USA.
At Honours level you choose your own optional courses, which reflect the research specialisms of our staff. Some of the courses we offer currently include:
magical narratives: Imagination, fantasy & the creation of worlds

postcolonial literature, thought & visual culture
holocaust literature & film
narrating the city: representation of urban spaces in literature & film
classic European cinema.
You may also choose to write a dissertation on a comparative literature-related topic supervised by a specialist in the area.
Entry requirements
for entry in 2021
Summary of entry requirements for Comparative Literature
SQA Higher Entry Requirements (by end of S6)
AAAAA Higher or AAAA Higher+B Advanced Higher (BBBB S5 minimum for consideration)
Additional requirements: Higher English and a Higher Humanities subject.
SQA Higher Adjusted Entry Requirements* (by end of S6)
AABB – BBBB
Additional requirements: Higher English and a Higher Humanities subject. Successful completion of Top-Up or one of our Summer Schools.
* See Access Glasgow for eligibility.
A-level Standard Entry Requirements
AAB – BBB
Additional requirements: one A-level Humanities subject.
IB Standard Entry Requirements
36 (6,6,5 HL) – 32 (6,5,5 HL)
Additional requirements: HL English and HL Humanities subject.
2021 Admissions Policy and further information about entry requirements
Glasgow International College
International students with academic qualifications below those required should contact our partner institution, Glasgow International College, who offer a range of foundation certificates.
For applicants whose first language is not English, the University sets a minimum English Language proficiency level.
English language requirements
Important information for entry in Autumn 2020 and January 2021
International English Language Testing System (IELTS) Academic module (not General Training):
overall score 6.5
no sub-test less than 6.0
or equivalent scores in another recognised qualification (see below)
Common equivalent English language qualifications:
ibTOEFL*: 90; no sub-test less than: Reading: 20; Listening: 19; Speaking: 19; Writing: 23

CAE (Cambridge Certificate of Advanced English): 176 overall: no sub-test less than 169
CPE (Cambridge Certificate of Proficiency in English): 176 overall: no sub-test less than 169
PTE Academic (Pearson Test of English, Academic test): 60; no sub-test less than 59
IGCSE: English as a First Language (0500/0522): C in Reading and Writing, plus 1 in Listening, 2 in Speaking, where applicable. All four components (listening, writing, speaking, reading) must be examined and detailed on results slip
IGCSE: English as a Second Language (0510/0511): A in Reading and Writing, plus A in Listening, 2/B in Speaking, where applicable. All four components (listening, writing, speaking, reading) must be examined and detailed on results slip
Trinity College London Integrated Skills in English: ISEII at Distinction with Distinction in all sub-tests
* Please note that TOEFL is still acceptable for admission to this programme for both home/EU and international students.
For international students, the Home Office has confirmed that the University can choose to use TOEFL to make its own assessment of English language ability for visa applications to degree level courses. We therefore still accept TOEFL tests taken in the last two years for admission to this programme.
Pre-sessional courses
The University of Glasgow accepts evidence of the required language level from the English for Academic Study Unit Pre-sessional courses. We also consider other BALEAP accredited pre-sessional courses:
FAQs
What do I do if...
my language qualifications are below the requirements?
The University's School of Modern Languages and Cultures offers a range of Pre-Sessional Courses to bring you up to entry level. The course is accredited by BALEAP, the UK professional association for academic English teaching; see Links.
my language qualifications are not listed here?
Please contact External Relations
If you require a Tier 4 student visa, your qualification must be one of the secure English language tests accepted by UK Border Agency:
Visa requirements and proof of English language level
It is a visa requirement to provide information on your level of English based on an internationally recognised and secure English language test. All test reports must be no more than 2 years old. A list of these can be found on the UK Border Agency website. If you have never taken one of these tests before, you can get an initial idea of your level by using the Common European Framework self-assessment grid which gives you a level for each skill (e.g. listening B1/writing B2 etc.) However, please note that this is not a secure English language test and it is not sufficient evidence of your level of English for visa requirements.
For further information about English language, please see School of Modern Languages and Cultures: English for Academic Study.
Career prospects
Our graduates have gone on to pursue rewarding careers in the media, teaching, journalism, tourism, translating and interpreting, and the Civil Service, as well as business, commerce and marketing.
Degrees and UCAS codes
Comparative Literature can only be taken as a Joint Honours degree.
When applying you will need to know the UCAS code for the subject or subject-combination that you wish to apply to:
MA (Hons)
Fees and funding
Tuition fees
How and when you pay tuition fees depends on where you're from: see Tuition fees for details.
Scholarships
The University is committed to supporting students and rewarding academic excellence. That's why we've invested more than £1m in additional scholarship funding in recent years.
The scholarships above are specific to this programme. For more funding opportunities search the scholarships database
How to apply
Full-time students must apply through the Universities & Colleges Admissions Service (UCAS).
International students to Arts, Engineering, Law, Nursing, Science, and Social Sciences can also apply using The Common Application: however, if applying to more than one UK university, we recommend using UCAS. Applications to Dentistry, Education, Medicine, and Veterinary Medicine must be made through UCAS.
Application deadlines
We do not usually accept any applications after these deadlines.
It's your responsibility to ensure the accuracy of your application before submission. Requests to correct application content, change degree programme or change college of entry, will not be accepted after these deadlines. This policy is in place to ensure fairness and consistency to all applicants, and no exceptions will be made.
How to apply for Advanced Entry
Apply for year 2 (Y2) on your UCAS application. If the specific subject is unavailable for Advanced Entry or your application for year 2 entry is unsuccessful, you will be automatically considered for year 1 entry. You do not have to submit a separate UCAS application.
More information about this programme
Literature in English students satisfied
Discover Uni, January 2020
Modern Languages & Cultures