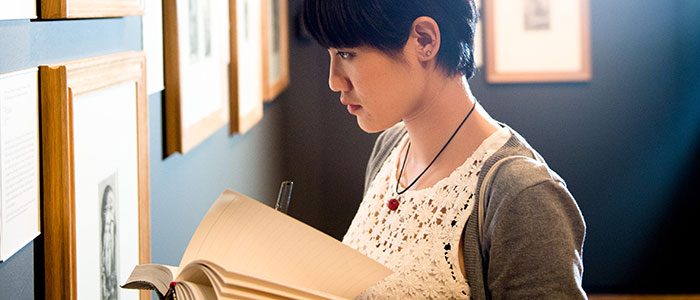 Art History Research
Find out more about our areas of research:
Overview
History of Art at University of Glasgow has a vibrant research culture.
A significant recent addition has been the establishment of the Kelvin Centre for Conservation and Cultural Heritage Research. Our established art historical strengths have therefore been augmented by an ambitious new emphasis on technical research and analysis.
The subject area has strong links with external partners nationally and internationally through both project research and partnership working.
We encourages and develop the best object-led research by our art historians, within an interdisciplinary environment in which the historical, theoretical, technical, museological and curatorial strands of the discipline are mutually reinforcing.
Key research clusters
We support rigorous, methodologically-informed scholarship, manifested in grant-funded research programmes, individual scholarly projects and ambitious exhibition curation. We have moved beyond traditional art historical approaches with our newly-developed areas of expertise in technical art history and conservation, underpinned by considerable investment in new facilities for the Centre for Textile Conservation and Technical Art History. This has created links with the physical sciences while providing opportunities for collaboration, particularly with heritage institutions.
Staff
Director
Deputy Directors
Frances Lennard
John Richards
Administrator
Members of the Institute of Art History at the University of Glasgow are:
Projects and Networks
Current
American Historic Art in UK Public Collections
ECLAP - European Collected Library of Artistic Performance
Recently Completed
Web Resources
New Developments
International Reach
Nick Pearce's established expertise in the area of Chinese art area is now supported with new investment signalled by the recent appointment of Minna Torma. This dovetails with the establishment of the Scottish Centre for China Research and the Confucius Institute at Glasgow.
Plans are also underway for a China Art Research Network (CARN), with colleagues at Glasgow Museums, the National Museums of Scotland and Christie's Education, London. The Network aims to provide a platform, nationally and internationally, for art historians, archaeologists and museum professionals who specialise in China and who work in object-based research, including history, technical art history and conservation.
New research area
A significant departure for the Institute is the development of a specialism in Art Law with Christa Roodt, as part of the unit's partnership with Christie's Education, London. We aim to develop inter-disciplinary research strength in art, business and law.

New and ongoing projects
There are numerous ongoing projects within the Institute. For a full listing, see the 'Projects and Networks' tab.
Publications
Selected recent publications
Hermens, E.: 'Rembrandt's entombment sketch: the passion in paint, a technical investigation'. In: Black, P. and Hermens, E. , Rembrandt and The Passion. Prestel, 2012, 101 -134
Bonehill, J., and Daniels, S: 'Projecting London: Turner and Greenwich'. Oxford Art Journal, 35 (2), 2012, pp. 171-194
De Montfort, P and MacDonald, M.: An American in London: Whistler and the Thames (Exhibition cat): Dulwich Picture Gallery, London, 2013.
Fiske, T. Donovan, M., Kemp, M., and Beardsley, J. (eds): The Andy Goldsworthy Project. Thames and Hudson, New York, NY, USA, 2010.
Hopkins, D and White, M (eds): Virgin Microbe: Essays on Dada, Northwestern University Press (Evanston, Illinois ), 2014.
Lennard, F., and Ewer, P: 'Textile conservation in the heritage sector'. In: Lennard, F. and Ewer, P. (eds.) Textile Conservation: Advances in Practice. Series: Butterworth-Heinemann series in conservation and museology . Butterworth-Heinemann, Oxford, 2010.
Lewer, D.: 'Hugo Ball, iconoclasm and the origins of Dada in Zurich'., Oxford Art Journal, 32 (1), 2009, pp. 17-35.
M. Richter, G. Grundmann, N. Ivleva, , H. Stege, C. Haisch, 'The rediscovery of sublimed arsenic sulphide pigments in painting and polychromy: applications of Raman microspectroscopy', in 'Studying Old Master Paintings – Technology and Practice', Postprints of The National Gallery Technical Bulletin 30th Anniversary Conference, 16-18 September 2009, London (UK), Archetype Publications Ltd., London 2011,
Macartney, H. and Glendinning, N. (eds.): Spanish Art in Britain and Ireland, 1750-1920: Studies in reception in memory of Enriqueta Harris Frankfort. Tamesis, Woodbridge, 2010.
MacDonald, M., Petri, G., Hausberg, M., and Meacock, J.: James McNeill Whistler: The Etchings, a Catalogue Raisonné [Website]. University of Glasgow, Glasgow, UK, 2012.
Nichols, T: Titian and the end of the Venetian Renaissance: Reaktion Books, London, 2013.
Paterson, D: 'Moving Poses/Arrested Feeling: Jimmy Robert's 'L'Education Sentimentale' in B. Cone (ed ): The Sensible Stage, Picture this with Plenty Projects, Bristol, 2012
Pearce, N.: 'A flash in the pan'. In: Pearce, N. and Steuber, J. (eds.) Original Intentions: Essays on Production, Reproduction and Interpretation in the Arts of China. University Press of Florida, 2012
Quye, A., Hallett, K., and Herrero Carretero, C: 'Wrought in Gold and Silk': Preserving the Art of Historic Tapestries. NMS, Edinburgh, 2009.
Richards,J.: 'Oblivion Deferred: Altichiero in the Fifteenth Century.' RIHA Journal (International Research Institutes in the History of Art' journal ), 2013.
Roodt, C., and Carey Miller, D. (2013) 'Stolen cultural property: implications of Vitium Reale in private law and private international law'. Transnational Dispute Management, 5 (2013).
Rush, S.: 'Stirling Castle Palace: The Identification and Interpretation of the Stirling Heads' (Report for Historic Scotland: Currently in preparation).
Strickland, D.H.: 'Monstrosity and race in the Late Middle Ages'. In: Mittman, A. and Dendle, P. (eds.) The Ashgate Research Companion to Monsters and the Monstrous. Ashgate, Aldershot, 2012.
Torma, M: Enchanted by Lohans: Osvald Sirén's Journey into Chinese Art. Hong Kong: Hong Kong University Press, 2013.
Wieber, S. and Blackshaw, G: Journeys into Madness: Mapping Mental Illness in Vienna 1900. Berghahn, New York, USA, 2012.
Willsdon, C.A.P.: Jardines Impresionistas. Museo Thyssen-Bornemisza, Madrid, Spain, 2010.