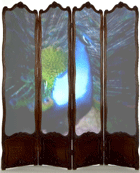 Contemporary Collections and Collecting in Scotland
The Series
The Contemporary Collections and Collecting in Scotland Series has formed the core of the research programme that has been developed around the National Collecting Scheme Scotland in its second phase (June 2007- March 2010).
The Series has comprised three linked events, which have taken place between May 2009 and January 2010, organised by the History of Art Department at the University of Glasgow in partnership with a range of organisations and supported by the Scottish Arts Council.
Over the last few years, the contemporary collecting landscape has evolved rapidly through initiatives such as ARTIST ROOMS, Art Fund International and the National Collecting Scheme Scotland. This has also been a period of change for sector bodies as such the Scottish Arts Council and Museums Galleries Scotland, and for organisations such as The Contemporary Art Society in London.
The over-arching and cumulative objective of the three events has been to respond to this changing and developing context, and to engage in and sustain productive critical discussion about contemporary art collections and collecting in Scottish museums and galleries.
Download information on the Contemporary Collections and Collecting in Scotland series here: NCSS programme
For further details about the series, please contact Dr Tina Fiske, Research Associate, National Collecting Scheme Scotland.
Aims
Together, the three events were intended to:
Initiate a 'mapping' process and promote alignment of the various related initiatives and funds that support contemporary collections-building in Scotland and provide an updated context and overview of the contemporary collecting landscape.
Build a community of stakeholders and initiate a regular forum for identifying priorities and perspectives, and to explore ways of linking them.
Further a common understanding of the extent and nature of aspirations across public collections to develop their contemporary acquisitions and programmes.
Identify the most effective ways to represent and address the critical questions about the strategic development and use of contemporary collections across Scotland.
Who participated?
A key principle of the Series has been to recognise that issues pertaining to collections and collecting reach across a range of sector bodies, funders, organisations and individuals. Currently, however, there is no regular forum in Scotland for drawing together representatives from the various agencies and development bodies, collecting institutions, public galleries, commercial galleries, or artists around the issues of collections or collecting. An objective of this series has been to look at how this might be established, what form it might take, and what it might do.
Those with a stake in contemporary collecting were invited to participate: this included individuals from organisations within the museums and HE sectors, members of the visual artists' community, and representatives from the Art Schools, non-collecting institutions and visual arts organisations, and commercial galleries.
Across the Series, 94 individuals participated in one or more of the events, amongst them representing 50 organisations and coming from Orkney, Aberdeen, Perth, Dundee, Stirling, London, Edinburgh, Glasgow, Paisley and Selkirk.
Download a full list of the individuals who participated in the Series here - NCSS Full Attendees Individuals list
Evaluation process
An evaluation of National Collecting Scheme Scotland Phase 2 is currently being undertaken by Dr Tina Fiske in line with the conclusion of Phase 2 on March 31.
That process will include an evaluation of the Contemporary Collections and Collecting in Scotland Series, as well as recommendations for the future development of the NCSS initiative.
Next Steps
• March 31: Evaluation documents and recommendations for a vision for an NCSS Phase 3 are due from Dr Tina Fiske, along with research outputs from Kirstie Skinner.
• Late April: The recommendations will be circulated to the participants of the Series.
• Late May /early June (date tbc by 31/03): A meeting at the University of Glasgow for those who wish to continue being involved – to provide an opportunity to feed back on the recommendations and to articulate what they can bring to future developments as well as how they might benefit from them.
Selected feedback on the Series
'This series has taken something passionately discussed in quite intimate circles into a much broader arena … we have managed to extend/activate a wider network, to make more evident the range of stakeholders in this important issue.'
'This initiative … has brought together people in a way that no other topic of discussion has because it unites us all. There are many different levels represented here so you can feed up and down, but it is the core. People here are those doing the work.'
'It helps understanding of the different parts and where they may connect together'
'It strikes me that the importance of a forum like this is in ensuring that things don't seem to be in competition.'
'This forum gives a chance to say 'this is our position, this is what we do, and this is what we don't do.' It is a chance to say what we are not doing and why. There is a certain amount of expectation around: we don't do certain things, and often there is little chance to say why.'
'… one of the things that has got to be communicated back into the structures is the very strong sense that visual arts, of all disciplines in our museums, is the one that has managed to have gatherings together of this sort, about the direction of our collections, and what can others learn from this.'
'One of the things that is interesting about this grouping is that you have museum curators, but also people working with artists more directly etc. It is that which I think is interesting.'
'We assume that we know what each other does. Having a forum to hear about what others do helps you to understand the opportunities. How do those discussions take place?'
'A forum for discussing programming three years down the line and tying that up with some of the collecting institution's agendas would be fantastic.'