Opus anglicanum: English medieval embroidery
This project was started through a British Academy research grant awarded in 2012 to Dr M.A. Michael, Hon. Research Fellow and Hon. Professor, School of Culture and Creative Arts, University of Glasgow.
The project explores the manufacture and use of embroidered textiles in England. There has been no exhibition on this material since the Arts Council Exhibition of 1963. The project will explore the place of embroidered textiles in the context of the wider production of English art and it will demonstrate how these objects were traded and used as part of medieval and early renaissance society.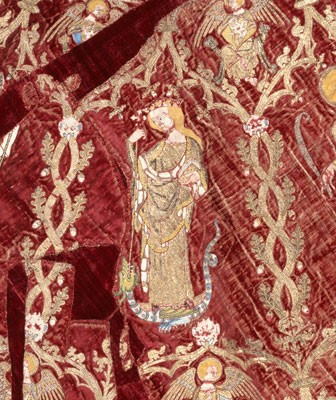 The role of patrons, artists, craftswomen and merchants will be explored, revealing the international importance of what in modern terms might be called 'the work of England' (opus anglicanum) as part of the diplomatic strategies of church and state.
Three key aims of the project have already been achieved:
an Opus anglicanum Symposium was held on 15th February 2013
the digitisation of the Evelyn Thomas Archive of slides of English medieval embroidery, under the Princeton Index of Christian Art
the Exhibition 'English Medieval Embroidery: Opus Anglicanum' held in at the V&A September 2016 – February 2017
In addition:
PhD candidate Zoe Boden who was awarded an AHRC-funded Collaborative Doctoral Partnership (CDP) PhD studentship. Administered by the University of Glasgow, CEDU and the V&A in: 'Performance, Procession and Display in the Medieval Church 1200-1500'. She is jointly supervised by Dr Debra Strickland, Prof. M.A. Michael and Glyn Davies (V&A).
Further plans for the dissemination of new research on English medieval embroidery as part of this on-going project will be posted here:
Volume 2 of Studies in English Medieval Embroidery is currently in its planning stages and be a study of a single work of English Medieval Embroidery