Discover more
The Stirling Maxwell Research Project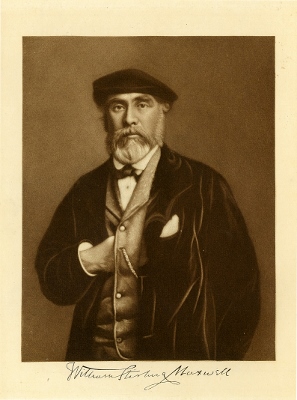 Sir William Stirling Maxwell's Annals of the Artists of Spain (1848) was the first scholarly history of Spanish art in English and the first book on art to be illustrated with photographs.
His collection of Spanish paintings was the largest and most comprehensive collection of this school ever put together in Britain, whilst his outstanding library included books and treatises on Spanish art, as well as a vast number of emblem books and festivals books.
Much of his collection of paintings remains at Pollok House, Glasgow, former seat of the Maxwell family, which was given to the people of Glasgow in 1967. Many of his books are now in Special Collections at the University of Glasgow and his archives are held in Glasgow's Mitchell Library.
A campaigner for Higher Education reform, Stirling Maxwell was elected Chancellor of the University of Glasgow in 1875.
The Stirling Maxwell Research Project studies the contribution of Sir William Stirling Maxwell (1818-78) to scholarship and collecting and raises awareness of his significance in these fields.
About the project
The Stirling Maxwell Research Project owes its initial impetus to the Centro de Estudios Europa Hispánica (CEEH), Madrid, and its Director, José Luis Colomer, who with the late Professor Nigel Glendinning, offered both vision and practical assistance in setting it up. Core funding for the Project has generously been provided by Santander Universities. The Project is directed by Dr Hilary Macartney and overseen by Professor Nick Pearce.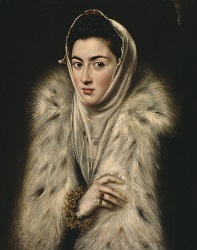 This collaborative research project is centred around the famous Lady in a Fur Wrap, attributed to El Greco (1541–1614), and related portraits in the Stirling Maxwell Collection.
The Lady in a Fur Wrap has fascinated viewers ever since it was exhibited in the Louvre, Paris, in 1838. Regarded as an early masterpiece painted soon after El Greco settled in Spain in the 1570s, its fame became linked to the rapid rise in the painter's international reputation in the nineteenth century. Yet it remains an enigma. Direct, informal portraits of Early Modern women such as this are extremely rare and probably unique in a Spanish context. This has led some modern scholars to propose a number of new possibilities regarding who painted it, when, and who it represents.
The aims of this project are to examine new and existing evidence relating to the Lady in a Fur Wrap and to provide a forum in which specialists across several academic disciplines as well as museum professionals can assess and debate the arguments around this masterpiece.
News
University of Glasgow's Hilary Macartney curates exhibition at Madrid's Museo del Prado
News Archive 2010-11