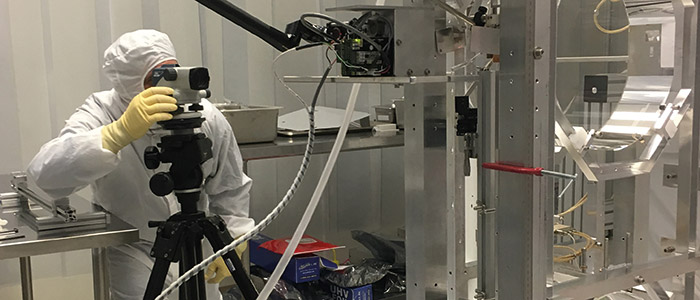 In this degree programme the study of physics is particularly focused on astrophysical phenomena: from stars and planets to galaxies and cosmology. Astrophysics provides a natural laboratory in which to explore the laws of physics, and in certain astrophysical objects: such as pulsars, quasars and black holes; to test those laws under extreme conditions. Astronomy lectures are complemented by our observatory, planetarium and telescope facilities.
September start: session dates
Physics with Astrophysics BSc (Hons): F3F5 4 year degree
Physics with Astrophysics MSci: F3FM 5 year degree
Why study Physics with Astrophysics?
Physics & Astronomy at Glasgow is ranked 2nd in Scotland and 12th in the UK (Complete University Guide 2020)
This degree programme is accredited by the Institute of Physics
Lectures are complemented by our observatory, planetarium and telescope facilities at our Garscube Campus
Programme structure
Year 1
Core courses:
You will gain a basic understanding of the main topics in theoretical physics and will be introduced to the methods of experimental physics, thereby providing a solid foundation for further study in physics.
Year 2
Core courses:
You will have training in more specialised experimental techniques and expand your knowledge of modern physics research. You will also be introduced to the foundations of astrophysics, covering topics including the physics of our solar system, the origin of stars and galaxies, and the evolution of the universe.
You will also study other subjects in years 1 and 2 : see Flexible degrees.
Year 3
The following courses run on alternate years:
Year 4
The following courses run on alternate years:
If you progress to Honours (years 3 and 4) you will continue to study core topics in greater depth but will also study specialist subjects of your choice in depth and will undertake project work, often within a world-leading research group.
The main astrophysics components of the Honours programme include:
stellar structure and evolution
high-energy astrophysics
galaxies and cosmology
instruments for optical and radio telescopes
exploring planetary systems.
There is an opportunity to take an MSci degree which explores physics and astrophysics topics in greater depth. In the final year of the MSci degree you will carry out an individually supervised project working at the cutting edge of international research. The MSci aims to foster the development of critical judgement and independent scientific work, and to prepare you for professional leadership in your chosen field.
Programme alteration or discontinuation
The University of Glasgow endeavours to run all programmes as advertised. In exceptional circumstances, however, the University may withdraw or alter a programme. For more information, please see: Student contract.
Our international links
You will have the opportunity to apply to study abroad. There are currently two options available: the Erasmus+ Programme and the International Exchange Programme. See Study abroad.
Entry requirements
for entry in 2020
BSc/MSci
Glasgow International College
International students with academic qualifications below those required should contact our partner institution, Glasgow International College, who offer a range of foundation certificates.
For applicants whose first language is not English, the University sets a minimum English Language proficiency level.
Career prospects
Our graduates are employed in many areas including industry, national research laboratories, the financial sector and education. Many graduates choose to study for a postgraduate degree before entering the job market.
Accreditation
All programmes containing physics are fully accredited by the Institute of Physics.
Degrees and UCAS codes
When applying you will need to know the UCAS code for the subject or subject-combination that you wish to apply to:
BSc (Hons)
Physics with Astrophysics: F3F5 (4 years)
MSci
Physics with Astrophysics: F3FM (5 years)
Fees and funding
Tuition fees
How and when you pay tuition fees depends on where you're from: see Tuition fees for details.
Scholarships
The University is committed to supporting students and rewarding academic excellence. That's why we've invested more than £1m in additional scholarship funding in recent years.
The scholarships above are specific to this programme. For more funding opportunities search the scholarships database
How to apply
Full-time students must apply through the Universities & Colleges Admissions Service (UCAS).
International students can also apply using The Common Application: however, if applying to more than one UK university, we recommend using UCAS.
Application deadlines
15 October: if including Dentistry, Medicine, Veterinary Medicine or also applying to Oxford or Cambridge
15 January: all other UK/EU applicants (unless otherwise stated on the UCAS website)
30 June: international (non-EU) students
We do not usually accept any applications after these deadlines.
It's your responsibility to ensure the accuracy of your application before submission. Requests to correct application content, change degree programme or change college of entry, will not be accepted after these deadlines. This policy is in place to ensure fairness and consistency to all applicants, and no exceptions will be made.
Apply at www.ucas.com or through your school or college
Contact UCAS on 0871 468 0468
ATAS: Academic Technology Approval Scheme
Please note that this programmes in this subject at Masters level require ATAS. If you require a visa to study in the UK then you will need to apply for an ATAS certificate before applying for your visa or extension of stay, allowing at least four weeks (20 working days) in order to obtain it.
The Academic Technology Approval Scheme (ATAS) was introduced on 1 November 2007. It is used to help stop the spread of knowledge and skills that could be used in the proliferation of weapons of mass destruction (WMD) and their means of delivery. This is in common with other governments around the world.
The ATAS is designed to ensure that people who are applying to study certain sensitive subjects in the UK do not have links to WMD programmes.
How to apply for Advanced Entry
Apply for year 2 (Y2) on your UCAS application. If the specific subject is unavailable for Advanced Entry or your application for year 2 entry is unsuccessful, you will be automatically considered for year 1 entry. You do not have to submit a separate UCAS application.
Physics students in work / study
Discover Uni, January 2020
PROFESSIONALLY ACCREDITED