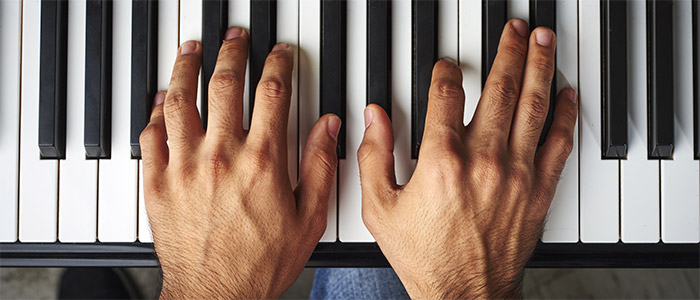 The BMus is a single-subject degree for those who are interested in pursuing a career in music. It provides a strong grounding in core disciplines and allows you to pursue your specialist interests in third and fourth years.
You will be given a bursary towards the cost of private instrumental or vocal tuition.
September start
Music BMus: W302 4 year degree
Music at Glasgow
Our music facilities
Our music facilities within the School of Culture & Creative Arts include three studios, the Audio Lab, a small library and a number of seminar and practice rooms. The school also has preferential access to the University Concert Hall.
Work experience opportunities
Each year there are opportunities for students to gain work experience working either as the librarian in the school library or as an intern in the suite of studios, assisting with production work and carrying out admin and maintenance tasks.
Music club
Glasgow University Music Club is a student-run umbrella organisation comprising of a number of student-run music groups. All the groups are open to any ability and no auditions are necessary.
The club is friendly and social, with most groups going for post-rehearsal drinks, and regular social events spanning the whole club. With five different ensembles and five concerts, as well as an end of year ball and a residential trip, music club is a relaxed and friendly way of playing music while meeting some great people!
Programme structure
Year 1
You will take courses in:
Performance
Practical instrumentation, scoring & musicianship
Listening in culture
Listening through analysis
Musical techniques (harmony and counterpoint). .
You will take one more course, either from within Music (see options below) or from another Arts discipline.
Analysis, Aesthetics & philosophy of music
Musical culture in the long 19th century
Opera
Jazz style & practice
Romantic song
J S Bach.
Year 2
You will take courses in Musical techniques (pastiche composition) and Composition.
You will also choose to study other topics such as:
Analysis
Aesthetics & philosophy of music
Musical culture in the long 19th century
Opera
Experimental music practice
Sonic arts
Jazz style & practice
Romantic song
J S Bach
Performance.
Years 3 and 4
In the latter part of your degree your studies become more specialized and there is greater scope to tailor your own curriculum, combining practical and historical-cultural study in various ways. There are opportunities to take your composition further, concentrate on performance to a greater extent or pursue the creative use of music technology through sonic arts. If music history and culture is of more interest to you, you can take courses in music since 1900, film music, performance practice, popular music politics, and experimental music practice. You can also choose one of the team-taught courses (Genders or Inter-war cultures) provided by the School of Culture & Creative Arts.
In year 3 you will take a course in Historiography & criticism of Music. All BMus students take the written Dissertation course or the Applied dissertation course (combining writing and creative work), both with one-to-one supervision on a topic of their choice.
Course details
Courses you will take as part of a Music BMus programme may include:
Year 1
Year 2
Years 3 and 4 (Honours)
(Not all courses listed will be available in each session)
Programme alteration or discontinuation
The University of Glasgow endeavours to run all programmes as advertised. In exceptional circumstances, however, the University may withdraw or alter a programme. For more information, please see: Student contract.
Our international links
You can spend up to a year of your degree studying abroad, normally in the third year. Previous students have chosen to study at the Seoul National University; University of Oslo; University of Texas; University of California; University of Western Australia; Queen's University (Canada). See Study abroad.
Entry requirements
for entry in 2024
Summary of entry requirements for Music (BMus)
SQA Higher Entry Requirements (by end of S6)
AAAA
Additional requirements: Higher Music. Audition/Portfolio.
SQA Higher Adjusted Entry Requirements* (by end of S5 or S6)
MD20 – BBBB (also other target groups*)
MD40 – AABB*
Additional requirements: Higher Music. Audition. Successful completion of Top-Up or one of our Summer Schools.
* See Access Glasgow for eligibility.
A-level Standard Entry Requirements
AAB – BBB
Additional requirements: A-level Music. Audition/Portfolio.
IB Standard Entry Requirements
36 (6,6,5 HL) – 32 (6,5,5 HL)
Additional requirements: HL Music. Audition.
Admissions guidance
English language
For applicants whose first language is not English, the University sets a minimum English Language proficiency level.
English language requirements
International English Language Testing System (IELTS) Academic module (not General Training)
6.5 with no sub-test under 6.0.
Tests must have been taken within 2 years 5 months of start date. Applicants must meet the overall and subtest requirements using a single test.
Common equivalent English language qualifications
All stated English tests are acceptable for admission to this programme:
TOEFL (ib, my best or athome)
90 with minimum R 20, L 19, S 19, W 23.
Tests must have been taken within 2 years 5 months of start date. Combined scores from two tests taken within 6 months of each other can be considered.
PTE (Academic)
60 with minimum 59 in all sub-tests.
Tests must have been taken within 2 years 5 months of start date. Combined scores from two tests taken within 6 months of each other can be considered.
Glasgow International College English Language (and other foundation providers)
65%.
Tests are accepted for academic year following sitting.
University of Glasgow Pre-sessional courses
Tests are accepted for academic year following sitting.
Cambridge English Qualifications
Cambridge Advanced English (CAE): 176 overall, no subtest less than 169
Cambridge Proficiency in English (CPE): 176 overall, no subtest less than 169
School Qualifications
iGCSE English or ESOL 0522/0500, grade C
International Baccalaureate English A SL5 or HL5
International Baccalaureate English B SL6 or HL5
SQA National 5 English or ESOL, grade B
SQA Higher English or ESOL, grade C
Hong Kong Diploma of Secondary Education, English Language grade 4
West African Examination Council, Senior Secondary School Certificate, English grade C6
Alternatives to English Language qualification
Undergraduate degree from English speaking country (including Canada if taught in English)
Undergraduate 2+2 degree from English speaking country
Undergraduate 2+2 TNE degree taught in English in non-English speaking country
Masters degree from English speaking country
Masters degree (equivalent on NARIC to UK masters degree) taught in English in non-English speaking country.
For international students, the Home Office has confirmed that the University can choose to use these tests to make its own assessment of English language ability for visa applications to degree level programmes. The University is also able to accept an IELTS test (Academic module) from any of the 1000 IELTS test centres from around the world and we do not require a specific UKVI IELTS test for degree level programmes. We therefore still accept any of the English tests listed for admission to this programme.
Pre-sessional courses
The University of Glasgow accepts evidence of the required language level from the English for Academic Study Unit Pre-sessional courses. We also consider other BALEAP accredited pre-sessional courses:
FAQs
What do I do if...
my language qualifications are below the requirements?
The University's School of Modern Languages and Cultures offers a range of Pre-sessional courses to bring you up to entry level. The course is accredited by BALEAP, the UK professional association for academic English teaching.
my language qualifications are not listed here?
Please contact External Relations
If you require a Tier 4 student visa, your qualification must be one of the secure English language tests accepted by UK Border Agency:
Visa requirements and proof of English language level
It is a visa requirement to provide information on your level of English based on an internationally recognised and secure English language test. All test reports must be no more than 2 years old. A list of these can be found on the UK Border Agency website. If you have never taken one of these tests before, you can get an initial idea of your level by using the Common European Framework self-assessment grid which gives you a level for each skill (e.g. listening B1/writing B2 etc.) However, please note that this is not a secure English language test and it is not sufficient evidence of your level of English for visa requirements.
Further information about English language: School of Modern Languages & Cultures: English for Academic Study
Career prospects
The BMus degree provides a strong foundation for careers in performance, composition, research and teaching, music administration, journalism, publishing and librarianship. It provides an unusual breadth of strong transferable skills which are applicable to a wide range of careers outside music.
Degrees and UCAS codes
When applying you will need to know the UCAS code for the subject or subject-combination that you wish to apply to:
BMus
Fees and funding
Tuition fees
How and when you pay tuition fees depends on where you're from: see Tuition fees for details.
Scholarships
The University is committed to supporting students and rewarding academic excellence. That's why we've invested more than £1m in additional scholarship funding in recent years.
The scholarships above are specific to this programme. For more funding opportunities search the scholarships database
How to apply
Full-time students must apply through the Universities & Colleges Admissions Service (UCAS).
SQA applicants who are eligible for our Widening Participation programmes are encouraged to participate in one or more of these programmes, including Summer School, to support your application and the transition to higher education.
International students to Arts, Engineering, Law, Nursing, Science, and Social Sciences can also apply using The Common Application: however, if applying to more than one UK university, we recommend using UCAS. Applications to Dentistry, Education, Medicine, and Veterinary Medicine must be made through UCAS.
Application deadlines
16 October: if including Dentistry, Medicine, Veterinary Medicine or also applying to Oxford or Cambridge
31 January: all other UK applicants (unless otherwise stated on the UCAS website)
30 June: international students.
We do not usually accept any applications after these deadlines.
It's your responsibility to ensure the accuracy of your application before submission. Requests to correct application content, change degree programme or change college of entry, will not be accepted after these deadlines. This policy is in place to ensure fairness and consistency to all applicants, and no exceptions will be made.
Apply at www.ucas.com or through your school or college
Contact UCAS on 0871 468 0468
How to apply for Advanced Entry
Apply for year 2 (Y2) on your UCAS application. If the specific subject is unavailable for Advanced Entry or your application for year 2 entry is unsuccessful, you will be automatically considered for year 1 entry. You do not have to submit a separate UCAS application.
More information about this programme
UK top 15
Times & Sunday Times Good University Guide [Music]


UK top 15
Times & Sunday Times Good University Guide [Music]