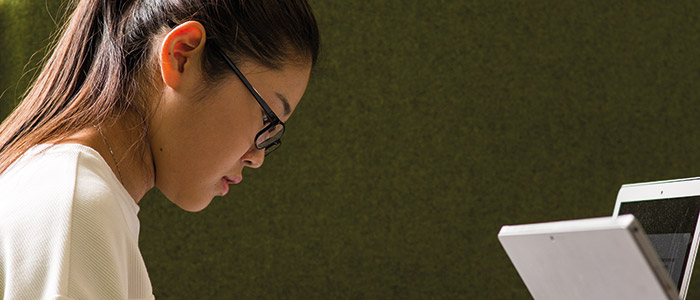 You will explore all aspects of literature in English, benefiting from our expertise in a wide range of areas, including American, Irish and postcolonial literatures, critical theory, creative writing, and the relationship between literature and other arts, media and science.
In choosing English Literature, you will be studying at one of the oldest, largest and most dynamic centres for the study of literature in the world.
September start: session dates
English Literature MA (Hons): Q301 4 year degree
What our students say
"English Literature at the University of Glasgow succeeds in delivering teaching from academics who are world experts in their field whilst balancing this with a helpful and supportive atmosphere and structure."
"The staff in English Literature have been fantastic; I was taught how to think independently and creatively."
Programme structure
Year 1
Level 1 courses in English Literature will provide you with the knowledge and critical and creative skills that form the bedrock for the study of English Literature. You will develop skills in independent writing and in analysing and arguing about literature, and gain insights into how speaking and performing texts enhances literary study. Poetry and Poetics introduces you to the study of poetry, of what has been written about it, and how it is performed and reproduced. Prescribed texts include anthologies of poetry and literary criticism, one play, and a handbook on studying poetry. The course includes a poetry writing competition and an open mic forum. Novel and Narratology addresses the novel form in English and theories of narrative and its cultural effects. There are also opportunities to develop skills in creative writing.
Year 2
In second year you will build on your reading and analytical skills, examining the relationship between literary texts and their historical, cultural and political contexts (Writing and ideology), and their formal features and techniques (Writing and text). You will be reading and writing on novels, short stories, tales, poems, plays, essays and manifestos from the medieval period
to the present day.
You will also study early literature and language in level 1 English Language & Linguistics, as well as other subjects in years 1 and 2. see Flexible degrees.
Years 3 and 4
If you progress to Honours (years 3 and 4) you will have scope for advanced study of the major literary periods, as well as the opportunity to choose from a wide variety of courses in a number of specialist fields, including children's literature, fantasy fiction, the contemporary novel, modernism, radical theory, Shakespeare, literature and the environment, literature and medicine.
Programme alteration or discontinuation
The University of Glasgow endeavours to run all programmes as advertised. In exceptional circumstances, however, the University may withdraw or alter a programme. For more information, please see: Student contract.
Our international links
Glasgow is partnered with many universities in Europe, including the Universities of Amsterdam and Uppsala, the USA and Canada, as well as further afield, in New Zealand, Australia and Malaysia.
Entry requirements
for entry in 2020
MA
For applicants whose first language is not English, the University sets a minimum English Language proficiency level.
Career prospects
A degree in English Literature opens up a wide range of career opportunities, such as teaching, writing, publishing, journalism, research and production in the arts and media sectors and other forms of cultural leadership, the civil service, public relations and cultural policy, financy, business and technology.
Degrees and UCAS codes
When applying you will need to know the UCAS code for the subject or subject-combination that you wish to apply to:
MA (Hons)
English Literature/Ancient History: VQ13
English Literature/Archaeology: QV3K
English Literature/Business & Management: QN32
English Literature/Celtic Civilisation: QQ5J
English Literature/Celtic Studies: QQ3M
English Literature/Central & East European Studies: RQ7J
English Literature/Classics: QQ3V
English Literature/Comparative Literature: Q290
English Literature/Computing Science: GQ4H
English Literature/Digital Media & Information Studies: GQ5H
English Literature/Economic & Social History: QV3H
English Literature/Economics: LQD3
English Literature/English Language & Linguistics: Q304
English Literature/Film & Television Studies: QW3P
English Literature/French: QR3C
English Literature/Gaelic: Q3Q5
English Literature/German: QR3F
English Literature/History: QV3C
English Literature/History of Art: QVHH
English Literature/Latin: QQ3P
English Literature/Mathematics: QG3C
English Literature/Music: QW3H
English Literature/Philosophy: QV3M
English Literature/Politics: LQ2H
English Literature/Portuguese: 6L8B
English Literature/Russian: QRHR
English Literature/Scottish History: QVHF
English Literature/Scottish Literature: QQ2H
English Literature/Social & Public Policy: LQ4H
English Literature/Sociology: LQ3H
English Literature/Spanish: RQ43
English Literature/Theatre Studies: WQ4H
English Literature/Theology & Religious Studies: VQ63
English Literature can also be taken in combination with Law programmes:
Fees and funding
Tuition fees
How and when you pay tuition fees depends on where you're from: see Tuition fees for details.
Scholarships
The University is committed to supporting students and rewarding academic excellence. That's why we've invested more than £1m in additional scholarship funding in recent years.
The scholarships above are specific to this programme. For more funding opportunities search the scholarships database
How to apply
If you wish to be considered for English Literature you must apply using a UCAS code for English Literature, either as a single subject or as part of a Joint Honours combination.
Full-time students must apply through the Universities & Colleges Admissions Service (UCAS).
International students can also apply using The Common Application: however, if applying to more than one UK university, we recommend using UCAS.
Application deadlines
We do not usually accept any applications after these deadlines.
It's your responsibility to ensure the accuracy of your application before submission. Requests to correct application content, change degree programme or change college of entry, will not be accepted after these deadlines. This policy is in place to ensure fairness and consistency to all applicants, and no exceptions will be made.
How to apply for Advanced Entry
Apply for year 2 (Y2) on your UCAS application. If the specific subject is unavailable for Advanced Entry or your application for year 2 entry is unsuccessful, you will be automatically considered for year 1 entry. You do not have to submit a separate UCAS application.
More information about this programme
English Literature students satisfied overall
Data published by Unistats, February 2019

UK top 15: Times & Sunday Times Good University Guide [English]