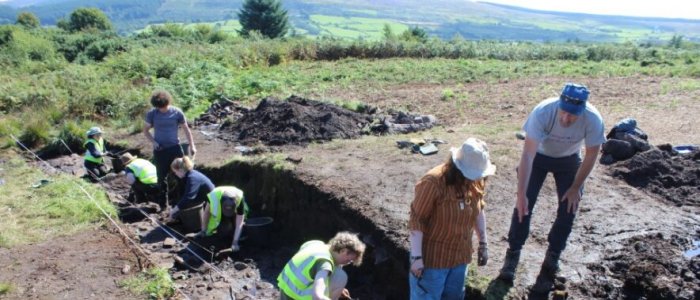 Archaeology is the study of how people in the past interacted with their world, through a detailed study of their objects, sites, monuments and landscapes.
You will have the opportunity to gain practical fieldwork skills in the UK and also abroad. Recent students have worked in the Baltic states, Cyprus, Finland, France, Germany, Greece, Iceland, Italy and Portugal.
September start
Archaeology BSc (Hons): V402 4 year degree
Archaeology MA (Hons): V400 4 year degree
Programme structure
Year 1
You will study the social and cultural development of Scotland from the end of the last Ice Age until the modern era. You will also explore issues involved in the presentation, interpretation and relevance of the past in contemporary society.
Year 2
You will study important themes in the archaeology of Europe, the Mediterranean and the Middle East from the Neolithic to the Medieval periods. You will also be introduced to concepts, theories and practical skills and techniques through which archaeologists understand past societies.
You will also study other subjects in years 1 and 2: see Flexible degrees.
Years 3 and 4
If you progress to Honours (years 3 and 4) you can choose courses that explore key themes in landscape, material culture and heritage, as well as studies of specific periods and areas such as British prehistory, Celtic and Viking archaeology, historical archaeology, the Near East and Mediterranean, public archaeology, archaeological science and landscape archaeology. You must take core courses on archaeological theory and principles in third year.
You will also complete a dissertation based on an original piece of research, and undertake a range of practical work based on your own excavation and fieldwork experiences.
Programme alteration or discontinuation
The University of Glasgow endeavours to run all programmes as advertised. In exceptional circumstances, however, the University may withdraw or alter a programme. For more information, please see: Student contract.
Special Glasgow feature
Throughout the programme we emphasise that you should gain practical heritage work experience including archaeological fieldwork techniques and developing the social benefits of archaeology.
We provide day and residential fieldtrips for our students to archaeological sites, landscapes, museums and other heritage venues.
You will also be able to take part in current staff research projects including survey and excavation, as well as legacy and collection-based projects, and gain personal work experience in various heritage and museum organisations through our network of placement providers.
Our international links
Our students have studied for a year at universities in Ireland, Iceland, Sweden, North America and Australia. You will also have opportunities to work on field projects elsewhere in Europe and the Mediterranean.
Entry requirements
for entry in 2020
Applicants to subject-combinations with Psychology must meet the Psychology degree programme entry requirements.
BSc
MA
MA (SocSci)
For applicants whose first language is not English, the University sets a minimum English Language proficiency level.
Career prospects
Many of our graduates find employment in the cultural heritage sector, and many other employers value the transferable skills that an archaeology degree offers such as teamworking, practical problem solving and critical analysis.
Our confident graduates have gone on to a diverse range of careers from banking and law to business and tourism. Many are employed in more vocational archaeological and heritage roles working for government agencies, the charitable sector and other heritage organisations in Scotland and beyond, including the National Trust, Historic Environment Scotland, Northlight Heritage, British Museum, National Museums of Scotland and Glasgow Life, as well as various companies offering commercial archaeological services in the UK and abroad.
Degrees and UCAS codes
When applying you will need to know the UCAS code for the subject or subject-combination that you wish to apply to:
BSc (Hons)
Archaeology: V402

Archaeology/Earth Science: FF64

Archaeology/Geography: FV84
MA (Hons)
Archaeology: V400

Archaeology/Ancient History: V1V4

Archaeology/Business & Management: NVF4

Archaeology/Celtic Civilisation: QVM4

Archaeology/Celtic Studies: QV54

Archaeology/Classics: QV84

Archaeology/Digital Media & Information Studies: GV54

Archaeology/Economic & Social History: VV34

Archaeology/English Language & Linguistics: V4Q3

Archaeology/English Literature: QV3K

Archaeology/Film & Television Studies: VW46

Archaeology/Gaelic: V4Q5

Archaeology/Geography: LV74

Archaeology/German: V4R2

Archaeology/History: VV14

Archaeology/History of Art: VVH4

Archaeology/Latin: V4Q6

Archaeology/Mathematics: GV14

Archaeology/Music: V4W3

Archaeology/Politics: LV24

Archaeology/Portuguese: 7F1A

Archaeology/Psychology: CV84
Applicants must meet the Psychology requirements

Archaeology/Scottish History: VVF4

Archaeology/Spanish: V4R4

Archaeology/Theatre Studies: VW44

Archaeology/Theology & Religious Studies: VV46
MA(SocSci) (Hons)
Archaeology/Business & Management: NV24

Archaeology/Business Economics: LN16

Archaeology/Economic & Social History: VV43

Archaeology/Economics: VL41

Archaeology/Politics: VL42
Fees and funding
Tuition fees
How and when you pay tuition fees depends on where you're from: see Tuition fees for details.
Scholarships
The University is committed to supporting students and rewarding academic excellence. That's why we've invested more than £1m in additional scholarship funding in recent years.
The scholarships above are specific to this programme. For more funding opportunities search the scholarships database
How to apply
If you're seeking full-time study you must apply through the Universities & Colleges Admissions Service (UCAS).
UCAS deadlines
The deadlines for applications to Medicine, Vet Medicine and Dentistry is 15 October each year. The deadline for applications to all other degree programmes is 15 January each year.
The University of Glasgow does not usually accept any applications after these UCAS deadlines. It is the applicants' responsibility to ensure the accuracy of their application prior to submission, and requests from applicants to correct erroneous application content, change degree programme or change college of entry, will not be accepted after these UCAS deadlines. This policy is in place to ensure fairness and consistency to all applicants, and no exceptions will be made.
15 October: if including Dentistry, Medicine, Veterinary Medicine or applying to Oxford or Cambridge
15 January: all other UK/EU applicants (unless otherwise stated on the UCAS website)
30 June: international (non-EU) students.
Apply at www.ucas.com or through your school or college.
Contact UCAS on 0871 468 0468.
UCAS tariff points
The University does not frame its offers in terms of UCAS tariff points.
How soon will I receive a decision?
We will usually respond before the end of March.

If your qualifications meet our requirements and we believe you could benefit from study at Glasgow, you will receive an unconditional offer.
If you haven't yet gained the necessary passes for entry to your chosen subject(s), we may look at the qualifications you are taking when you apply and make you a conditional offer.
Will I be interviewed?
An interview will be part of the selection process for: Community Development, Dentistry, History of Art & Art-world Practice, Medicine, Music, Nursing, Teaching, and Veterinary Medicine & Surgery. You may also be interviewed if you're applying for entry into Year 2 in any subject.
Is deferred entry available?
For Dentistry, Nursing and Veterinary Medicine programmes we are unable to consider applications for deferred entry. In other cases deferring may be possible but it's not granted automatically.
University Transfers
Transfers from another University to the University of Glasgow will only be considered under the following circumstances:
The applicant has a genuine personal circumstance (illness, bereavement or other family situation) which requires the student to move back to their home town to be closer to family; AND
The applicant would have met the University of Glasgow entrance requirements at the time he/she went to the other institution. In exceptional circumstances, a student may be admitted if he/she was marginally below the University of Glasgow entrance requirements, and they have performed above average at the other institution.
Widening participation
We want to help talented applicants from all backgrounds to study at Glasgow. See our range of widening access pre-entry programmes at Widening Participation.
Apply at www.ucas.com or through your school or college.
Contact UCAS on 0871 468 0468.
Archaeology students were satisfied overall
Data published by Unistats, February 2019