Quick Links
15th century printed book (Sp Coll Hunterian Bx.3.41)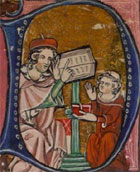 14th century manuscript (MS Hunter 231)
Theatre programme, 1954 (STA Bu4/7a)
Search for specific items
The following searches will help you locate specific items - for example, by searching for a person's name, keyword, title of a work or shelf-mark reference.
If you are unsure of what you are looking for, explore our collections by subject and through our virtual exhibitions. If you are interested in a particular collection, go to the Collections A to Z.
Searching for printed material:
Incunabula indexes:

investigate our collection of around 1,000 books printed prior to 1501
Searching for manuscript items and unpublished material:
Manuscripts search:

find manuscript items and unpublished material (including notebooks, correspondence, photographs and drawings)
See also printed indexes and reference material:
A number of indexes and guides are available in the . These include a partial subject index, and indexes of illustrators, miniatures, maps and views, bindings, ephemera, and book sale catalogues.
Quick Links
15th century printed book (Sp Coll Hunterian Bx.3.41)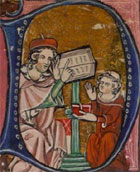 14th century manuscript (MS Hunter 231)
Theatre programme, 1954 (STA Bu4/7a)