More information
Digitised resources for taught courses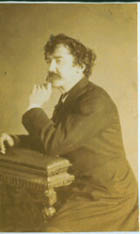 Photograph of James McNeill Whistler (1834–1903) from 1879 (Ref. Whistler PH1/98)
ASC Collections Classroom
Our world class collections are available to support your students' learning and research.
Three collections classroom models are available:
Virtual Collections Classroom, to share our collections to students via videoconference.
In-person, small group teaching.
Blended Collections Classroom, with some students in the room, and others joining the class via videoconference.
Our Virtual Collections Classroom allows you to incorporate our heritage collections directly into your online teaching session:
P

rimary source handling session

s

delivered via ceiling- or trolley-mounted document camera.

The camera can focus on objects as small as a matchbox and up to a metre and a half in width.




Sessions can be streamed live via Zoom or other videoconferencing software, or can be recorded in advance for asynchronous viewing

.

Sessions can be recorded for later viewing via Moodle with closed captions (subtitles) and transcript using Echo360

.

The powerful camera set up allows students to peer over the shoulder of the handler, as they leaf through and discuss an early-printed book, medieval manuscript, or other item from our collections

.
In-person small group teaching:
Our teaching spaces can support small groups in a range of room and seating configurations (enquire to learn more).
Limited object handling will be possible for students.
The powerful camera set up can also be used to allow students to see objects on the large screen.
Our Blended Collection Classroom allows some students to attend in-person while others join the class via videoconference:
Our teaching spaces are fitted with microphones, speakers, and a large screen. The powerful ceiling- and trolley-mounted document camera will ensure that students will be able to see the same collection item, hear the same comments, and participate in discussions, whether in the room or not. A good option for larger or geographically dispersed groups.
Some limited object handling will be possible for on-site students.
Four or five items are available per session (depending on chosen model and configuration), though inclusion will depend on condition of requested item.
ASC staff will be available to assist with set up and a member of staff may be present throughout.
Training on the use of the camera equipment is available.
If you would like to book a session or discuss options with us, please email us at library-asc@glasgow.ac.uk
We also make available sets of digitised resources from our collections to support taught courses across the College of Arts and College of Social Sciences.
More information
Digitised resources for taught courses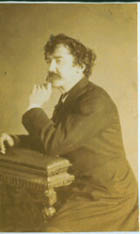 Photograph of James McNeill Whistler (1834–1903) from 1879 (Ref. Whistler PH1/98)