More information
Business Archives as Business Assets (case studies)
External links
Business Archives Council of Scotland
Business Archives Surveying Officer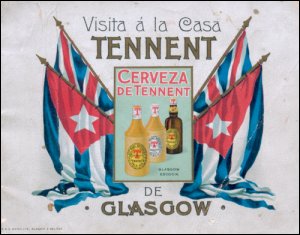 Cuban beer label promoting Tennents' Pale Ale and Tennents' Stout, produced at Tennents's Wellpark Brewery in Glasgow. (Copyright reserved.)
Services for business
Businesses need adequate information in order to function. This information needs to be managed effectively in order to maximise its potential.
Archives & Special Collections works with many active businesses to help them manage their records. Services range from offering help and advice on archive management through to taking physical custody of historically important records and preserving these in professional conditions as part of the Scottish Business Archive.
Archivists from the University or our agent, the Business Archives Surveying Officer, are able to offer business the following services:
Advice on archives, records and information management
Development of records and information management policies and programmes
Physical custody of older material in secure, environmentally controlled conditions
Undertake records audits to identifying how long the different types of records you create should be retained
Undertake archive cataloguing and surveying
Offer guidance on electronic records and document management
Help with legislative compliance in areas such as Data Protection and Freedom of Information
Advise on digitisation projects
Devise disaster management plans
Undertake fact-finding research into your corporate history, helping you to exploit your heritage for commercial success
Advise on the public display of historical material
Providing training on managing records and archives effectively
Undertake project work in any of the above areas
Contact Archives & Special Collections for further details on how we can help you to manage your records and information effectively as a business asset. Or read some of our case studies for examples of our partnership working with businesses to explore and exploit their heritage.
More information
Business Archives as Business Assets (case studies)
External links
Business Archives Council of Scotland
Business Archives Surveying Officer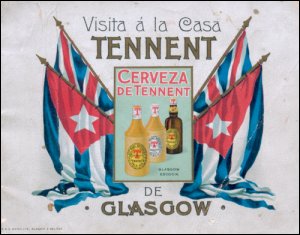 Cuban beer label promoting Tennents' Pale Ale and Tennents' Stout, produced at Tennents's Wellpark Brewery in Glasgow. (Copyright reserved.)