More information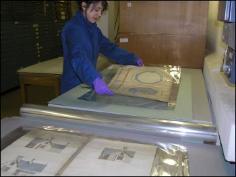 Archival materials during packing in polyester sleeves (Copyright reserved: University of Glasgow)
Looking after our collections
We believe providing access to our collections is important. Our conservation and preservation team work in partnership with staff across our sites to care for our collections and ensure safe access both now and in the future. Our remit encompasses a wide range of conservation and preservation activities.
Preservation
Preservation is concerned with the protection of collections. In order to extend the life of our collections we monitor and respond to the agents that have the potential to accelerate deterioration. These agents include pests, light, pollutants, temperature, relative humidity, handling, and storage approaches. Our activities in the area include:
Environmental monitoring
Handling guidance and training
Integrated Pest Management
Identification and implementation of safer storage or display solutions
Quarantine processing of new collection items
Disaster prevention and response
Conservation
Conservation involves the interventive treatment of items in order to make them stable for use across a range of contexts: for readers and researchers in our reading rooms, for use in classes, and for display in exhibitions. Conservation addresses both chemical and physical instabilities in items. Common conservation treatments include mechanical cleaning, humidification, washing, tear repair, lining, sewing stabilisation, board re-attachment. We take a minimal intervention approach where appropriate and conservation approaches value the integrity of the object. We recognise the importance of an evidence-based approach to conservation treatment, and we adhere to the Institute of Conservation (Icon) Code of Conduct.


The Conservation and Preservation Team
Louisa Coles, Head of Conservation and Preservation
Ela Wiklo, Preservation Manager
Keira McKee, Conservator
Kay Juelch, Collections Management Assistant
Use our enquiry form or email library-asc@glasgow.ac.uk if you would like to get in touch.
Conservation Advice and External Work
As we are not a commercial studio, we do not carry out work for external clients. If you are looking for a conservator to carry out work on an object, the Icon website provides access to its Conservation Register. This is a listing of some, although not all, Icon accredited conservators.
We also recommend the British Library's guidance on a range of subjects relating to the care of your collections.
More information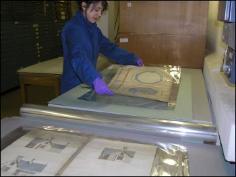 Archival materials during packing in polyester sleeves (Copyright reserved: University of Glasgow)