More information
Virtual Exhibitions & Online Collections
The University of Glasgow Story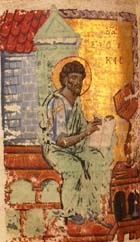 St Luke from a 12th century Greek Gospel (ref. MS Hunter 475)
Digitised collections
With millions of pages of heritage materials to make available for study, we have only made a start with sharing them online.
Most is being carefully preserved on shelves for future use.
Selections and stories from our collections are available digitally in a number of ways. Some, like our blogs and online exhibitions, we have created ourselves. Others have been created in partnership with academic colleagues or with funding bodies.
We aim to make as much as possible freely available but occasionally third party agreements or other legal considerations will prevent this.
Not everything on the following pages is to the current accessibility standards. We are working towards our new collections portal which will ensure our content is more fully accessible.
Browse our virtual exhibitions & online collections (Subject index)
Browse our Flickr albums (A-Z index)
Browse our Book of the Month Archive
More information
Virtual Exhibitions & Online Collections
The University of Glasgow Story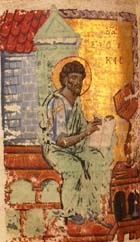 St Luke from a 12th century Greek Gospel (ref. MS Hunter 475)