More information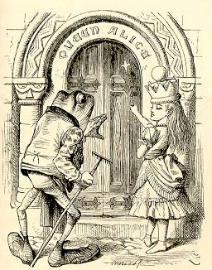 Detail of page 201 from 'Through the Looking Glass' by Lewis Carroll (Spec Coll Hepburn 99)
Collection Development
Archives & Special Collections welcomes enquiries from anyone wishing to deposit material that supplements our core collecting areas.
Broadly, we seek to acquire:
Further details on what this covers can be found in our Archives & Special Collections collection development policy (pdf).
If you think that you have something that would interest us we would be happy to hear from you. Please follow these steps.
Read through our Archives & Special Collections collection development policy to confirm the sort of material that we collect and if the material that you wish to offer fits in with our existing collections.
Read our standard terms & conditions. We prefer to receive material as gifts and for ownership of collections and items to be transferred to the University of Glasgow.
If you still think that we would be interested, please email us at library-asc@glasgow.ac.uk with as much information as possible so we may consider your offer.
Please include a brief description of the material and its content, its format and quantity.
If possible please include a photograph of the material with this description.
Please also let us know when you acquired the material, and if you know anything about its history before then.
Our Collection Development Team meet regularly to discuss offers. The information that you supply will be passed on to the Team for consideration and we will be in touch with you following the next scheduled meeting to convey their decision.
Please be aware that we are unable to accept all of the offers that we receive.
Leaving a gift in your Will
We recognise that you may wish to donate your collection as a gift in your Will. As it is important for us to understand your wishes, please contact us to let us know about your plans. We are not always able to guarantee that we will be able to accept your gift in the future; acceptance will be based on our collection development policy at the time of receipt, and so you may wish to make additional arrangements in your Will.
Help and advice:
More information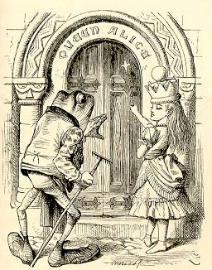 Detail of page 201 from 'Through the Looking Glass' by Lewis Carroll (Spec Coll Hepburn 99)