Quick links
Images from digitised books & mss
Corbeil's Treatise on Urines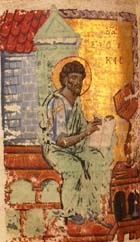 12th century Greek Gospels
Photograph from Hill & Adamson Collection
Digitised books, manuscripts and photographs
---
Medieval manuscripts
Middle English Literature:
Medical manuscripts:
University of Malaga website. NB. you need to register to use this website, then click on the appropriately numbered volume on the image of the bookshelf.
Religious texts:
Other manuscripts
Papyrus fragments
Early printed books
Emblem books
Many digitised early printed books (including some examples supplied from the University of Glasgow) are available via Early English Books Online (EEBO) and Eighteenth Century Collections Online (ECCO) - both accessible through the Historical Texts database.
19th century medical books
Other printed material
Photographs
Images from many of our books may be explored in our virtual exhibitions. There are also illustrations of many sample pages from our medieval manuscripts linked to the descriptions of items available on the collectioons search.
Quick links
Images from digitised books & mss
Corbeil's Treatise on Urines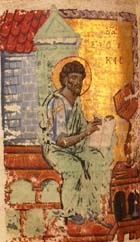 12th century Greek Gospels
Photograph from Hill & Adamson Collection