Quick Links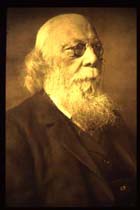 Murray Collection
15,000 printed books, containing over 23,000 items, and some 200 manuscripts, the personal library of David Murray (1842-1928), Glasgow lawyer, antiquary and bibliographer.
A superb regional history collection with a wealth of 17th and 18th century Glasgow imprints, especially the products of the presses of Robert Sanders, the Foulis brothers, and Robert Urie. 19th-century strengths include materials on the economic and social development of the West of Scotland (e.g. works on banking, railways, canals and ports), publications relating to the administration of the city of Glasgow and its University, engraved topographical works, maps, Scottish newspapers, directories and periodicals. There is a particular abundance of printed ephemera: broadsides, street literature, chapbooks, advertisements and files of newspaper cuttings.
In addition to his local collections, Murray also collected extensively in other areas: early legal texts, school-books, early books on accounting, catalogues of book sales and libraries, lists of curiosities and rarities and other works relating to the history of private and public museums. (Murray was the author of Museums, their history and their use, 1904, for long a standard text.) Murray's magpie instincts also resulted in his acquisition of several hundred 16th century continental imprints, as well as 22 incunabula.
Murray presented the bulk of his library to the University in 1927, the year before his death; some few books, however, remained in the possession of his family.
How to find material in the Murray Collection
All records for printed items have been incorporated in the rare books search - search using author/title/subject/keyword or browse through a complete list of Murray titles: warning! since this collection is very large, using the rare book search for particular titles is recommended
Records for manuscript items are shelf-marked as MS Murray: browse through a list of titles available via the manuscripts search
Broadsides, 16th-20th century: an exhibition ... (Glasgow, 1971).
Use the Scottish Chapbooks Search: it records chapbooks published in Scotland with full details of their contents. The first phase, supported by funds from the British Academy, covers some 1,800 chapbooks held by University of Glasgow Library. Holdings of other repositories (including those of the National Libary of Scotland) are being added when possible. About 420 records are of items from the Murray collection.
See also the Glasgow Broadside Ballads website, based upon holdings from the Murray collection.
David Hamilton et al., A bibliography of pre-1900 education-related materials in University of Glasgow Library (Glasgow, 1983). The first section lists 829 items from the Murray Collection.
John N. Moore, "Early printed county maps of Scotland in Glasgow University Library", The College Courant, 73 (1984) pp.16-27.

See also the following 'book of the month' articles that feature items from the Murray collection:
Quick Links