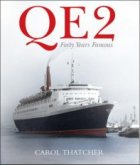 "QE2": Forty Years Famous
The publication "QE2": Forty Years Famous by Carol Thatcher is a 'warts and all' story of one of the most famous ships in the world, told to mark the 40th anniversary of its launch on 20th September 1967 (Simon and Schuster UK Ltd, 256pp, hardback, colour illustrations, ISBN 978-1-84737-033-4, September 2007).
If you wish to purchase this publication or others to do with the QE2, please follow the link below and over 5% of each of your purchases will be donated to help the University's fundraising activities. Thank you.