Pakistan

Collection: Anchor Line Ltd (GUAS Ref: UGD 255)
Anchor Line was one of the major passenger shipping lines of the nineteenth and twentieth centuries. Originally specialising in trans-Atlantic routes from Europe to America, and dominating the Glasgow to New York trade, the opening of the Suez Canal in November 1869 made India as important a destination to the company as America. An Anchor vessel made the first British merchant ship journey, southbound through the canal, on the day following the opening.
Anchor Line, throughout various ownership structures and partnerships, offered a wealth of sailings around Scotland and Europe, and to North America and the Far East. It ceased serving the Glasgow-USA trade in 1968, two year after it closed its Indian service.
This advertisement, dating from the 1950s, is one from a large series of posters, adverts, menu cards and sailing programmes held within the Anchor Line archive.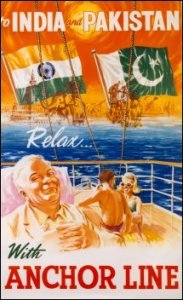 View larger image
(GUAS Ref: UGD 255/1/40/5. Copyright reserved.)
For further information on the papers of Anchor Line Ltd archive, please see the online catalogue.