Turkey

Collection: Christopher Aubin (GUAS Ref: UGD 117)
Christopher Aubin, a former Dusseldorf agent of the Glasgow textile manufacturers and merchants James Finlay & Co, was a refugee in Britain. He was chosen by the company to investigate the feasibility of routing East Indies goods into Europe via the Ottoman Balkans, following Napoleon's Berlin and Milan decrees that pronounced the exclusion of British goods from European markets.
This is the first page of the volume of letters and reports on trade to Turkey via Smyrna compiled by Christopher Aubin for James Finlay in 1812. It also contains descriptions of trade in Smyrna (now Izmir, Turkey), Balssa, and Constantinople.
(GUAS Ref: UGD 117/1 p1. Copyright reserved.)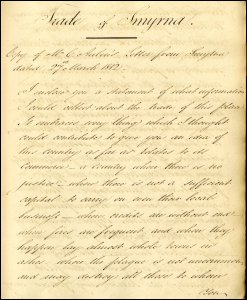 View larger image

For further information on the papers of Christopher Aubin archive, please see the online catalogue.