Poland

Collection: University Records - Press Cuttings (GUAS Ref: IP)
The University of Glasgow, throughout its history, has been a place of refuge for many students unable to study in their own country due to political upheavals or war. During the Second World War many individuals from Nazi-occupied Europe came to Glasgow to continue their studies. A course of law lectures was organised for some members of the Polish armed forces in 1941.
Most of the thirty students had been judges, barristers or law students before the German invasion of their country in 1939. The course was intended to teach them about aspects of Scots law and enable them to draw comparisons with their own legal system.
This press cutting shows some of the Polish Forces studying law with Professor Dewar Gibb, 1941.
(GUAS Ref: IP. Copyright reserved.)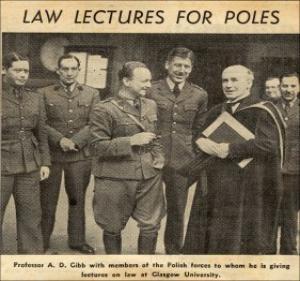 For further information on Andrew Dewar Gibb, please see his biography on the University of Glasgow Story website.