Malta

Collection: James Calder & Co (Brewers) Ltd (GUAS Ref: JC)
The Shore Brewery, Alloa, Scotland, was built in 1816 by John McNellan. The company ran into difficulties, was put up for sale in 1862, and was bought by James Calder. James Calder & Co (Brewers) Ltd acquired brewing premises at Marsa, Malta in 1944.
This is a beer label for James Calder & Co. (Malta) Ltd, Brewers, Malta, n.d.
(GUAS Ref: JC 11/11/18. Copyright reserved.)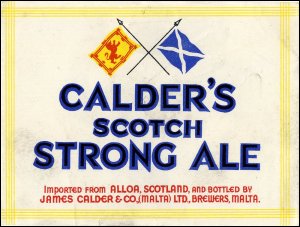 For further information on the James Calder & Co. (Brewers) Ltd archive, please see the online catalogue.