Ireland

Collection: Clyde Shipping Co Ltd (GUAS Ref: UGD 176/1)
This Glasgow-based company ran a regular service to Ireland, and from the 1860s acted as the Cork Steamship Company's Glasgow agents.
This double-page spread from the "Trade accounts: Ireland, England" volume for 1872-1878 shows the accounts for the Limerick Trade for 1879.
(GUAS Ref: UGD 176/1/6/1/2. Copyright reserved.)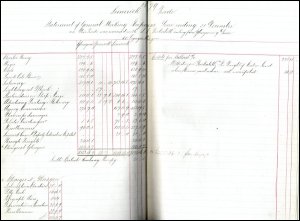 View larger image
For further information on the Clyde Shipping Co Ltd archive, please see the online catalogue.