Japan

Collection: James Craig Henderson (GUAS Ref: UGD 305)
This image of a postcard of the Ginza shopping area in Tokyo shows the area in the 1950s. It is now an upmarket shopping and restaurant area, with department stores and high-rise buildings. The postcard is part of the collection of James Craig Henderson, who, after leaving the army in 1948, worked as a commercial traveller in the Middle East and in south and east Asia. He kept postcards, photographs and other memorabilia of his visits in Turkey, Hong Kong, Malacca, Singapore and Japan.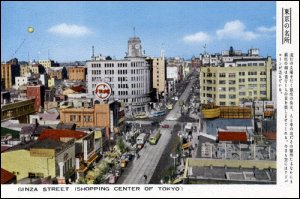 View larger image (GUAS Ref: UGD 305/4/5/7/8. Copyright reserved.) For further information on the James Craig Henderson archive, please see the online catalogue.
Collection: A R Brown, MacFarlane & Co Ltd (GUAS Ref: UGD 172)
From the 1860s onwards Clyde shipyards were building vessels for Japanese companies and for the Imperial Japanese Navy. The Japanese government, keen to transfer skills and technology from the west to enable them to set up their own industries, also sent apprentices to Clyde shipyards and to the University of Glasgow to learn about shipbuilding and engineering.
These apprentices were usually highly educated university-trained engineers, naval cadets, naval engineering officers and high-ranking naval officers.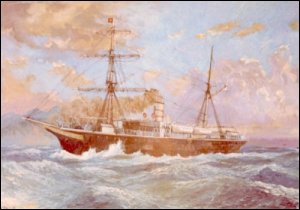 View larger image The Meiji Maru was constructed by Robert Napier and Sons, shipbuilders, Govan in 1874 for the Japanese government for use in their lighthouse service. One of its features is a magnificently decorated cabin designed for the sole use of the Emperor. He sailed on her in 1876 from Aomori to Yokohama via Hakodate on the return from his imperial tour of inspecting northern Japan. In 1897 the ship was transferred to Tokyo Nautical School for use by navy cadets as a moored training ship for over 50 years. The vessel is now docked and preserved at the Etchujima Campus of Tokyo University of Marine Science and Technology. (GUAS Ref: UGD 172/4/2/3. Copyright reserved. For further information on the A R Brown, MacFarlane & Co Ltd archive, please see the online catalogue.
Collection: Napier (GUAS Ref: DC 90)
Henry Napier, grandson of Robert Napier, was a partner in the shipbuilding firm of Napier Shanks and Bell which was established at Yoker in the late 1870s. The yard constructed three ships for Japanese firms in 1884-1885 - Tokio Maru for Mitsubishi Steamship Company and Satsuma Maru and Nagato Maru for Nippon Yusen Kaisha. Henry Napier sailed to Japan onboard the Nagato Maru in 1884-1885 and kept a diary of the journey along with a technical evaluation of the ship. He also toured Japan, and on his return gave a talk in St James Church, Clydebank about his visit. In the Napier collection there are several photograph albums with views of Japan, including this image of a shrine in Kyoto.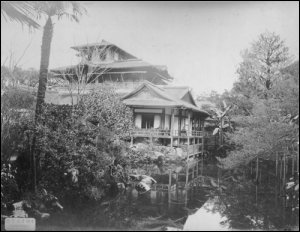 View larger image (GUAS Ref: DC 90/4/2/3. Copyright reserved.)
Collection: Tanakadate
The first Japanese students registered at the University in the 1870s. They came to study a wide range of subjects, although most came to study engineering and applied science. The majority were sponsored by the Japanese government and part of their education included apprenticeships and practical work in Glasgow companies. A Glasgow graduate, Henry Dyer, became the first Principal of the new Imperial College of Engineering in Tokyo in 1873.
One of our famous Japanese graduates is Aikitsu Tanakadate who studied electricity and magnetism under Lord Kelvin at the University of Glasgow from 1888 to 1890. He became one of Japan's most renowned geophysicist. He was involved in earthquake investigation and research and through this work went on to found the Institute of Seismology at Tokyo University.
In 2002 a postage stamp was issued in Japan to honour the geophysicist Aikitsu Tanakadate.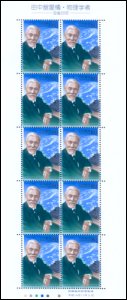 View larger image