Central America and the Caribbean


Back to Central America and the Caribbean
Cuba

Collection: Tennent Caledonian Breweries Ltd (GUAS Ref: T)
In the 18th century Scottish brewers ventured into the export market and began shipping barrels of Scotch Ales to America, the Netherlands and the West Indies. As the British Empire grew in the 19th century, so did the demand for Scottish beers - wherever Scots were working abroad in government service or in the army.
By 1860 Scottish Brewers were exporting to Australia, New Zealand, the Caribbean, all over North and South America, India, Mauritius and the Far East. Tennents, the biggest exporters of bottled beers in the world, had even reached the Sandwich Islands and Japan by 1864. In 1892 Tennents were exporting to 126 destinations from Adelaide to Zanzibar.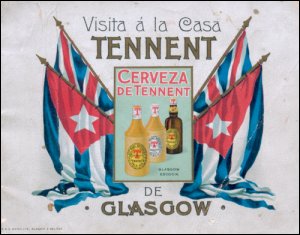 The first image is a photograph of a Cuban beer label promoting Tennents Pale Ale and Tennents Stout, produced at the Tennents Wellpark Brewery in Glasgow. Scotch Ales, porter, and stouts which were extremely popular in the Caribbean. The people of Cuba in particular enjoyed drinking Tennents, and favoured the use of stoneware bottles as seen in the image here.
The second image is a photograph of the Tennents despatch office in Cuba.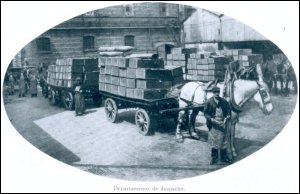 View larger image For further information on the Tennents Caledonian Breweries Ltd archive, please see the online catalogue.
Central America and the Caribbean


Back to Central America and the Caribbean