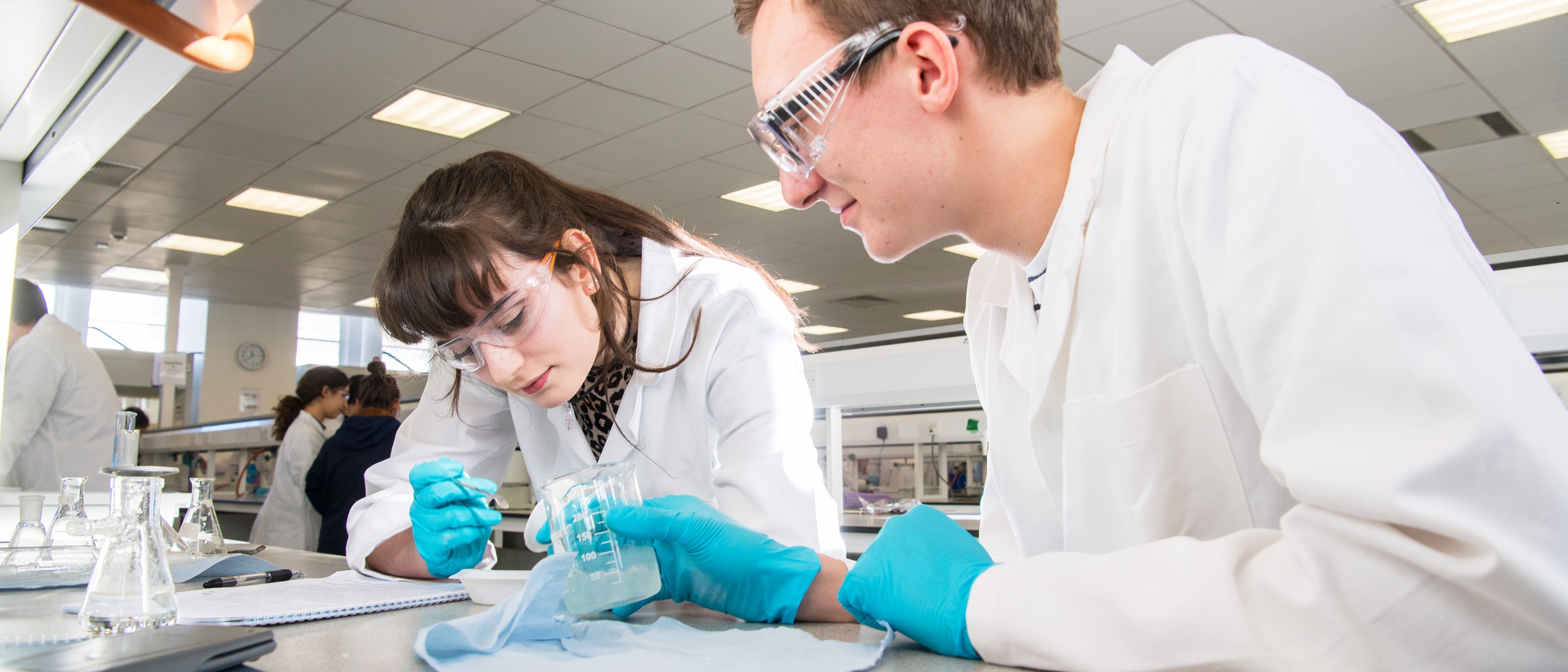 The BSc/MSci in Chemistry explores the science of molecules and materials and will give you a comprehensive grounding in theoretical and practical elements of chemistry.
Chemistry is central to modern life; it's a vital science that can help better understand and create solutions to many of the challenges the world faces today and continues to make advances in areas including new materials, antibiotics, semiconductors and trace analysis. Our graduates are employed as chemists working in research, process development and analysis, as well as in management, marketing, environmental control, patents and finance.
September start
Chemistry BSc (Hons): F100 4 year degree
Chemistry with European Placement MSci: F102 5 year degree
Chemistry with work placement MSci: F101 5 year degree
Professionally accredited
Why study Chemistry?
Chemistry at the University of Glasgow continues to meet and exceed student expectations, combining both teaching excellence and a supportive learning environment
You'll benefit from a lecture course on industrial medicinal chemistry presented by research workers from a pharmaceutical company on topics such as drug/receptor interactions and the design, synthesis, transport and metabolism of important drugs
This degree programme is professionally accredited by the Royal Society of Chemistry
You'll be taught by world-leading chemists, whose research is making a world-changing impact in areas such as chemical biology, chemical photonics and energy conversion and storage
Programme structure
+++
Year 1
The topics covered include the periodic table and main group chemistry, transition metal chemistry, organic chemistry, chemical kinetics, states of matter, chemical energy changes, aqueous equilibria and pH, and macromolecules.
Core modules:
---
+++
Year 2
The topics covered include:
molecular thermodynamics
organic stereochemistry
quantum mechanics and chemical bonding
organometallic chemistry
main group chemistry
enols and enolates
spectroscopy
solids and surfaces
aromatic chemistry
coordination chemistry
organic synthesis
electrochemistry
applied organic chemistry
Core modules:
You will also study other subjects in years 1 and 2: see Flexible degrees.
---
+++
Years 3, 4 and 5
If you progress to Honours (years 3 and 4) you will study advanced topics in chemistry including aspects of synthetic methods, medicinal chemistry, colloids, catalysis, quantum mechanics, spectroscopy, and main group and transition metal chemistry. In your final year you will undertake a research project at the frontiers of the subject.
Core modules:
There is an opportunity to take Chemistry as an MSci degree, which includes an additional work placement year in the UK or overseas, between the third and final years of the degree.
---
Programme alteration or discontinuation
The University of Glasgow endeavours to run all programmes as advertised. In exceptional circumstances, however, the University may withdraw or alter a programme. For more information, please see: Student contract.
Our international links
The MSci degree offers the opportunity to spend a year doing your placement abroad before returning for your final year of study.
Entry requirements
for entry in 2021
Summary of entry requirements for Chemistry
SQA Higher Entry Requirements
BBBB at S5 will be considered. Typically S6 entrants will have AAAB at Higher. B at Advanced Higher is equivalent to A at Higher.
Additional requirements: Higher Mathematics and Chemistry.
SQA Higher Adjusted Entry Requirements* (by end of S6)
AABB – BBBB

Additional requirements: Higher Mathematics and Chemistry. Successful completion of Top-Up or one of our Summer Schools.
* See Access Glasgow for eligibility.
A-level Standard Entry Requirements
ABB – BBB
Additional requirements: A-level Mathematics and Chemistry.
IB Standard Entry Requirements
36 (6, 6, 5 HL) – 32 (6, 5, 5 HL)
Additional requirements: HL Mathematics and Chemistry.
2021 Admissions Policy and further information about entry requirements
Glasgow International College
International students with academic qualifications below those required should contact our partner institution, Glasgow International College, who offer a range of foundation certificates.
For applicants whose first language is not English, the University sets a minimum English Language proficiency level.
English language requirements
Important information for entry in Autumn 2020 and January 2021
International English Language Testing System (IELTS) Academic module (not General Training):
overall score 6.5
no sub-test less than 6.0
or equivalent scores in another recognised qualification (see below)
Common equivalent English language qualifications:
ibTOEFL*: 90; no sub-test less than: Reading: 20; Listening: 19; Speaking: 19; Writing: 23

CAE (Cambridge Certificate of Advanced English): 176 overall: no sub-test less than 169
CPE (Cambridge Certificate of Proficiency in English): 176 overall: no sub-test less than 169
PTE Academic (Pearson Test of English, Academic test): 60; no sub-test less than 59
IGCSE: English as a First Language (0500/0522): C in Reading and Writing, plus 1 in Listening, 2 in Speaking, where applicable. All four components (listening, writing, speaking, reading) must be examined and detailed on results slip
IGCSE: English as a Second Language (0510/0511): A in Reading and Writing, plus A in Listening, 2/B in Speaking, where applicable. All four components (listening, writing, speaking, reading) must be examined and detailed on results slip
Trinity College London Integrated Skills in English: ISEII at Distinction with Distinction in all sub-tests
* Please note that TOEFL is still acceptable for admission to this programme for both home/EU and international students.
For international students, the Home Office has confirmed that the University can choose to use TOEFL to make its own assessment of English language ability for visa applications to degree level courses. We therefore still accept TOEFL tests taken in the last two years for admission to this programme.
Pre-sessional courses
The University of Glasgow accepts evidence of the required language level from the English for Academic Study Unit Pre-sessional courses. We also consider other BALEAP accredited pre-sessional courses:
FAQs
What do I do if...
my language qualifications are below the requirements?
The University's School of Modern Languages and Cultures offers a range of Pre-Sessional Courses to bring you up to entry level. The course is accredited by BALEAP, the UK professional association for academic English teaching; see Links.
my language qualifications are not listed here?
Please contact External Relations
If you require a Tier 4 student visa, your qualification must be one of the secure English language tests accepted by UK Border Agency:
Visa requirements and proof of English language level
It is a visa requirement to provide information on your level of English based on an internationally recognised and secure English language test. All test reports must be no more than 2 years old. A list of these can be found on the UK Border Agency website. If you have never taken one of these tests before, you can get an initial idea of your level by using the Common European Framework self-assessment grid which gives you a level for each skill (e.g. listening B1/writing B2 etc.) However, please note that this is not a secure English language test and it is not sufficient evidence of your level of English for visa requirements.
For further information about English language, please see School of Modern Languages and Cultures: English for Academic Study.
Career prospects
We offer employability and professional development training to our Chemistry students in years 1 and 2 of their degrees.
Our graduates are employed as chemists working in research, process development and analysis, as well as in management, marketing, environmental control, patents and finance. Recent graduates have been employed by EDF Energy, Quotient Clinical, Reckitt Benckiser, Sterling Medical Innovation and Synergy Outsourcing.
Accreditation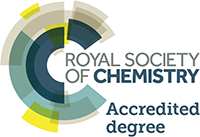 These programmes are accredited by the Royal Society of Chemistry.
Degrees and UCAS codes
When applying you will need to know the UCAS code for the subject or subject-combination that you wish to apply to:
BSc (Hons)
MSci
Fees and funding
Tuition fees
How and when you pay tuition fees depends on where you're from: see Tuition fees for details.
Scholarships
The University is committed to supporting students and rewarding academic excellence. That's why we've invested more than £1m in additional scholarship funding in recent years.
The scholarships above are specific to this programme. For more funding opportunities search the scholarships database
How to apply
Full-time students must apply through the Universities & Colleges Admissions Service (UCAS). The University will accept Centre or Teacher Assessed Grades in lieu of exam results.
SQA applicants who are eligible for our Widening Participation programmes are encouraged to participate in one or more of these programmes, including Summer School, to support your application and the transition to higher education.
International students to Arts, Engineering, Law, Nursing, Science, and Social Sciences can also apply using The Common Application: however, if applying to more than one UK university, we recommend using UCAS. Applications to Dentistry, Education, Medicine, and Veterinary Medicine must be made through UCAS.
Application deadlines
15 October: if including Dentistry, Medicine, Veterinary Medicine or also applying to Oxford or Cambridge
29 January: all other UK/EU applicants (unless otherwise stated on the UCAS website): this has been extended from 15 January 2021 due to covid restrictions.
30 June: international (non-EU) students
We do not usually accept any applications after these deadlines.
It's your responsibility to ensure the accuracy of your application before submission. Requests to correct application content, change degree programme or change college of entry, will not be accepted after these deadlines. This policy is in place to ensure fairness and consistency to all applicants, and no exceptions will be made.
Apply at www.ucas.com or through your school or college
Contact UCAS on 0871 468 0468
How to apply for Advanced Entry
Apply for year 2 (Y2) on your UCAS application. If the specific subject is unavailable for Advanced Entry or your application for year 2 entry is unsuccessful, you will be automatically considered for year 1 entry. You do not have to submit a separate UCAS application.

UK top 15
Times & Sunday Times Good University Guide [Chemistry]