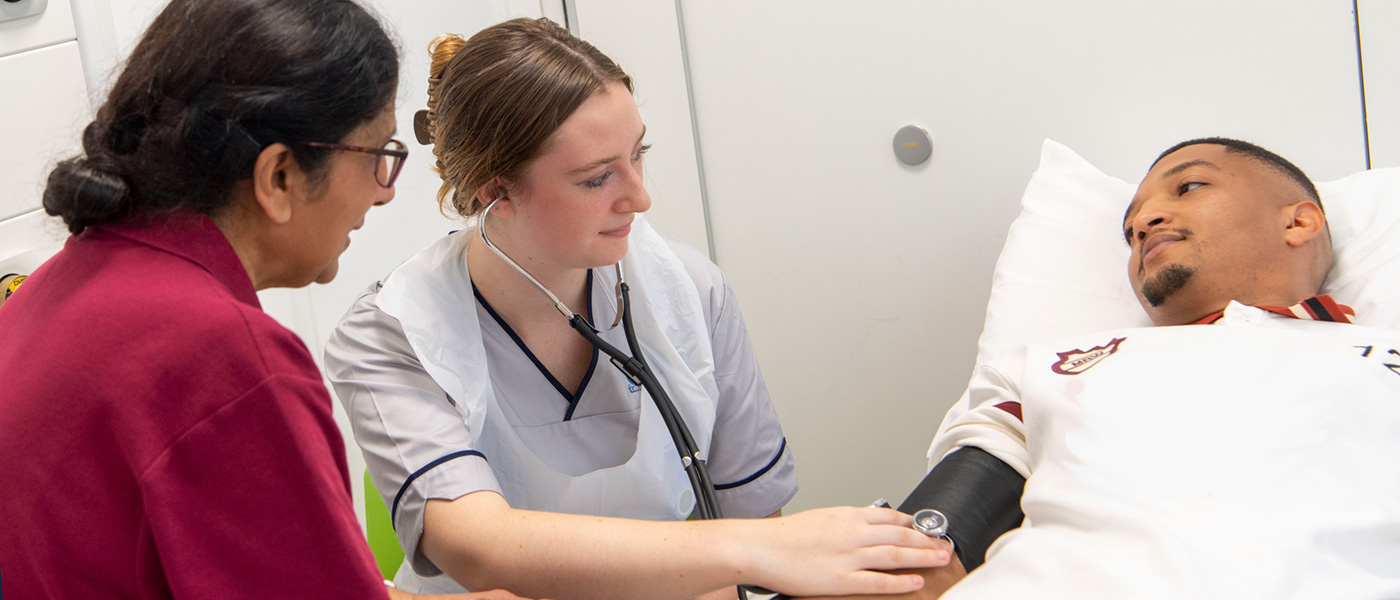 As the largest group within the healthcare workforce, nurses have a pivotal role in achieving safe, effective and high quality patient care. Nurses work within the multidisciplinary team, supporting patients to make informed decisions about their holistic healthcare requirements.
Nursing at Glasgow is ranked top in the UK (Complete University Guide 2019 and the Times/Sunday Times Good University Guide 2019).
September start: session dates
Nursing BN (Hons): B700 4 year degree
Programme structure
Please note: the structure of this programme is under review and subject to change.
Year 1
In the first year, you will study a range of subjects including nursing, health studies, social sciences, life sciences, and moral philosophy and ethics. The focus of your study in first year is the healthy individual and care of the older adult. You will begin to learn essential nursing skills and will have the opportunity to care for adults in the hospital and community setting.
Year 2
You will study adult nursing and continue your study of life sciences and ethics. Life science subjects include anatomy, physiology, biochemistry and microbiology.
Your core nursing course will include the study of pharmacology, nutrition, social policy, public health nursing and an introduction to nursing research. The basic concepts of Human Disease and Pathology will be introduced providing a foundation for further study in Year 3.
You will also undertake four practice learning placements, two in the hospital setting and two in the community setting.
Year 3
Year 3 adopts an holistic approach to the in-depth study of adult patients and human diseases. You will continue your study of adult nursing, studied in tandem with a course in human disease and pathology.
The advancing clinical skills course gives you the opportunity to develop a range of advanced clinical skills which will prepare you for an array of opportunities in clinical practice. You will also further develop your understanding of research and the relevance of research for nursing practice.
You will undertake two practice learning placements within acute and critical care settings
Year 4.
In the Senior Honours year you will undertake a period of study over two semesters which incorporates the final 12 weeks of clinical practice consolidation.
You will have the opportunity to investigate an area of interest related to clinical practice through a written dissertation. You will take courses on nursing policy, leadership and management in the nursing and healthcare context to further develop your understanding of the factors which affect care and the ways in which you can influence it.
Programme alteration or discontinuation
The University of Glasgow endeavours to run all programmes as advertised. In exceptional circumstances, however, the University may withdraw or alter a programme. For more information, please see: Student contract.
Entry requirements
for entry in 2020
BN
For applicants whose first language is not English, the University sets a minimum English Language proficiency level.
Career prospects
The Bachelor of Nursing (Honours)programme, with its strong scientific basis, prepares our graduates for all areas of care. On qualifying, our graduates have been employed throughout the UK and the rest of the world.
Accreditation
This programme is recognised by the Nursing and Midwifery Council (NMC) for the purpose of registration.
Degrees and UCAS codes
When applying you will need to know the UCAS code for the subject or subject-combination that you wish to apply to:
BN (Hons)
Fees and funding
Tuition fees
How and when you pay tuition fees depends on where you're from: see Tuition fees for details.
Scholarships
The University is committed to supporting students and rewarding academic excellence. That's why we've invested more than £1m in additional scholarship funding in recent years.
The scholarships above are specific to this programme. For more funding opportunities search the scholarships database
How to apply
Full-time students must apply through the Universities & Colleges Admissions Service (UCAS).
International students can also apply using The Common Application: however, if applying to more than one UK university, we recommend using UCAS.
Application deadlines
We do not usually accept any applications after these deadlines.
It's your responsibility to ensure the accuracy of your application before submission. Requests to correct application content, change degree programme or change college of entry, will not be accepted after these deadlines. This policy is in place to ensure fairness and consistency to all applicants, and no exceptions will be made.
More information about this programme
Nursing students were satisfied overall
Data published by Unistats, March 2019
PROFESSIONALLY ACCREDITED

1st in UK: Times & Sunday Times Good University Guide [Nursing]