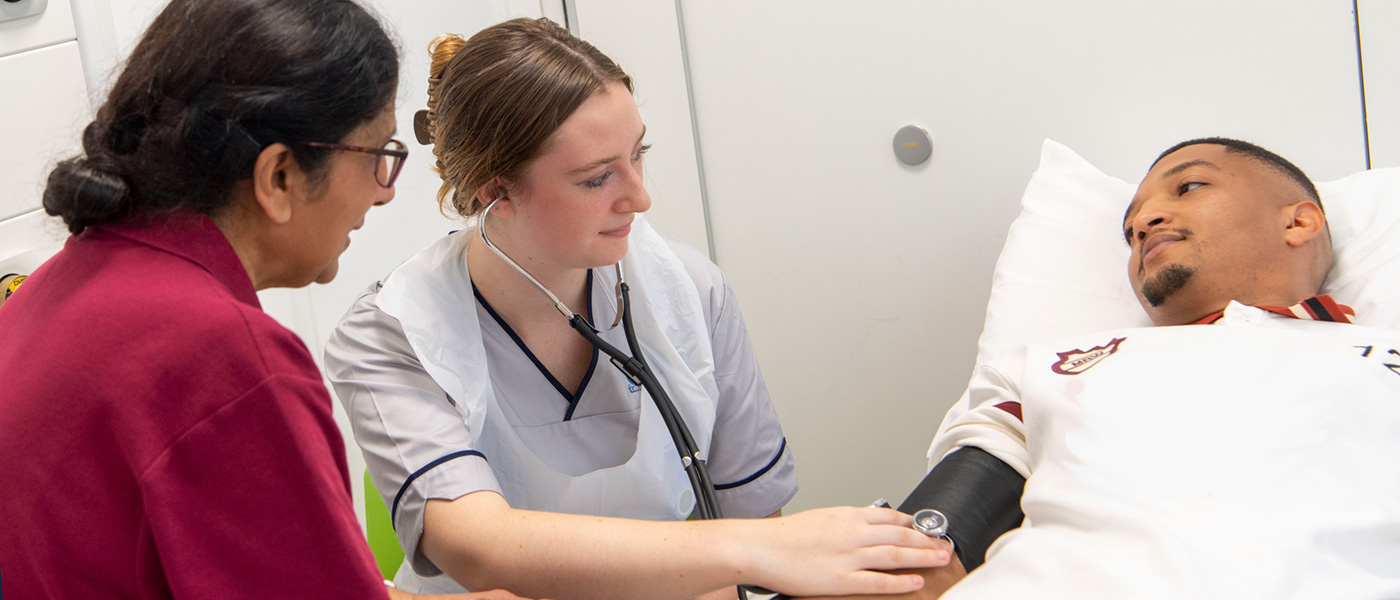 As the largest group within the healthcare workforce, nurses have a pivotal role in providing, leading and coordinating care. Nurses work within the multidisciplinary team, across a range of health and social care environments, supporting service-users to make informed decisions about their holistic healthcare requirements.
2020 Clearing places available join our Clearing mailing list
The Bachelor of Nursing programme at Glasgow is consistently ranked at the top of the university league tables: for 2020 Nursing was ranked top in the UK in the Complete University Guide, 2nd in the UK in The Times and Sunday Times Good University Guide and 3rd in the UK for Nursing & Midwifery in the Guardian University Guide.
September start
Nursing BN (Hons): B700 4 year degree
Programme structure
The BN (Hons) programme is a four-year professional degree. Learning takes place within the University and also clinical areas such as hospitals and healthcare centres. Learning takes place withing the University and also in practice learning environments, such as hospitals, health and social care services and care homes. 100% attendance is normally required
Year 1
You will study a range of subjects including nursing, health studies, social sciences, biomedical sciences, evidence-based practice and ethics. The focus of your study in first year is the healthy individual and caring for people in communities.
You will begin to learn communication and relationship skills and nursing procedures and undertake clinical placements in hospital and community settings.
Year 2
You will study adult nursing and deepen your knowledge and understanding of biomedical sciences, ethics and research. Biomedical science subjects include anatomy, physiology, biochemistry, genetics, microbiology and pharmacology.
Your core nursing courses will include the study of nursing theory and procedures, ethics in nursing, health and social care policy and research for evidence informed practice. These courses assist students in making the link between health, ill health and disease processes. They will provide a foundation for further study of human disease and research methods in year three. You will undertake further clinical placements and further develop your communication and relationship skills and nursing procedures.
Year 3
Year 3 (Junior Honours) adopts a holistic approach to the in-depth study of a range of human diseases and health conditions.
You will continue your study of adult nursing, human disease and pathology and pharmacology. You will also further develop your understanding of research and the relevance of research for evidence informed nursing practice.
Looking forward to your career as a registered nurse, you will learn the skills required to supervise nursing students on clinical placement and consolidate your learning in relation to communication and relationship skills and nursing procedures, which will prepare you for an array of opportunities on your clinical placements.
Year 4
In the senior Honours year you will learn more about health and social care policy, leadership, professionalism and global health challenges, to further develop your understanding of the factors that affect health and the ways in which you can influence care. You will also complete an independent study in an area of nursing that interests you, for the Honours dissertation. The final clinical placement is also incorporated into this year.
Practice placements
During this programme, you will be required to attend placements anywhere within the Greater Glasgow area.
+++
University of Glasgow Scottish Practice Assessment Document (PAD)
All Scottish Higher Education Institutions (HEIs) have worked collaboratively to produce a single Practice Assessment Document (PAD) for Scotland, which must be completed by all nursing students undertaking a pre-registration nursing programme.
The purpose of the PAD is to provide a record of the student's practice learning progress and achievement of learning outcomes throughout each practice learning experience (PLE). This allows current and future Practice Supervisors, Practice Assessors and Academic Assessors to see an overview of student progress from the first PLE through to the last.
---
+++
Programme flow
The programme flow is very carefully planned to ensure that students meet the regulatory requirements. Students must adhere to this programme flow and holidays must only be arranged for the scheduled vacation weeks.
---
+++
Practice Learning Experience handbook
The Practice Learning Handbook provides provide guidance and information for students and practice learning staff involved in supporting University of Glasgow Bachelor of Nursing (Honours) (BN Hons) students. It contains an outline of the BN Hons programme, details of role expectations of students and staff who support students on practice learning experience (PLE), university guidelines for the assessment of students and staff contact details. This handbook should be used in conjunction with the student's Scottish Practice Assessment Document (PAD).
---
+++
Grading of practice
Students will be supervised and assessed in practice in accordance with the NMC (2018) Standards for student supervision and assessment (SSSA). During each placement, students will work closely with a Practice Supervisor who will provide guidance and direction. The Practice Supervisor will work closely with a nominated Practice Assessor. Together, the Practice Supervisor and Practice Assessor will discuss the student's performance in relation to each of the platform proficiencies. The outcome of this assessment will be documented in the student's Scottish Practice Assesment Document (PAD) before being reviewed and confirmed by the student's Academic Assessor.
Within the BN (Hons) programme, practice learning is credited and graded in the same way as any academic work the student undertakes. The assessment of practice learning is both formative and summative, with the formal stages of assessment being the interim(s) and then final discussion and assessment. The student should first be assessed for achievement of the proficiencies and communication and relationship skills/nursing procedures, for the relevant part of the programme. The student's overall performance should then be rated using the grading scale in the PAD (based on Schedule B of the University of Glasgow's Code of Assessment).
The student's performance is given a grade from A to F. A grade 'D' (satisfactory) meets the minimum threshold requirement to pass a practice learning placement. However, when grading a student, it is essential to consider the Part of study, the level descriptor and the learning outcomes listed in the PAD (Part 1 p. 38 Part 2 p. 58 and Part 3 p. 99). In other words, students are assessed in context of their stage of education and what can be reasonably expected of them at that stage. Therefore, it is possible for a Part 1 student to achieve an A grade if these components are considered together.
Any student who attracts a fail grade (E, F) will be required to repeat the PLE, in keeping with the University of Glasgow's Code of Assessment. Any questions or queries about grading practice should be directed to the student's academic assessor (or Part Lead in their absence).
---
+++
Raising a concern
Concerns about a student's clinical performance, conduct or professionalism should be raised as soon as possible to allow discussion and learning development planning. This will normally take place in the PLE and may involve the student, the Practice Supervisor and/or Assessor, the Academic Assessor and Practice Education Facilitator/Care Home Education Facilitator (where applicable). An interim review sheet will be completed by the practice supervisor/assessor identifying the areas of concern clearly so that a learning development plan can be created which sets out how these areas of concern may be addressed. The Academic Assessor may also make an entry in the "additional notes" section of the student's PAD. This allows ongoing assessment of the student's learning development which can be recorded in the development support plan in the PAD. For more information, please refer to the Practice Learning Support Protocol in Section 3 of the student's Scottish PAD.
---
+++
Key contacts
Programme Lead: Dr Doreen Molloy
If your query relates to Part (Year) 1 of the programme, please contact the Part 1 Lead: Dr Rosemary Mullen
If your query relates to a Part (Year) 2 student, please contact the Part 2 Lead: Dr David Hunter
If your query relates to a Part (Year) 3 student, please contact the Part 3 Lead: Mrs Louise McCallum
---
Programme alteration or discontinuation
The University of Glasgow endeavours to run all programmes as advertised. In exceptional circumstances, however, the University may withdraw or alter a programme. For more information, please see: Student contract.
Entry requirements
for entry in 2021
Summary of entry requirements for Nursing
SQA Higher Entry Requirements (by end of S6)
AABBB
Additional requirements: two Highers from Chemistry, Biology, Physics, Mathematics. National 5 Mathematics, Chemistry, English at Grade B. Interview.
SQA Higher Adjusted Entry Requirements* (by end of S6)
AABB – ABBBB
Additional requirements: two Highers from Chemistry, Biology, Physics, Mathematics. National 5 Mathematics, Chemistry, English at Grade B. Interview. Successful completion of Top-Up or one of our Summer Schools.
* See Access Glasgow for eligibility.
A-level Standard Entry Requirements
ABB – BBB
Additional requirements: two A-Levels from Chemistry, Biology, Physics, Mathematics. GCSE English, Chemistry and Mathematics at Grade B or 5. Interview.
IB Standard Entry Requirements
36 (6,6,5 HL) – 32 (6,5,5 HL)
Additional requirements: two HL subjects from Chemistry, Biology, Physics, Mathematics. SL English, Chemistry and Mathematics at 4. Interview.
For applicants whose first language is not English, the University sets a minimum English Language proficiency level.
English language requirements
Important information for entry in Autumn 2020 and January 2021
The English language proficiency levels also meet the Nursing & Midwifery Council (NMC) requirements
International English Language Testing System (IELTS) Academic module (not General Training):
overall score 7.0
at least 6.5 in the writing section and at least 7 in the reading, listening and speaking sections
or equivalent scores in another recognised qualification (see below)
Occupational English Test (OET)
If you have completed an OET examination you must provide a certificate that confirms:
at least a B grade in listening and reading, and
at least a B grade in writing and speaking.
We will only accept results from OET tests taken from February 2016 onwards
FAQs
What do I do if...
my language qualifications are below the requirements?
The University's School of Modern Languages and Cultures offers a range of Pre-Sessional Courses to bring you up to entry level. The course is accredited by BALEAP, the UK professional association for academic English teaching; see Links.
my language qualifications are not listed here?
Please contact External Relations
If you require a Tier 4 student visa, your qualification must be one of the secure English language tests accepted by UK Border Agency:
Visa requirements and proof of English language level
It is a visa requirement to provide information on your level of English based on an internationally recognised and secure English language test. All test reports must be no more than 2 years old. A list of these can be found on the UK Border Agency website. If you have never taken one of these tests before, you can get an initial idea of your level by using the Common European Framework self-assessment grid which gives you a level for each skill (e.g. listening B1/writing B2 etc.) However, please note that this is not a secure English language test and it is not sufficient evidence of your level of English for visa requirements.
For further information about English language, please see School of Modern Languages and Cultures: English for Academic Study.
Career prospects
The Bachelor of Nursing (Honours) programme, with its strong scientific basis, prepares our graduates for all areas of care. Successful completion of the BN (Hons) programme leads to registration with the Nursing & Midwifery Council, allowing graduates to practice as a registered nurse within the UK. On qualifying, our graduates have been employed throughout the UK and the rest of the world.
Accreditation
The Nursing & Midwifery Council (NMC) recognises this programme for the purpose of registration as an Adult Nurse.
Degrees and UCAS codes
When applying you will need to know the UCAS code for the subject or subject-combination that you wish to apply to:
BN (Hons)
Fees and funding
Tuition fees
How and when you pay tuition fees depends on where you're from: see Tuition fees for details.
Scholarships
The University is committed to supporting students and rewarding academic excellence. That's why we've invested more than £1m in additional scholarship funding in recent years.
The scholarships above are specific to this programme. For more funding opportunities search the scholarships database
How to apply
Full-time students must apply through the Universities & Colleges Admissions Service (UCAS).
International students can also apply using The Common Application: however, if applying to more than one UK university, we recommend using UCAS.
Application deadlines
We do not usually accept any applications after these deadlines.
It's your responsibility to ensure the accuracy of your application before submission. Requests to correct application content, change degree programme or change college of entry, will not be accepted after these deadlines. This policy is in place to ensure fairness and consistency to all applicants, and no exceptions will be made.
More information about this programme
Discover Uni, January 2020
PROFESSIONALLY ACCREDITED

1st in UK: Times & Sunday Times Good University Guide [Nursing]