Job Recruitment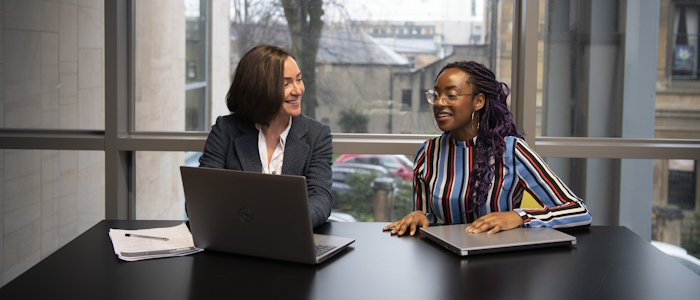 This section relates to the process of job recruitment from advertising all the way through to post-interview.
These guidelines are currently being used within the School of Biodiversity, One Health & Veterinary Medicine: specifically, within Veterinary Medicine.
The guidelines are not a part of university policy but are advice from our internal team and contributors in creating an accessible and neurodiversity and disability friendly process of interviewing at the University.
Accessible interview processing
Please note that the below are guidelines for those who are hiring staff or students for roles within the University.
These guidelines have been co-created by several disabled and neurodivergent staff (and a PGR student) who are experienced in the field of disability and neurodiversity; the Head of Equality and Diversity; the previous Disability Lead; the Careers Manager; different Diversity and Inclusion leads at the University; and a Neurodiversity Champion of the University.
Advertising roles and use of language
Be clear about what the role actually entails, provide examples where possible, and avoid ambiguous language. The

Writing an Effective Job Description

outlines this. However, we recommend being more direct (e.g.,

do not use

"escalating issues that are out of the norm", or "accuracy and attention to detail" as this language is ambiguous). To overcome this, use examples in relation to the role to clarification.
Hire for skills and try to look past spelling errors & formatting gaps (dyslexic) and job gaps (opportunities as disabled people may have gaps in employment).
Describe the pre-interview technology and what tasks are given on the day: be as transparent as possible.
Directions to guidance and support (e.g., if you are disabled and applying for this role, you can get help from the

Accessibility Website

).
Think about the skills you are writing on the Job Specification/Person Specification. For example, are communication skills necessary for the job role (e.g., someone who works with computers and writes emails, do they also need to have "excellent oral communication skills" on the Job Description/Person Specification?).  
The option to work from home and flexible working so that more disabled people can be employed.
Change the language and perception of disabilities (i.e., instead of helping/pitying disabled people and/or neurodivergent people, we 

want

 

a diverse talent group to work with us, moving beyond awareness to acceptance and encouragement of diversity).
Pre-interview
Please ensure that all interviewers have undertaken the

Equality and Diversity Essentials

,

and if possible

,

any other diversity training that is on Moodle (Implementing Reasonable Adjustments for Staff & Students, the Effective Bystander, Managing Diversity, and Understanding Unconscious Bias).
These training modules will better equip interviewers with tools on learning about diversity, how to implement reasonable adjustments correctly, how to be an effective bystander, and how to tackle unconscious biases surrounding diversity.

Describe the interview technology that will be used, and what tasks are going to be given on the day; be as transparent as possible. Moreover, virtual hiring should be an option. 
In the invitation email, reinforce that you

want

 

a diverse talent group to work with you and will accommodate to requested reasonable adjustments for the interview.
If possible, you can

provide each candidate with interview questions in advance

. This is so everyone has fair treatment. If this is not possible, you can provide each candidate with

example interview questions

(i.e., 2 or 3 interview questions you usually use to interview for a specific role).
During the interview
Before you are to begin the interview, ask if the candidate requires any reasonable adjustments before starting. The candidate may not request any, but they may explain that they have a condition that they did not declare as they may not recognise it as a disability (e.g., autism, ADHD, dyslexia, and other neurodivergent conditions).
Avoid ambiguous language and jargon.
Avoid hypothetical questions. You are required to ask questions which test/confirm the applicants Knowledge Skills Qualifications Experience as outlined in the Job Description.
However, if a candidate is struggling to answer the question…
Try and use/think of alternative questioning strategies; allow the candidate to ask about the question in hand: and break down the question if needed.
Important note:

Remember to hire for

skills, and be aware of non-neurotypical mannerisms / mannerisms that may arise from a disability

(such as pauses for thought, hesitations when asked a question, ticks, twitching, not looking the panel in the eyes but in their direction etc.).
Post-interview
If possible, ask for feedback from each interviewed candidate on the interview in terms of inclusivity (this could be after you've selected your chosen candidate).
Be as precise as possible when the candidate is expected to start their position and what the role is anticipated to be.
Where possible, provide mentorship programmes and reverse mentoring schemes.
Mostly importantly, if a candidate requires reasonable adjustments to undertake their role, provide it to them.
Creators of the accessible interviewing document
These guidelines were co-created by:
Leigh Abbott

Prof Peter Hastie

Dr Elliott Spaeth

A neurodivergent PGR student (Maricruz Gutierrez Villa)

Former colleagues Kirsteen Allison and Danny Gallacher