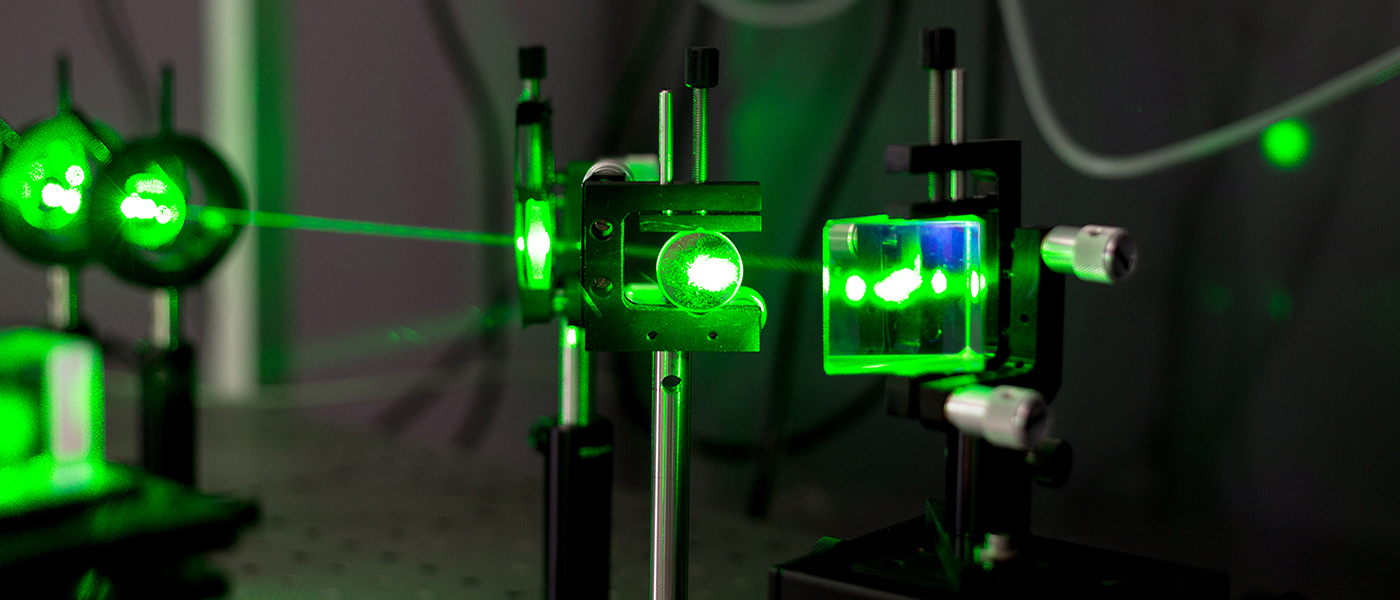 This Masters in Quantum Technology will provide training in the emerging area of quantum technologies, giving students advanced training in the relevant physics and engineering, while acquiring key skills in micro/nanofabrication. This MSc is underpinned by Glasgow leadership in the UK's Quantum Technology programme. The subjects taught in this programme are the relevant science behind many of the global challenges – in energy, environment, materials, and security – identified as major themes for interdisciplinary research in the 21st century. The programme is ideal if you are keen to pursue a professional career or research in Quantum Technologies.
Why this programme
Glasgow leads one of the four UK quantum technology hubs (QuantIC).
Excellence in micro/nano-fabrication via the James Watt Nanofabrication Centre.
The School has an Athena Swan Silver Award, demonstrating the School's support for women in scientific studies and careers, and to improve the working environment for all.
This programme equips students with an interdisciplinary perspective of the physics and engineering skills needed in the field of quantum technologies.
You will have the opportunity to engage with companies at the forefront of Quantum Technology activities within the UK and worldwide. Some MSc projects may also be available that are co-supervised with industry. The Glasgow led Quantum Technology hub (QuantIC) has engagement with over 50 companies in the UK/worldwide.
This MSc will be underpinned by the one of the four quantum technology hubs within the UK (QuantIC). The University also hosts the James Watt Nanofabrication Centre, the UKs premier academic cleanroom for device micro/nanofabrication.
Programme structure
Modes of delivery of the MSc in Quantum Technology include lectures, tutorials, seminars, laboratory practical classes, small group supervisions and private study. In the final part of the programme, you will undertake a research project which will be supervised by a member of staff who works within the area of quantum technologies. This extended project will give an opportunity to be embedded into a research group, working at the cutting edge of their particular field.
Each course is assessed separately; assessment methods include written examinations, verbal and written reports of practical/project work, multiple choice questions, oral and poster presentations of project work.
Core courses
Optional courses
RELATIVISTIC QUANTUM FIELDS(10 credits, semester 1)
GROUPS AND SYMMETRIES (10 credits, semester 1)
LASER INTERFEROMETRY AND QUANTUM MEASUREMENTS (10 credits, semester 1)
STATISTICAL MECHANICS (10 credits, semester 1)
QUANTUM THEORY (10 credits, semester 1)
ELECTRONIC DEVICES 3 (10 credits, semester 1)
NANOFABRICATION (10 credits, semester 1)
LASERS AND INTEGRATED OPTICS M (10 credits, semester 1)
MANAGING CREATIVITY AND INNOVATION (ENGINEERING) (10 credits, semester 1)
QUANTUM AND ATOM OPTICS (10 credits, semester 2)
QUANTUM INFORMATION (10 credits, semester 2)
IMAGING AND DETECTORS (10 credits, semester 2)
MAGNETISM & SUPERCONDUCTIVITY (10 credits, semester 2)
MICROWAVE ELECT & OPTOELECT DEVICES (20 credits, semester 2)
OPTICAL COMMUNICATIONS (20 credits, semester 2)
Programme alteration or discontinuation
The University of Glasgow endeavours to run all programmes as advertised. In exceptional circumstances, however, the University may withdraw or alter a programme. For more information, please see: Student contract.
Career prospects
You will be well equipped for a variety of careers either in an academic or industrial setting. You will also be well qualified to pursue a doctoral degree. The Glasgow led Quantum Technology Hub has strong links with national labs/industry, and these present an excellent opportunity for future career opportunities, including:
Leonardo (Defence & Security)
Thales (Defence & Security)
BAE Systems (Defence & Security)
Lockheed Martin (Defence & Security)
DSTL (Defence & Security)
National Physical Laboratory (National Standards laboratory)
Bridgeporth (Environmental monitoring)
Clydespace (space technology)
Schlumberger (seismic monitoring)
M-squared (sources and detectors)
Coherent (sources and detectors)
Photon Force (sources and detectors)
ST Micro (nanofabrication)
Kelvin Nanotechnology (nanofabrication)
Our graduating students working within this area have an excellent track record of further academic study (postdoctoral research posts or academic positions) and employment within industry.
Fees & funding
Deposits
International applicants are required to pay a deposit of £1000 when an offer is made.
Fee information is subject to change and is for guidance only
Funding opportunities
The scholarships above are specific to this programme. For more funding opportunities search the scholarships database
Entry requirements
A 2:1 Honours degree or equivalent in Physical Sciences, Electronic and Electrical Engineering, Computing Science or a cognate subject. Applications are also welcome from candidates with:
(i) a 2:2 in these subject areas
(ii) additional industrial experience
For cases (i)-(ii), applicants should refer to the PGT programme convenor.
English language requirements
Important information for entry in Autumn 2020 and January 2021
For applicants whose first language is not English, the University sets a minimum English Language proficiency level.
International English Language Testing System (IELTS) Academic module (not General Training)
overall score 6.5
no sub-test less than 6.0
or equivalent scores in another recognised qualification:
Common equivalent English language qualifications
All stated English tests are acceptable for admission for both home/EU and international students for this programme:
ibTOEFL: 90; no sub-test less than:

Reading: 20
Listening: 19
Speaking: 19
Writing: 23

CAE (Cambridge Certificate of Advanced English): 176 overall; no sub-test less than 169
CPE (Cambridge Certificate of Proficiency in English): 176 overall; no sub-test less than 169
PTE Academic (Pearson Test of English, Academic test): 60; no sub-test less than 59
Trinity College London Integrated Skills in English: ISEII at Distinction with Distinction in all sub-tests
For international students, the Home Office has confirmed that the University can choose to use these tests to make its own assessment of English language ability for visa applications to degree level programmes. The University is also able to accept an IELTS test (Academic module) from any of the 1000 IELTS test centres from around the world and we do not require a specific UKVI IELTS test for degree level programmes. We therefore still accept any of the English tests listed for admission to this programme.
Pre-sessional courses
The University of Glasgow accepts evidence of the required language level from the English for Academic Study Unit Pre-sessional courses. We also consider other BALEAP accredited pre-sessional courses:
FAQs
What do I do if...
my language qualifications are below the requirements?
The University's English for Academic Study Unit offers a range of Pre-Sessional Courses to bring you up to entry level. The course is accredited by BALEAP, the UK professional association for academic English teaching; see Links.
my language qualifications are not listed here?
Please contact the Recruitment and International Office using our enquiry form
For further information about English language requirements, please contact the Recruitment and International Office using our enquiry form
International students
We are proud of our diverse University community which attracts students and staff from over 140 different countries.
How to apply
To apply for a postgraduate taught degree you must apply online. We cannot accept applications any other way.
Please check you meet the Entry requirements for this programme before you begin your application.
Documents
As part of your online application, you also need to submit the following supporting documents:
A copy (or copies) of your official degree certificate(s) (if you have already completed your degree)
A copy (or copies) of your official academic transcript(s), showing full details of subjects studied and grades/marks obtained
Official English translations of the certificate(s) and transcript(s)
One reference letter on headed paper
Evidence of your English Language ability (if your first language is not English)
Any additional documents required for this programme (see Entry requirements for this programme)
A copy of the photo page of your passport (Non-EU students only)
You have 42 days to submit your application once you begin the process.
You may save and return to your application as many times as you wish to update information, complete sections or upload supporting documents such as your final transcript or your language test.
For more information about submitting documents or other topics related to applying to a postgraduate taught programme, check Frequently Asked Questions
Guidance notes for using the online application
These notes are intended to help you complete the online application form accurately; they are also available within the help section of the online application form.
If you experience any difficulties accessing the online application then you should visit the Application Troubleshooting/FAQs page.
Name and Date of birth: must appear exactly as they do on your passport. Please take time to check the spelling and lay-out.
Contact Details: Correspondence address. All contact relevant to your application will be sent to this address including the offer letter(s). If your address changes, please contact us as soon as possible.
Choice of course: Please select carefully the course you want to study. As your application will be sent to the admissions committee for each course you select it is important to consider at this stage why you are interested in the course and that it is reflected in your application.
Proposed date of entry: Please state your preferred start date including the month and the year. Taught masters degrees tend to begin in September. Research degrees may start in any month.
Education and Qualifications: Please complete this section as fully as possible indicating any relevant Higher Education qualifications starting with the most recent. Complete the name of the Institution (s) as it appears on the degree certificate or transcript.
English Language Proficiency: Please state the date of any English language test taken (or to be taken) and the award date (or expected award date if known).
Employment and Experience: Please complete this section as fully as possible with all employments relevant to your course. Additional details may be attached in your personal statement/proposal where appropriate.
Reference: Please provide one reference. This should typically be an academic reference but in cases where this is not possible then a reference from a current employer may be accepted instead. Certain programmes, such as the MBA programme, may also accept an employer reference. If you already have a copy of a reference on letter headed paper then please upload this to your application. If you do not already have a reference to upload then please enter your referee's name and contact details on the online application and we will contact your referee directly.
Application deadlines
January 2021 start
International applicants
27 November 2020 (Exceptions apply for certain high demand programmes.)
UK/EU applicants
September 2021 start
International & EU
Application phase 1 deadline: 31 March 2021
Application phase 2 deadline: 21 July 2021
UK
Application phase 1 deadline: 31 March 2021
Application phase 2 deadline: 21 July 2021
Please note that applications in each phase are normally considered up to the dates noted above however the programme may close early if all available places for that phase are taken.
As we receive a great number of applications, prospective students are only allowed to apply once per year.
ATAS: Academic Technology Approval Scheme
Please note that this programmes in this subject at Masters level require ATAS. If you require a visa to study in the UK then you will need to apply for an ATAS certificate before applying for your visa or extension of stay, allowing at least four weeks (20 working days) in order to obtain it.
The Academic Technology Approval Scheme (ATAS) was introduced on 1 November 2007. It is used to help stop the spread of knowledge and skills that could be used in the proliferation of weapons of mass destruction (WMD) and their means of delivery. This is in common with other governments around the world.
The ATAS is designed to ensure that people who are applying to study certain sensitive subjects in the UK do not have links to WMD programmes.
Apply now
More information about this programme