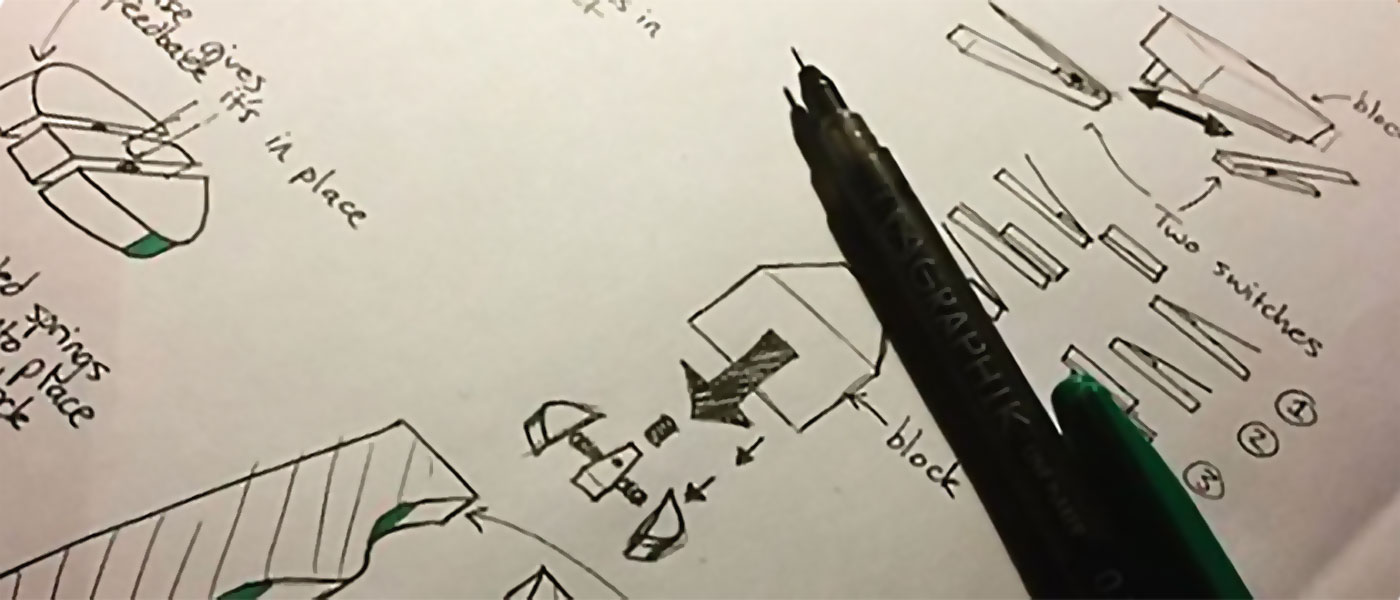 The Masters in Product Design Engineering, taught in collaboration with the School of Design, Glasgow School of Art will develop your ability to design products with significant engineering content, address user needs, and optimise solutions for specific markets.
Why this programme
This exciting programme will enable you to benefit from the combined resources and complementary expertise of staff of two top ranking Scottish institutions, University of Glasgow and Glasgow School of Art.
Studio-based, student-centered learning based around design project activities. Students have access to state-of-the-art product design engineering prototyping and manufacturing processes in the PDE workshops at GSA and University of Glasgow.
There are increasing pressures, from both existing and emerging world marketplaces, for products which not only respond to the needs of function, user and society, but which can be brought to market ever more rapidly through state-of-the-art development and manufacturing processes. Industries which develop, manufacture and market today's products need high-caliber graduates equipped to handle these processes with management skill and creative drive, and this programme develops graduates with these skills.
The studio programme explores cultural, management, perceptual, process and psychological issues, offering a curriculum relevant to the needs of industry and an understanding of the role of the design engineer in society.
The MSc Product Design Engineering is accredited in the "Further Learning" category accredited by the Institution of Mechanical Engineers (IMechE) and the Institution of Engineering Designers (IED). This means that a student with an accredited BEng undergraduate degree can take the accredited "Further Learning" MSc to top-up their academic qualifications in order to meet the full academic requirements for conferral of the title of Chartered Engineer. This is an alternative route to the 5-year undergraduate MEng route.
The University of Glasgow has been delivering world-class engineering education and research since 1840.
The School of Engineering has an Athena Swan Bronze Award, demonstrating the school's commitment to supporting women in scientific studies and careers, and to improving the working environment for all.
Programme structure
You will attend lectures, seminars and tutorials and take part in lab, project, team and studio work, industrial visits, and workshops.
Core courses
HUMAN FACTORS
PRODUCT DESIGN ENGINEERING PROJECT
MSc PROJECT
Optional courses
GLASGOW SCHOOL OF ART ELECTIVE (you will choose from a list of options)
Programme alteration or discontinuation
The University of Glasgow endeavours to run all programmes as advertised. In exceptional circumstances, however, the University may withdraw or alter a programme. For more information, please see: Student contract.
Career prospects
Career opportunities include product research and development, system design, product manufacture and engineering design. The programme aims to provide opportunities to work on live projects with industry: this can lead to employment opportunities. Examples of companies that employ our Product Design Engineering graduates are Apple, DELL, Dyson, Jaguar-Land Rover, TomTom and Smart.
Fees & funding
Tuition fees for 2020-21
MSc
Fees available from the Glasgow School of Art.
Fee information is subject to change and is for guidance only
Additional fees
Fee for re-assessment of a dissertation (PGT programme): £360
Submission of thesis after deadline lapsed: £340
Registration/exam only fee: £160
Funding opportunities
The Martin Niemöller Scholarship (College of Science and Engineering)
The German Speaking Congregation in Glasgow are pleased to offer one scholarship award of £500 for students originating from German speaking countries. The scholarship will support those students in need of financial support at any stage of their degree programme.
All students awarded a Martin Niemöller Scholarship will be asked to submit a short letter of thanks to the Development and Alumni Office for onward transmissions to the donors of the award.
Postgraduate Talent Scholarships
The University of Glasgow awards Postgraduate Talent Scholarships each academic year to support students who could face financial difficulties in taking up their place to study at the University. The value of each scholarship is £2,000 and they are for students undertaking a one or two year Taught Masters programme, in any of the University's Colleges. For two year Taught Masters programmes, the scholarship is available in year one only. 
Colfuturo Fundacion para el Futuro de Colombia
The University of Glasgow offer discounts to all successful Fundacion para el Futuro de Colombia (Colfuturo) scholars who enrol at the University of Glasgow to complete a postgraduate programme.
Commonwealth Scholarship schemes
Commonwealth Scholarships are available each year to fund Commonwealth citizens' study in the UK for undergraduate and postgraduate qualifications. A range of scholarship schemes are available for citizens of Commonwealth countries other than the UK. Further information is available on the Commonwealth Scholarship Commission's website.
Snowdon Masters Scholarships
Snowdon Masters Scholarships give a small number of exceptionally talented disabled people an opportunity to flourish and achieve their true potential.
The scholarship has been designed to identify and accelerate talented disabled individuals through higher education.
The scholarship is aimed at;
Supporting brilliant students with the ability to create change and influence others
Provide funding for students with excellence in a field of study, within and beyond academia
Accelerate disabled students to become leaders and role-models
Provide opportunity for individuals with the drive and determination to succeed
Please see Snowdon Masters Scholarships website for more details.
The Clan Gregor Society Prize
The Clan Gregor Society are offering an award to new entrants to the University of Glasgow who descend from Clan Gregor. Prospective students will be asked to submit an application highlighting areas of consideration such as academic excellence and financial need. The award is open to both Undergraduate and postgraduate applicants.
Postgraduate Student Loan (NI)
If you are a Northern Irish student looking to study a taught Masters programme* in Glasgow then you can apply for a student loan in exactly the same way as you would for a University in Northern Ireland.
Northern Irish students are able to apply for non-means-tested tuition fee loans of up to £5,500, to help with the costs of funding.
For more information visit www.studentfinanceni.co.uk/types-of-finance/postgraduate .
* does not apply to Erasmus Mundus programmes
Postgraduate Tuition Fee Loans England only (PTFL)
If you're starting a master's degree, you could get a Postgraduate Master's Loan of up to £10,609 to help with course fees and living costs. You have to repay your Postgraduate Master's Loan at the same time as any other student loans you have. You'll be charged interest from the day you get the first payment.
If you're studying by distance learning, you can also apply.
Examples of postgraduate master's qualifications include:
MSc (Master of Science)
MA (Master of Arts)
MPhil (Master of Philosophy)
MRes (Master of Research)
LLM (Master of Law)
MLitt (Master of Letters)
MFA (Master of Fine Art)
MEd (Master of Education)
MBA (Master of Business Administration)
If you plan to study for Master of Architecture (MArch) or an Integrated Master's qualification, you should apply for undergraduate support
Postgraduate Student Loan (Scotland and EU)
Eligible full-time and part-time students, undertaking an eligible postgraduate course, can apply for a tuition fee loan up to a maximum of £5,500 towards their course. 
Eligible full-time postgraduate students can apply to us for a living-cost loan of up to £4,500. 
Please see the Postgraduate funding guide.
For more information visit the SAAS website
Postgraduate Loans for Welsh Students
If you are a Welsh student looking to study a postgraduate programme* in Glasgow then you can apply for a student loan in exactly the same way as you would for a Welsh University.
* does not apply to Erasmus Mundus programmes
Postgraduate Master's Finance
If you're starting a full-time or part-time Postgraduate Master's course (taught or research based) from 1 August 2019, you can apply for Postgraduate Master's Finance and receive up to £17,000 as a combination of grant and loan:
a maximum grant of £6,885 and loan of £10,115 if your household income is £18,370 and below
a grant of £1,000 and loan of £16,000 if your household income is not taken into account or is above £59,200.
For more information visit Student Finance Wales
Postgraduate Doctoral Loan
If you're starting a full-time or part-time postgraduate Doctoral course (such as a PhD) from 1 August 2019 you can apply for a Postgraduate Doctoral Loan of up to £25,700.
For more information visit Student Finance Wales


The scholarships above are specific to this programme. For more funding opportunities search the scholarships database
Entry requirements
Entry requirements are normally a 2.2 Honours degree or equivalent (eg GPA of 3.0 or above) in a relevant subject area (product design engineering, mechanical engineering, electronic and electrical engineering being of particular relevance) or equivalent professional practice. Depending on your previous experience and qualifications you may be asked to complete a design engineering assignment as part of your application.
English language requirements
Important information for entry in Autumn 2020 and January 2021
For applicants whose first language is not English, the University sets a minimum English Language proficiency level.
International English Language Testing System (IELTS) Academic module (not General Training)
overall score 6.5
no sub-test less than 6.0
or equivalent scores in another recognised qualification:
Common equivalent English language qualifications
All stated English tests are acceptable for admission for both home/EU and international students for this programme:
ibTOEFL: 90; no sub-test less than:

Reading: 20
Listening: 19
Speaking: 19
Writing: 23

CAE (Cambridge Certificate of Advanced English): 176 overall; no sub-test less than 169
CPE (Cambridge Certificate of Proficiency in English): 176 overall; no sub-test less than 169
PTE Academic (Pearson Test of English, Academic test): 60; no sub-test less than 59
Trinity College London Integrated Skills in English: ISEII at Distinction with Distinction in all sub-tests
For international students, the Home Office has confirmed that the University can choose to use these tests to make its own assessment of English language ability for visa applications to degree level programmes. The University is also able to accept an IELTS test (Academic module) from any of the 1000 IELTS test centres from around the world and we do not require a specific UKVI IELTS test for degree level programmes. We therefore still accept any of the English tests listed for admission to this programme.
Pre-sessional courses
The University of Glasgow accepts evidence of the required language level from the English for Academic Study Unit Pre-sessional courses. We also consider other BALEAP accredited pre-sessional courses:
FAQs
What do I do if...
my language qualifications are below the requirements?
The University's English for Academic Study Unit offers a range of Pre-Sessional Courses to bring you up to entry level. The course is accredited by BALEAP, the UK professional association for academic English teaching; see Links.
my language qualifications are not listed here?
Please contact the Recruitment and International Office using our enquiry form
For further information about English language requirements, please contact the Recruitment and International Office using our enquiry form
International students
We are proud of our diverse University community which attracts students and staff from over 140 different countries.
How to apply
Students should apply for this degree through Glasgow School of Art. The application procedures can be found at: Glasgow School of Art: how to apply.
Application deadlines
International
Application phase 1 deadline: 31 March 2020
Application phase 2 deadline: 21 July 2020
UK/EU
Application phase 1 deadline: 31 March 2020
Application phase 2 deadline: 21 July 2020
Please note that applications in each phase are normally considered up to the dates noted above however the programme may close early if all available places for that phase are taken.
As we receive a great number of applications, prospective students are only allowed to apply once per year.
More information about this programme
SoundTracks is our fortnightly podcast, jam-packed with sound advice from our graduate world-changers to inspire you.