Our portfolio covers many aspects of parasitology research from molecules to cells and whole organisms to populations. Research activities are based around skills in molecular biology, biochemistry, immunology, epidemiology, population genetics and mathematical modelling and involve both laboratory-based projects and fieldwork.
Overview
Parasites are fascinating organisms, because of their capacity to live and replicate within the host environment. How parasites adapt and survive is the focus of much study with the potential to generate new and important discoveries that can impact upon control. Most organisms harbor parasites and much of our research is aimed at understanding how parasites cause disease and how best to control disease in both humans and animals. Improving upon existing treatments and understanding mechanisms of drug resistance are important aspects of this work. In addition, the epidemiology, ecology and population genetics of parasitic pathogens are important areas of research that significantly impact upon transmission and control.
Our research portfolio covers a range of tropical parasites that cause important diseases, including Plasmodium ssp (malaria), Trypanosoma ssp (sleeping sickness), Leishmania ssp (leishmaniasis) and Theileria (East coast fever/theileriosis), along with filarial worms, the cause of elephantiasis. We also study parasites that are endemic in the UK such as Toxoplasma gondii and important gastro-intestinal parasites of livestock that cause significant economic loss to the agricultural industry and are important for global food security. Many important parasites are transmitted by vectors, and we have growing strengths in vector biology, most notably mosquitoes and ticks. We aim to apply our findings to informing control programmes and to translate our findings into better diagnostics, drugs and vaccines.
Study options
PhD
Duration: 3/4 years full-time; 5 years part-time
Students undertake individual research projects in the area of expertise of their supervisor(s), although many projects on offer are interdisciplinary.
Your choice of projects is diverse, reflecting the range of expertise of potential supervisors. The University of Glasgow provides an excellent environment for parasitology research, housing the largest group of parasitologists in the UK, studying all aspects of parasitic disease from gene to population. Parasitology is housed within two institutes, Infection, Immunity and Inflammation and Biodiversity, Animal Health and Comparative Medicine. In addition, many of the group are members of the Wellcome Centre for Integrative Parasitology. The resources available provide the opportunity for excellent and cutting edge training in many different areas. These include molecular biology, biochemistry, ecology, epidemiology, mathematical modelling, bioinformatics, genetics, cell biology (including advanced in vitro and in vivo imaging), immunology and polyomics (genomics, transcriptomics, proteomics, metabolomics etc). Many projects are laboratory-based in up-to-date facilities with excellent research resources. Interdisciplinary research is a key aspect of our approach and we have many collaborators both within the university and externally. Some projects involve considerable amounts of fieldwork in the UK or overseas.
Specific areas of interest include:
molecular basis of sexual development in Plasmodium (Waters)
metabolism of P. falciparum (Müller)
genetics and biology of the interactions between P. falciparum and the mosquito vector (Ranford-Cartwright)
ecology and behaviour of malaria vectors (Ferguson)
cellular remodelling of trypanosomes and Leishmania during their life cycles (Mottram)
cell division in trypanosomes (Hammarton)
homologous recombination, DNA repair pathways and antigenic variation in T. brucei (McCulloch)
african trypanosomes and their interactions with their hosts (MacLeod)
invasion of the host cell by T. gondii (Meissner)
biogenesis of the mitochondrion and apicoplast in T. gondii (Sheiner)
control of host cell division and parasite differentiation in Theileria (Shiels)
fitness costs of the immune response and wild immunology (Babayan)
imaging the immune response to parasites in vivo (Brewer)
epidemiology of zoonotic pathogens in Africa (MacLeod)
mechanisms of drug resistance (protozoan, nematode, ectoparasites) (Barrett, de Koning, Devaney, Jonsson)
the role of membrane transporters in parasite virulence and drug susceptibility (de Koning)
development of new lead compounds and vaccines for parasitic diseases (protozoan and nematode) (Shiels, Barrett, Page, Devaney, Britton)
use of C. elegans as a model for understanding gene function in parasitic nematodes (Britton, Devaney, Page)
Entry requirements
Awarded or expected First-class or high Upper Second-class BSc degree (or equivalent).
English Language requirements for applicants whose first language is not English.
Fees and funding
Fees
2020/21
£4,327 UK/EU
£21,920 outside EU
Prices are based on the annual fee for full-time study. Fees for part-time study are half the full-time fee.
Additional fees for all students:
Re-submission by a research student £525
Submission for a higher degree by published work £1,315
Submission of thesis after deadline lapsed £340
Submission by staff in receipt of staff scholarship £765
Depending on the nature of the research project, some students will be expected to pay a bench fee (also known as research support costs) to cover additional costs. The exact amount will be provided in the offer letter.
Alumni discount
A 10% discount is available to University of Glasgow alumni. This includes graduates and those who have completed a Junior Year Abroad, Exchange programme or International Summer School at the University of Glasgow. The discount is applied at registration for students who are not in receipt of another discount or scholarship funded by the University. No additional application is required.
Funding for EU students
The UK government has confirmed that EU nationals will remain eligible to apply for Research Council PhD studentships at UK institutions for 2019/20 to help cover costs for the duration of their study. The Scottish Government has confirmed that fees for EU students commencing their studies in 2019/20 and 2020/21 will be at the same level as those for UK students.
2019/20 fees
£4,327 UK/EU
£21,020 outside EU
Prices are based on the annual fee for full-time study. Fees for part-time study are half the full-time fee.
Additional fees for all students:
Re-submission by a research student £500
Submission for a higher degree by published work £1,250
Submission of thesis after deadline lapsed £320
Submission by staff in receipt of staff scholarship £730
Depending on the nature of the research project, some students will be expected to pay a bench fee (also known as research support costs) to cover additional costs. The exact amount will be provided in the offer letter.
Funding
BBSRC Doctoral Training Partnerships
Support
The College of Medical, Veterinary and Life Sciences Graduate School provides a vibrant, supportive and stimulating environment for all our postgraduate students. We aim to provide excellent support for our postgraduates through dedicated postgraduate convenors, highly trained supervisors and pastoral support for each student. Through their research interests in drug development, vaccines and diagnostics, many of our project supervisors have strong links with industry.

Our overarching aim is to provide a research training environment that includes:
provision of excellent facilities and cutting edge techniques
training in essential research and generic skills
excellence in supervision and mentoring
interactive discussion groups and seminars
an atmosphere that fosters critical cultural policy and research analysis
synergy between research groups and areas
extensive multidisciplinary and collaborative research
extensive external collaborations both within and beyond the UK
a robust generic skills programme including opportunities in social and commercial training
Research environment
If you study with us, you will join a large community of postgraduate taught and research students. Our institute brings together world-leading basic, applied, clinical and translational researchers to study infection with a focus on the viral, parasitic and bacterial pathogens of both humans and animals, and immunology and inflammation with a focus on chronic inflammatory diseases.
Despite the continual development of new therapies, antibiotics and vaccines, chronic inflammatory and infectious diseases still pose persistent health threats. We aim to:
understand the basic science of the immune systems and how the immune system can inturn affect disease outcome understand the biology of parasites, viruse and bacteria and the interactions with their hosts, that in turn leads to high levels of infectious diseases worldwide
develop therapies (drugs and vaccines) targeted on these processes
explore new treatments and strategies in clinical and translational medicine
Research centres
Resources
Our excellent facilities underpin a bench to bedside approach that will equip you with training complementary to a range of career options, and you can tailor your study pathway to the precise aspects of infection and immunology that suit your objectives. Facilities include:
core facilities in fluorescence activated cell sorting analysis
histology and state-of-the-art imaging.
IVIS imaging system
high content screening microscopy
mass spectrometry
an X-ray capable FX Pro bioluminescence imaging system
a protein purification service
a wide range of molecular, immunological and biochemical analysis tools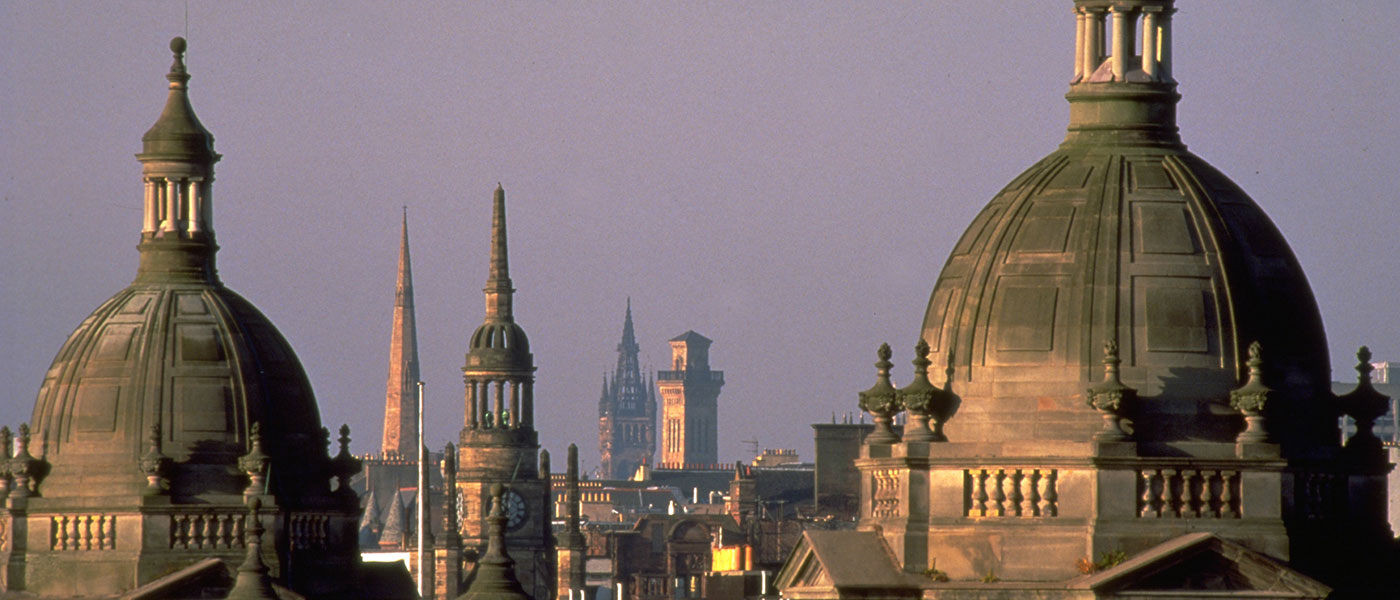 Our top ten city
A 2019 TimeOut survey places Glasgow in the top ten cities in the world. Ranked between Berlin and Paris, Glasgow was voted number one for both friendliness and affordability.