Our IPhD is an innovative new way to undertake postgraduate education.
Combining Masters level teaching with a PhD will unlock the potential to a transformative training experience:
Gain confidence
Develop research skills
Become a subject matter expert
The IPhD is your passport towards changing the world. Follow the 'How to Apply' steps below to start your journey.
Applications for the IPhD have now closed for September 2023. Applications will reopen in Autumn 2023.
WHAT IS AN IPhD?
Our Integrated PhD combines Masters level teaching with Doctorate level training/research allowing both UK national and international students to learn in a 1 + 3 + 1 format.
The IPhD enables students to familiarise themselves with; their subject at Masters level, research methods and academic writing techniques before embarking on their own independent research project.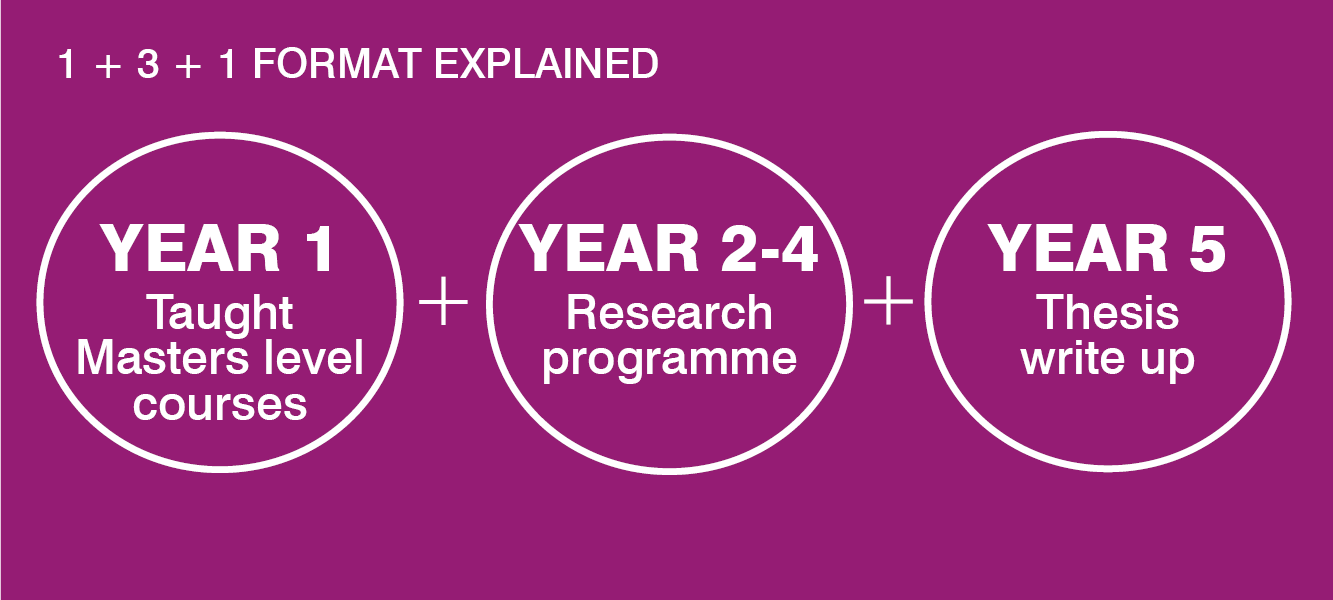 STEP ONE:
CHOOSE A MASTERS PROGRAMME

(Do not apply directly to the masters, but reference it in your IPhD application)
+++
Choose a Masters
---
STEP TWO:
Search for a supervisor in your chosen research area. You don't need to contact them, but reference them in your application.

STEP THREE:
GATHER YOUR DOCUMENTS

Now you are ready to gather your documents for your application.
+++
Documents required
Final or current degree transcripts including grades (and an official translation, if needed) – scanned copy in colour of the original document
Degree certificates (and an official translation, if needed): scanned copy in colour of the original document
One reference on headed paper (academic and/or professional)
A brief paragraph outlining your research interests and the discipline you would like to undertake your PhD studies in and potential supervisors
Official English translations of the certificate(s) and transcript(s) (Non-EU students only)
Evidence of your English Language ability (if your first language is not English)
Any additional documents required for this programme as asked for by the admissions department
A copy of the photo page of your passport (EU and International students)
*Please note there is no requirement for a research proposal or CV.
---
STEP FOUR:
APPLY FOR YOUR IPhD: Research Opportunities
Apply for the PhD you'd like to progress to and begin your application
You will be given a small list of options to choose from; select MVLS Integrated PhD
Fill out the details as required
In the research proposal box add 'I wish to study the MSc in (chosen programme) as the masters taught component of the IPhD, followed by a PhD in (chosen programme)'
For the supervisor name, write the supervisor who you would like to work with during your IPhD
Upload all of your documents.
If you have difficulty in selecting your Masters or PhD, please contact: mvls-iphd@glasgow.ac.uk
ENTRY REQUIREMENTS
Minimum entry is a 2.1 upper second class degree.
You must have full funding before starting this degree programme.
For applicants whose first language is not English, the University sets a minimum English Language proficiency level.
International English Language Testing System (IELTS) Academic module (not General Training)
Overall score 6.5
No sub-test less than 6.0
Or equivalent scores in another recognised qualification (Pearsons/TOEFL)
FEES
Year of Study

Fees Home
2023/24

Fees Int'l
2023/24

Bench Fees (Dry -Wet)

Year 1 - MSc/MRes fee

£4,712

£27,930

No bench fees

Year 2 - PhD

£4,712

£27,930

£5000 - £12000

Year 3 - PhD

£4,712

£27,930

£5000 - £12000

Year 4 - PhD

£4,712

£27,930

£5000 - £12000

Year 5 - Thesis write up

No write up fee

No write up fee

No write up fee

Total

£18,848 (approx)

£111,720 (approx)

£15000 - £36000 (approx)

*Deposit/fee information is subject to change and is for guidance only. The MSc/MRes fee shown is for 120 credits. If you choose to exit the IPhD after your first year, and wish to complete the full 180 credits, the fee will be £10,050.
DEPOSITS
EU/International applicants are required to pay a deposit of £1000 when an offer is made.



* Deposit/fee information is subject to change and is for guidance only *
CONTACT US
Address:
College of Medical, Veterinary and Life Sciences
Room 111, Level 1
Sir James Black Building (formerly West Medical Building)
University of Glasgow
Glasgow G12 8QQ
Campus Map Location:

The Sir James Black Building can be found at point B2 on the campus map.
Opening Hours:

Open 09.00-17.00 Monday to Friday. Due to the ongoing situation with Coronavirus, we are currently available via telephone and email only.
Closed Public Holidays
Reception:
Email: mvls-gradschool@glasgow.ac.uk ‌‌‌
FAQs
Does my degree qualify to apply for the course? The normal standard of admission for a research student is a good First Class or Upper Second Class honours degree (GPA 3.0 or above) in a relevant discipline. In special circumstances, other academic qualifications, professional qualifications or experience, may be recognised as equivalent. In addition, IELTS, where required, at 6.5 (with no component less than 6.0).


When do the applications for the programme open? Applications normally open the year before you want to start, at the start of October. For example, if you want to start in Sept, you should be applying around October. This is due to the length of time it takes for different departments to review the application and for you to get your finances in order if working with a sponsor.
In the application it asks for a research title, what do I write? Please write 'IPhD programme'. Based on your MSc choice, your application will be sent to the appropriate department.
Can I get a scholarship? There are no University of Glasgow funded IPhD scholarships. You would have to self-fund or find an external sponsor.


Do I need to contact any potential supervisors at the application stage? You are welcome to reach out to potential supervisors, however, please note that in your first year you will be enrolled on a Masters degree and not yet working closely with your supervisor. There is a chance your subject interests may alter in the first year of study.
Do I need to write a research proposal before my application for the Integrated programme as well? No, there's no need to write a research proposal as you'll be applying for a Masters in the first instance. Instead, write a paragraph or two about the research you wish to study and why and also what MSc programme you'd like to start with.


Are there any funding options for international students to cover the difference in fees? Like Commonwealth scholarship? Students must have full fees to cover the full 5 year programme upon starting. The university does not cover any fees for the IPhD programme.
Can I exit early with an MSc qualification? You are required to complete 120 credits to progress on to the PhD element of the IPhD. If you wish to exit with the full MSc, you will need to complete the full 180 credit required to graduate with an MSc by completing the final project (60 credit).
Do I need to re-apply for the PhD element after I finish my MSc? No, you are only required to submit one application at the beginning of the process.


Do I get two qualifications at the end, for example, a masters and a PhD? No you only get one qualification which is for the completed PhD. This is because you do not complete 180 credits during the masters year.


Can I do this part time? For example, do the MSc part over two years and the PhD over five years? No this integrated programme is a full time programme.


Can I do this programme by distance learning? No you need to be present in Glasgow.
ARVIN (PhD STUDENT)
I'm doing a PhD at the University of Glasgow and I'm looking at protein folding in mammalian cells. I previously did an MSC at Glasgow and I really like the research environment, it's top class, I mean there's a lab everywhere and the things that you're working on is amazing... in addition to that the research skills I'm getting, the networking, it's just amazing meeting people from all over the world.
ASHLEIGH (PhD STUDENT)
I'm Ashley and I'm a neuroscience PhD student at the University of Glasgow… I loved the environment of Glasgow because it was really supportive and the research environment here is really nourishing because there's so many different types of Supervisors and expertise- so I found my perfect supervisory team.
OM (PhD STUDENT)
I'm Om Alkhir and I'm doing a PhD in Dentistry Clinical Studies in Glasgow Dental Hospital. My supervisors they are really friendly… giving me the support I needed to have balance in my social life; my responsibility as a parent, and in doing my PhD. So I think this is the main thing I really loved about my experience on the PhD.

IPhD = ONE VISA
With the fusion of a MSc and PhD, international students only need to apply for one visa.

RESEARCH SKILLS
The IPhD allows you to develop outstanding research skills before you begin the doctoral phase.

BACHELORS TO PHD
Undergraduates with a career goal requiring a PhD can achieve their aim through the iPhD.

SOCIAL FULFILMENT
Once your IPhD begins, you'll join our talented and sociable Master's student communities.

SUBJECT EXPERTISE
The IPhD is a great opportunity to become an expert in your chosen subject before starting the PhD.

PhD REALIGNMENT
For those with a MSc unrelated to their desired PhD, our IPhD realigns the path to your educational goals.