Our thriving body of PhD students are currently researching: finance, market reactions to accounting, management accounting and control, judgment and decision-making in accounting and audit, corporate reporting and governance.
PhD: normally 3 years full-time; 5 years part-time; Thesis of 70,000-100,000 words
Overview
The Adam Smith Business School places a strong emphasis on the development of valuable transferable and personal development skills, such as finance-oriented computer programming, presentation and professional writing skills.
As a PhD student in Accounting & Finance, you will have opportunities to:
present and discuss your work in progress with colleagues and staff members
present and discuss your work in progress with staff members in other Scottish Universities through the Scottish Doctoral Colloquium
present your work in national or international conferences (usually at later stages of the PhD process)
attend the Wards research seminars
benefit from the College of Social Sciences Graduate School Research Training programme
complete a PhD research class that looks at a variety of topics such as the use of Stata and Minitab, case studies and various approaches to accounting research
attend research training on key literature (either solely on accounting or finance or a combination of accounting and finance empirical literature)
attend research training on necessary software programmes assisting you in your research (e.g., Nvivo, Stata)
attend research training on qualitative and/or quantitative techniques, with a focus on accounting and finance (econometrics in particular)
You may also have the opportunity to become a Graduate Teaching Assistant (GTA), delivering tutorials to first and second year undergraduate students and helping with assessment of undergraduate assignments and examinations. Teaching is payable at a University-wide hourly rate and it is anticipated that an active GTA, subject to suitability and availability, should be able to earn up to £1,500 per annum. GTAs undergo compulsory training. PhD researchers may have the opportunity to become GTAs from their second year. Vacant posts are advertised towards the end of semester 2.
Contacts
Initial programme enquiries
For advice on academic issues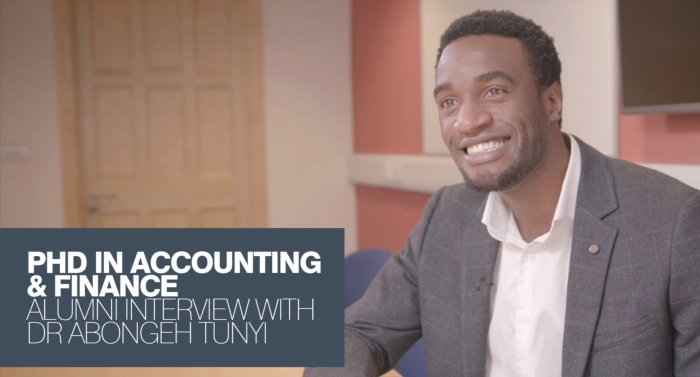 Study options
Our PhD programmes are designed to satisfy a growing demand for rigorous and well-trained researchers in all aspects of accounting and finance. We offer:
PhD in Accounting
PhD in Finance (Accounting and Finance)
PhD in Accounting & Finance
Our programmes are an exciting blend of formal research training, high levels of interaction between faculty and students, and a rigorously developed and closely supervised thesis based on original and relevant research. Our PhD normally takes 3 years (full-time) to complete, although the maximum is 4 years.
In the first year, they will normally study a number of chosen courses in Accounting and Finance, which will develop their quantitative and qualitative research skills as well as their knowledge of accounting and finance research literature and methodologies. An appropriate programme of study is devised for each student in consultation with the director of the programme and the candidate's supervisor. Students will also work with their supervisors to develop their PhD research proposal into a fully operational research plan. At the end of this period, the candidate presents a fully developed thesis proposal to the Thesis Committee. This committee is responsible for approving the student's research proposal, over-seeing and guiding the student's research progress.
Assessment
Supervisors and students are required to complete a Progress Report in April/May of each academic year. All Progress Reports are reviewed by the PhD Convenor and by the Associate Dean of the College's Graduate School. A satisfactory progress report is a prerequisite for student registration in the following academic session.
Final assessment involves the submission of a thesis of between 70,000 and 100,000 words and an oral examination (viva voce).
Entry requirements
Our research degree applicants will usually possess a good Master's degree (or overseas equivalent), with a significant component in Accounting and Finance.
Your proposed research topic should be in an area in which supervision can be offered. You may therefore find it helpful to consider the current research interests of our staff before submitting an application.
Required documentation
Applicants should submit:
Transcripts/degree certificate
Two references
A research proposal (3000 words maximum)
CV
Name of potential Supervisor
English language requirements
For applicants whose first language is not English, the University sets a minimum English Language proficiency level.
International English Language Testing System (IELTS) Academic module (not General Training)
7.0 with no sub-test under 6.5
Tests must have been taken within 2 years 5 months of start date. Applicants must meet the overall and subtest requirements using a single test.
Common equivalent English language qualifications
All stated English tests are acceptable for admission to this programme:
TOEFL (ibt, my best or athome)
94; with Reading 19; Listening 20; Speaking 20; Writing 21
Tests must have been taken within 2 years 5 months of start date. Applicants must meet the overall and subtest requirements , this includes TOEFL mybest.
Pearsons PTE Academic
66 with no subtest less than: Listening 59;Reading 60; Speaking 59; Writing 74
Tests must have been taken within 2 years 5 months of start date. Applicants must meet the overall and subtest requirements using a single test.
Cambridge Proficiency in English (CPE) and Cambridge Advanced English (CAE)
185 overall, no subtest less than 176
Tests must have been taken within 2 years 5 months of start date. Applicants must meet the overall and subtest requirements using a single test.
Oxford English Test
Oxford ELLT 8
R&L: OIDI level no less than 7 with Reading: 25-26 and Listening: 18-19
W&S: OIDI level no less than 8.
Trinity College Tests
Integrated Skills in English II & III & IV: ISEII Pass with Pass in all sub-tests.
University of Glasgow Pre-sessional courses
Tests are accepted for 2 years following date of successful completion.
Alternatives to English Language qualification
Degree from majority-English speaking country (as defined by the UKVI including Canada if taught in English)

students must have studied for a minimum of 2 years at Undergraduate level, or 9 months at Master's level, and must have complete their degree in that majority-English speaking country and within the last 6 years

Undergraduate 2+2 degree from majority-English speaking country (as defined by the UKVI including Canada if taught in English)

students must have completed their final two years study in that majority-English speaking country and within the last 6 years
For international students, the Home Office has confirmed that the University can choose to use these tests to make its own assessment of English language ability for visa applications to degree level programmes. The University is also able to accept UKVI approved Secure English Language Tests (SELT) but we do not require a specific UKVI SELT for degree level programmes. We therefore still accept any of the English tests listed for admission to this programme.
Fees and funding
Fees
2024/25
UK: To be confirmed by UKRI [23/24 fee was £4,712]
International & EU: £25,290
Prices are based on the annual fee for full-time study. Fees for part-time study are half the full-time fee.
Irish nationals who are living in the Common Travel Area of the UK, EU nationals with settled or pre-settled status, and Internationals with Indefinite Leave to remain status can also qualify for home fee status.
Alumni discount
We offer a 20% discount to our alumni on all Postgraduate Research and full Postgraduate Taught Masters programmes. This includes University of Glasgow graduates and those who have completed Junior Year Abroad, Exchange programme or International Summer School with us. The discount is applied at registration for students who are not in receipt of another discount or scholarship funded by the University. No additional application is required.
Possible additional fees
Re-submission by a research student £540
Submission for a higher degree by published work £1,355
Submission of thesis after deadline lapsed £350
Submission by staff in receipt of staff scholarship £790
Depending on the nature of the research project, some students will be expected to pay a bench fee (also known as research support costs) to cover additional costs. The exact amount will be provided in the offer letter.
Funding
Support
The Adam Smith Business School provides financial support for PhD students to attend international academic conferences to present their co-authored research.
eSharp is an international online journal for postgraduate research in the arts, humanities, social sciences and education. It is run entirely by graduate students and aims to provide a critical but supportive entry into the realm of academic publishing for emerging academics.
The School hosts seminars, workshops and conferences open to staff and research students.
Training opportunities
The College of Social Sciences Graduate School draws together internationally recognised scholars and respected practitioners to offer a range of research programmes.

Our programmes are based on thorough training in research methods and we encourage you to take part in numerous exciting seminars, conferences and events. We offer modern library, IT services and a wide-range of support services. You will be living in one of Europe's most exciting cities which has a vibrant cultural and social life.
Our Graduate School Researcher Development Programme will support you to plan your professional development over the course of your PhD and ensure your employability.
How to apply
Identify potential supervisors
All Postgraduate Research Students are allocated a supervisor who will act as the main source of academic support and research mentoring. You may want to identify a potential supervisor and contact them to discuss your research proposal before you apply. Please note, even if you have spoken to an academic staff member about your proposal you still need to submit an online application form.
You can find relevant academic staff members with our staff research interests search.
Also see our:
Gather your documents
Before applying please make sure you gather the following supporting documentation:
Final or current degree transcripts including grades (and an official translation, if needed) – scanned copy in colour of the original document.
Degree certificates (and an official translation, if needed): scanned copy in colour of the original document.
Two references on headed paper and signed by the referee. One must be academic, the other can be academic or professional. References may be uploaded as part of the application form or you may enter your referees contact details on the application form. We will then email your referee and notify you when we receive the reference. We can also accept confidential references direct to rio-researchadmissions@glasgow.ac.uk, from the referee's university or business email account.
Research proposal, CV, samples of written work as per requirements for each subject area.
Apply now