eSharp
eSharp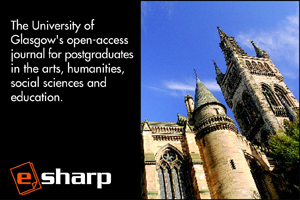 eSharp is an international online journal for postgraduate research in the arts, humanities, social sciences and education. Based at the University of Glasgow and run entirely by graduate students, it aims to provide a critical but supportive entry into the realm of academic publishing for emerging academics, including postgraduates and recent postdoctoral students.
One of our aims is to encourage the publication of high quality postgraduate research; therefore all submitted articles are anonymously double-blind peer reviewed as part of the acceptance and feedback process. This rigorous and constructive process is designed to enhance the worth of postgraduate and postdoctoral work. eSharp also engages in training postgraduate students in the various tasks that running an academic journal requires. Enhancing both employability and the graduate experience is a key aspect of its aims and objectives.
We are always looking for enthusiastic postgraduate students to join our team. If you are interested becoming involved with eSharp or The Kelvingrove Review then please contact us at esharp@gla.ac.uk
Call for Papers
Call for Papers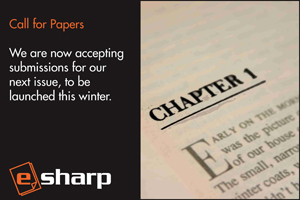 Call for paper is now closed for issue 22. The call for papers for issue 23 will be announced Autumn 2014.
Current Issue
Current Issue
For our 21st issue Silenced Voices we collected articles engaging with issues of voice, real and perceived, from within the spheres of the social sciences and the arts and humanities. It has been our pleasure to collate these articles and put these voices from various areas together in this issue that we are proud to present.
Lead editors: Kirsty Strang, Sotirios Frantzanas, Lorna MacBean
eSharp continues to support and publish critical academic writing and provide opportunities for aspiring postgraduate authors to publish their work and acquaint themselves with the publication process. We welcome international and inter-disciplinary exchange of ideas, and emphasise the importance of the peer-review process for academic research.