eSharp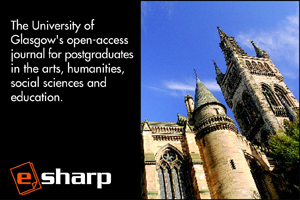 eSharp is an international online journal for postgraduate research in the arts, humanities, social sciences and education. Based at the University of Glasgow and run entirely by graduate students, it aims to provide a critical but supportive entry into the realm of academic publishing for emerging academics, including postgraduates and recent postdoctoral students.
One of our aims is to encourage the publication of high quality postgraduate research; therefore all submitted articles are anonymously double-blind peer reviewed as part of the acceptance and feedback process. This rigorous and constructive process is designed to enhance the worth of postgraduate and postdoctoral work. eSharp also engages in training postgraduate students in the various tasks that running an academic journal requires. Enhancing both employability and the graduate experience is a key aspect of its aims and objectives.
Call for Papers
New Horizons
eSharp: Issue 20‌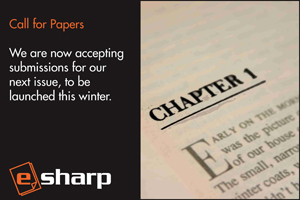 eSharp, an established peer-reviewed international online journal for postgraduate research in the Arts, Humanities, Social Sciences and Education invites papers for the forthcoming themed issue. For Issue 20, New Horizons, we invite articles that consider new ideas; approaches and reflections on changing situations and visions for the past, present, and future in the fields of the Social Sciences, Education, and the Arts and Humanities. We encourage submissions from postgraduate students at any stage of their research.
Topics may include, but are not limited to:
- Changing social and political horizons
- Fresh thoughts on history and reality
- Recent findings and breakthroughs in ideology, history, and culture
- New approaches in research methodology
- Original approaches in teaching and education
- Real life: Postgraduate education, experience, and the workforce
- The changing face of our world
- Perceptions of Modernity
- Into the unknown: Findings in the 21st century
Submissions to eSharp must be based on original research and should be between 4,000 and 6,000 words in length. These should be made in Word document or RTF format. Please ensure that you accompany your article with an abstract of 200 to 250 words and a list of three to five keywords to indicate the subject area of your article. A full list of guidelines and our style sheet is available here. Submissions and enquiries should be sent to submissions@esharp.org.uk.
Deadline for submission: 24 March 2013.
Current Issue
eSharp's 19th issue is themed Reality/Illusion. This issue collects number of articles that consider matters of fact and fiction, perception and imagination, as well as memory and recollection. We have included submissions from the social sciences, education, and the arts and humanities, focusing on history, literature, linguistics, film and theatre studies, and psychology. From American propaganda during the First World War to Swedish horror fiction, studies in language, translation, and encyclopaedic knowledge, to realism in fiction from Shakespeare to Aragonese film director Carlos Saura, we are very proud to present this issue that has inspired postgraduates from the United Kingdom, the United States, and Canada to submit a variety of work of such high standard.
eSharp continues to support and publish critical academic writing and provide opportunities for aspiring postgraduate authors to publish their work and acquaint themselves with the publication process. We welcome international and inter-disciplinary exchange of ideas, and emphasise the importance of the peer-review process for academic research.