eSharp
eSharp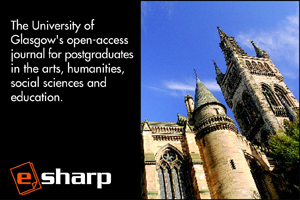 eSharp is an international online journal for postgraduate research in the arts, humanities, social sciences and education. Based at the University of Glasgow and run entirely by graduate students, it aims to provide a critical but supportive entry into the realm of academic publishing for emerging academics, including postgraduates and recent postdoctoral students.
One of our aims is to encourage the publication of high quality postgraduate research; therefore all submitted articles are anonymously double-blind peer reviewed as part of the acceptance and feedback process. This rigorous and constructive process is designed to enhance the worth of postgraduate and postdoctoral work. eSharp also engages in training postgraduate students in the various tasks that running an academic journal requires. Enhancing both employability and the graduate experience is a key aspect of its aims and objectives.
We are always looking for enthusiastic postgraduate students to join our team. If you are interested becoming involved with eSharp or The Kelvingrove Review then please contact us at esharp@gla.ac.uk.
Current Issue
Current Issue
24th issue: 'Belonging and Inclusion'
Postgraduate students are invited to submit an article for possible inclusion in the University of Glasgow's forthcoming eSharp journal, relative to the overarching theme of 'Belonging and Inclusion.'

Recent events in Paris have focused attention on the problematic nature of belonging and inclusion; however, these are themes that resonate across disciplines, time and borders. The ongoing global refugee crisis, the recent Referendum in Scotland, debates over equality and diversity, including recent campaigns such as 'Black Lives Matter', all have historical precedents. There is a difficult relationship between belonging and inclusion in terms of identity politics - what might identity, citizenship, and community mean in a context where belonging and inclusion do not necessarily align? What does it ultimately mean to belong?

All articles should adhere to the word limit (4,000-6,000 words) and be submitted with a bibliography listing all works cited (not works consulted). In addition to that, we ask you to include a 250-300 word abstract of your argument, and a list of 3-5 keywords to indicate the subject area of your article. The deadline to submit abstracts of 250-300 words is Monday 11th January, 2016. Please include a short sentence detailing your year of study and research interests. Successful candidates will be contacted and notified by Monday 25th January, and may be asked to make the relevant editorial changes in order to qualify for publication within a specific time-frame. Please refer to attached Style Guide.

Topics of interest may include, but are not confined to:

-Citizenship and identity such as universal suffrage, diaspora communities and migration
-Language and historical traditions
-Reactionary responses, both historical and modern
-Globalisation, ecological crises and geopolitical debates
-Belonging and inclusion in the education system
-The gendering of belonging and inclusion in different societies
-Race, religion and class
-Narratives of the Self and Identity
-Social media and online communities
Deadline for Abstracts: Monday 11th January 2016
Deadline for Full Paper: Monday 29th February 2016
For all enquiries and comments, please contact: esharp@gla.ac.uk