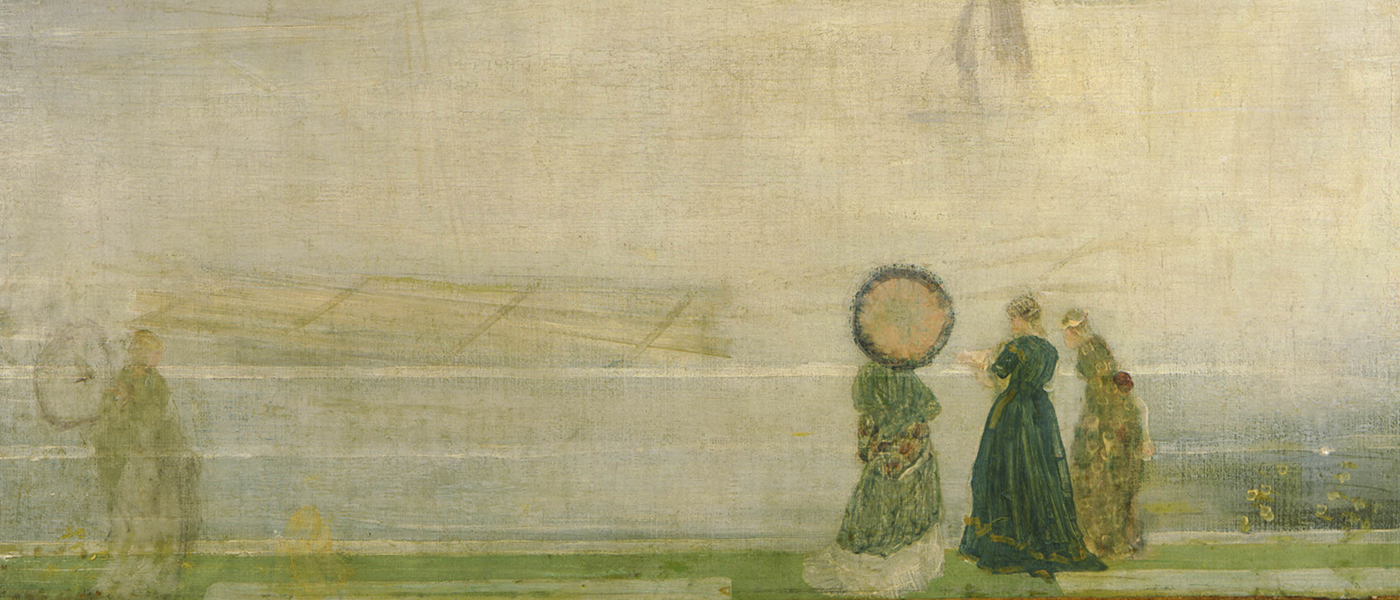 Whistler, Nature and Science
American born artist James McNeill Whistler (1834–1903) was one of the most influential figures in 19th century Western art, known for his nocturnal images of the Thames, striking full-length portraits and innovative approach to print-making. Less familiar is the interaction of nature and science in his work and thought. Science underpinned both his father's work as a leading international railway engineer, and his own early training as a geological survey draughtsman, but Whistler also spoke of the 'science' used by the artist to make 'harmony' from raw nature.
In 2019, History of Art at the University of Glasgow and The Hunterian collaborated with the Fitzwilliam Museum, Cambridge, the History of Art Department at the University of Cambridge, and the Cambridge University Botanic Garden, to explore 'Whistler, Nature and Science' through a public study day. This complemented The Hunterian travelling exhibition 'Whistler and Nature' and was part of the 2019 Cambridge Science Festival.
Devised by Dr Patricia de Montfort, the curator, and Professor Clare Willsdon of the University of Glasgow, the study day was chaired by the eminent botanist and former Director of the Royal Botanic Garden, Edinburgh, Professor David S Ingram and brought together contributions from art, science and garden history as well as botany for an exciting new cross-disciplinary perspective on Whistler's depiction of nature.
Topics included the relationship of Whistler's images of landscapes and gardens to changes in the appearance and appreciation of the natural environment that arose from industrialisation in Europe, America and Russia, the 'great horticultural movement' of the 19th century, the theories of Charles Darwin, and the ideals and influence of John Ruskin, and garden designers such as William Robinson. For full details, see the study day programme.
Selected talks from the event were audio-recorded, and are now available on this website alongside short interviews with some of the speakers on themes arising from their talks, and related images from the exhibition and The Hunterian's Whistler collections. The study day, and this website, form the launch-pad in turn for de Montfort's and Willsdon's international symposium on 'Whistler, Nature and Industry' (5 November 2021). This will take place online, with the plenary by Professor David Howes, Co-Director of the Centre for Sensory Studies at Concordia University, Montreal, as a sequel also to de Montfort's 'Whistler: Art and Legacy' exhibition at The Hunterian in summer 2021 (please note that due to Covid, the deadline for proposals for papers has been extended to 1 July 2021.
For further information, please contact Dr Patricia de Montfort or Professor Clare A P Willsdon.
Dr de Montfort and Professor Willsdon wish to thank very warmly all the speakers who contributed to the 'Whistler, Nature and Science' study day, and in some cases also gave interviews on this website, as well as Professor John Parker, who converted his planned Botanic Garden tour into an indoor talk with such aplomb and vision, and Professor David S Ingram, who, as Chair, drew such inspired cross-connections between the various papers, and led discussion and audience questions in such a lively and insightful way. Special thanks are also due to The Hunterian, Fitzwilliam Museum, and University of Cambridge Department of History of Art and Botanic Garden, as our partners for the study day, and Professor Margaret F MacDonald for her encouragement and support. Not least, we are indebted to Alicia Hughes, Leverhulme doctoral researcher in History of Art at the University of Glasgow, for her practical help with the study day and skilled and thoughtful realisation of this website as its digital legacy.
The copyright of each audio-recorded paper and of the information provided in the video interviews, lies with the individual author/interviewee. Requests for any use of any material on this website should be directed in the first instance to Professor Clare A P Willsdon or Dr Patricia de Montfort.
Images of the 'Whistler and Nature' exhibition on display at the Fitzwilliam Museum are reproduced by kind permission of the Fitzwilliam Museum. Works of art by Whistler are reproduced courtesy of The Hunterian, University of Glasgow and historic photographs are courtesy of Archives and Special Collections, University of Glasgow. Audio clips in the 'Sounding the Garden' paper are from Charles Gounod, 'Chant du depart des missionaires', sung by Ensemble vocal de Saint François Xavier and blackbird song © Richard Beard. Held by British Library.
Supported by the University of Glasgow Knowledge Exchange Fund and the Lunder Foundation.
Sounding the Garden: Whistler, Darwin and Music
Clare A P Willsdon, Professor of the History of Western Art, University of Glasgow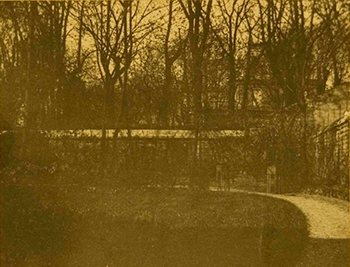 The rose-filled garden of Whistler and his wife Beatrix's home from 1892 at rue du Bac in Paris formed a key inspiration for Whistler's late lithographs, in which he sought to evoke colour through line. He called these 'Songs on Stone', and the paper argues that we need to look to the sounds of the Whistlers' garden, and nineteenth-century scientific interpretations of these, to understand their imagery. For the garden resonated with the songs of a blackbird and of Beatrix's pet birds, intermingled with the singing of monks at the adjacent Foreign Missionary Society, that Whistler loved to hear. Bearing in mind Darwin's argument that birdsong was 'music', not mere sound, the rue du Bac garden must thus have answered directly to Whistler's 'Ten o'Clock Lecture', in which he had equated art and music.
Whistler's correspondence shows that he was familiar with Darwin's theory of evolution, and the paper proposes that his lithographs of friends and family amongst the rue du Bac garden's musical birds, colourful flowers, and Japanese trellising designed by Beatrix in turn form a cultural parallel to Darwin's interpretation of the environment as an affective phenomenon, to which living organisms respond.
The audio clips included in the recording are:
Charles Gounod, 'Chant du départ des missionaires'.
Blackbird song, sound recording in British Library © Richard Beard.
Image: Photograph of the garden of James McNeill Whistler's house at 110 rue du Bac, Paris. University of Glasgow Archives and Special Collections.
Landscape and the Darwinian Sublime
Dr Paul White, University of Cambridge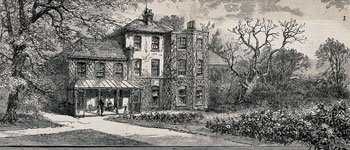 As Darwin moves from his early experiences as a traveller to his quiet rural retreat in Kent, observing and experimenting with the landscape of the south Downes, the wild sublimity of nature that he witnessed on the Beagle voyage is overlain with analogies of agricultural improvement and the division of labour. These intensely managerial processes, animal husbandry, agronomy, and industrial manufacture, follow one after another in Darwin's explication of the diversity of life, woven together to produce the famous closing passage of the Origin of Species (the tangled bank). Here the luxuriance and overwhelming power of nature is subtler, quieter, slower to make itself felt and known. There is a kinship between Darwin's engagement of nature and some of Whistler's landscapes, especially the nocturnes: a way of seeing, discovering and depicting beauty that is so quiet, or atmospheric, that emerges slowly through patient study, when no one else is looking. Delicate figures and lines, ephemeral features. Tranquil moments that are almost miniatures, but become expansive.
Image: The house of Charles Darwin (Down House) in Kent. Wood engraving by J R Brown. Wellcome Library @ CC BY 4.0.
Ruskin's Argument with Whistler: Landscape, Morality and Modernity
Caroline Ikin, Garden historian and PhD researcher, Manchester Metropolitan University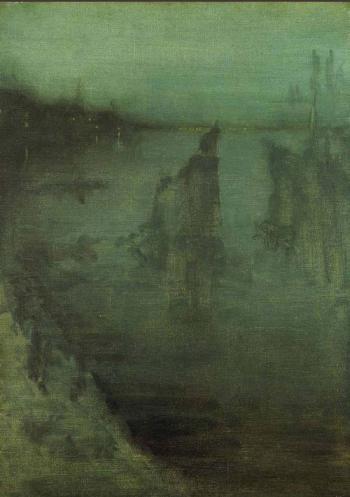 In 1877 Whistler brought a libel case against the art critic John Ruskin, who had accused him of 'flinging a pot of paint in the public's face'. The resulting trial brought into focus the moral worth that Ruskin saw as lacking in both art and society, with Whistler's painting representing the ills of society in microcosm. This paper offers a reading of Ruskin's approach to nature and science juxtaposed against Whistler's painterly celebration of the modern cityscape. Whereas Whistler used fog as a veil through which to depict industry and progress, Ruskin saw in these smoky cityscapes the moral decline of society through capitalist greed, manifest in the 'plague cloud'.
From his garden at Brantwood in the Lake District, Ruskin observed trees and flowers, rocks and lichen, water and weather. His science was based on the truth and constancy of observation and religious certainty. The publication of Darwin's theories and the growing acceptance of the materialist approach to science spoiled Ruskin's view of nature forever, shattering the security of his belief in the unchanging permanence of nature, and replacing it with a frightening vision of a vicious, competitive world, constantly in a state of flux. This paper attests that Ruskin's pastoral view of nature was as much about society as environment, endorsing the purity of rural community and rejecting the industry, consumerism and progress celebrated in Whistler's painting.
Image: James McNeill Whistler, Nocturne, 1875-1877.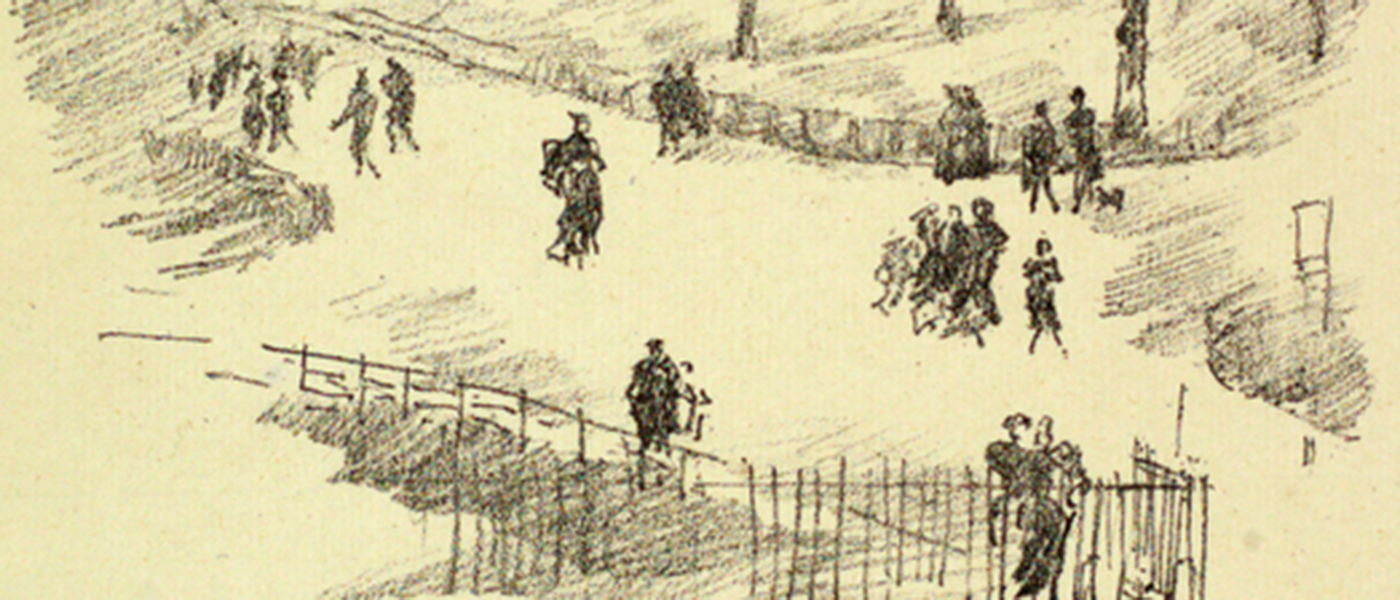 Interview with Caroline Ikin
Interview with Caroline Ikin (Garden historian and PhD researcher at Manchester Metropolitan University) at the 'Whistler, Nature and Science' Study Day, Cambridge (11 March 2019). Dr Caroline Ikin is now a Cultural Heritage Curator at the National Trust (Nymans, Standen and Surrey Hills).
James McNeill Whistler: Memory, the Canvas and the Human Mind
Caroline Arscott, Walter H Annenberg Professor of the History of Art at The Courtauld Institute of Art, University of London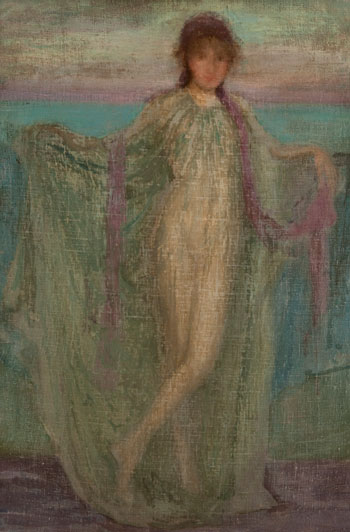 Caroline Arscott, Walter H Annenberg Professor of the History of Art at The Courtauld Institute of Art, University of London, discusses relationships between Whistler's work and the understanding of memory in the art and science of his times. Her talk at the 'Whistler, Nature and Science' Study Day has subsequently been reworked as a chapter: Caroline Arscott, 'James McNeill Whistler: memory, the canvas and the human mind', in Laura Bieger, Joshua Shannon, and Jason Weems (eds), Humans, Terra Foundation for American Art, forthcoming 2021.
Whistler is known to have rubbed down the work of one day, repeatedly, in order to start afresh, thereby erasing and replacing the motifs in his paintings. Discussion centres on the picture Annabel Lee (oil on canvas, The Hunterian, University of Glasgow, 1869-77) which relates to a poem of 1849 by American author Edgar Allen Poe (1809-1849), repetitive in its rhyme scheme and focused on irreparable loss. In the throes of grief, fugue-like repetition is used to conjure presence, making it possible to disavow loss. Arscott posits the picture surface as an analogue for the human mind, marked successively by the episodes of experience. First of all, the chapter discusses Whistler's reliance on the memory techniques taught by Horace Lecoq de Boisbaudran, French artist (1802-1897), who encouraged memorisation to build an accessible store of observations relating to an ever-changing world. It moves on to consider Victorian physiological accounts of memory where consolidation (the build-up of grey matter) was thought to be accompanied by indentation, abrasion or disintegration (in cases of habit, trauma, and senility) This essay argues that Whistler's work is ultimately concerned to find visual means for exploring the accumulation of elements in memory; the obsessive fixing of memory as a counter to loss; and the disintegration of substance as the subject faces the ultimate loss (the loss of self).
Image: James McNeill Whistler, Annabel Lee, 1869-1897.
How Russia Learned to Love Russian Nature – and Whistler Followed Suit
Rosalind Polly Blakesley FSA, Professor of Russian and European Art, University of Cambridge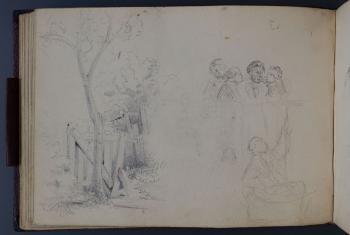 In 1877 James Abbott McNeill Whistler took the witness stand in the Old Bailey and promptly perjured himself. Defending his practice in the notorious libel case that he brought against John Ruskin, he proudly declared: 'I … was born in St Petersburg, where I lived until I was twelve or fourteen years of age.'
His statement went largely unremarked amidst the controversy and crossfire of this most sensational of artistic trials. It was certainly quickly forgotten as Whistler's Nocturnes were ignominiously carried into the Old Bailey upside down, and the artist pulled out all the stops to defend himself against Ruskin's infamous calumny of him as a 'coxcomb' asking 'two hundred guineas for flinging a pot of paint in the public's face.'
Yet Whistler's false testimony speaks to the significance that Russia held for him, both in his cultural development during a formative period of his youth, and in his self-definition as an avowedly international and cosmopolitan artist who decried anything as parochial as Ruskin's naturalism or the fettering of national schools. Professor Blakesley's paper explored how Russia exposed Whistler to actual and imagined landscapes which made a profound impression, and to shifting currents of thinking about the nature and importance of landscape which would ebb and flow in Whistler's cultural and ideological consciousness throughout his career.
Image: Page from sketchbook used by Whistler in St. Petersburg in 1844-1848, showing a garden or rural motif and a group of figures.