The Hunterian cares for some Scotland's finest collections that cover subjects as diverse as the history of medicine, zoology and art. The Hunterian's whole collection is 'Recognised' as nationally significant in Scotland. 

The Hunterian collections include outstanding Roman artefacts from the Antonine Wall; vast natural and life science collections; scientific instruments used by James Watt, Joseph Lister and Lord Kelvin; one of the world's greatest collections of coins and medals and objects and belongings brought to Glasgow from around the world during hundreds of years of trade, empire, exploitation and migration. 

The Hunterian's founding collection came through the bequest of Dr William Hunter (1718-1783) and, since we opened at the University of Glasgow in 1807, the collections have been developed in ways that reflect our city's deep relationship with empire, transatlantic slavery, colonialism and migration. 

The Hunterian is also home to one of the most distinguished public art collections in Scotland and features the permanent displays of the work of James McNeill Whistler, various works by the Glasgow Boys and Scottish Colourists, the largest single holding of the work of Scottish artists Margaret MacDonald and Charles Rennie Mackintosh, along with The Mackintosh House, the reassembled interiors from their Glasgow home. 

The Hunterian has also developed an important collection of works by leading contemporary artists including Christine Borland, Lucy Skaer and Adam Pendleton.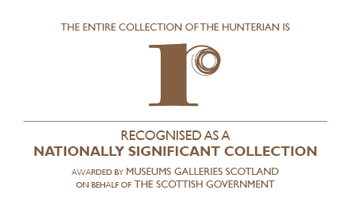 Recognition
The entire collection of The Hunterian is recognised as an outstanding example of a collection of National Significance, and of fundamental benefit to the life and culture of Scotland. The Hunterian was the first museum in Scotland to be awarded this status by the Scottish Government.